Instant Checkmate Opt-Out
What Does Instant Checkmate Do?
Instant Checkmate is an aggregate information broker; they collect data from web beacons, interactions, and public access databases, extrude a profile, and offer complete access with purchase. Like a standard search engine, a user can access interesting results will little information. Unlike a traditional search engine, Instant Checkmate creates accessible records on demand with potentially problematic results. Searching a name and general area can return hundreds of options. Users garner phone numbers, email addresses, and personally identifiable information about their target, like birth date or age.
Requirements to Remove My Name From Instant Checkmate
There are no specific requirements needed for opting out of Instant Checkmate. Although calling requires a phone number, mailing requires a return address, and both online forms require emails. Additionally, users do not have to create an account with Instant Checkmate to exercise their rights.
Although not written within their privacy policy, Instant Checkmate states that all [internet] users can suppress their data (below); this is expressed within their "Privacy Center, Frequently Asked Questions" web page; the page is accessed in the procedures below when necessary, and links are provided whenever possible. Alongside links, users will find screenshots and detailed instructions for every step of the process.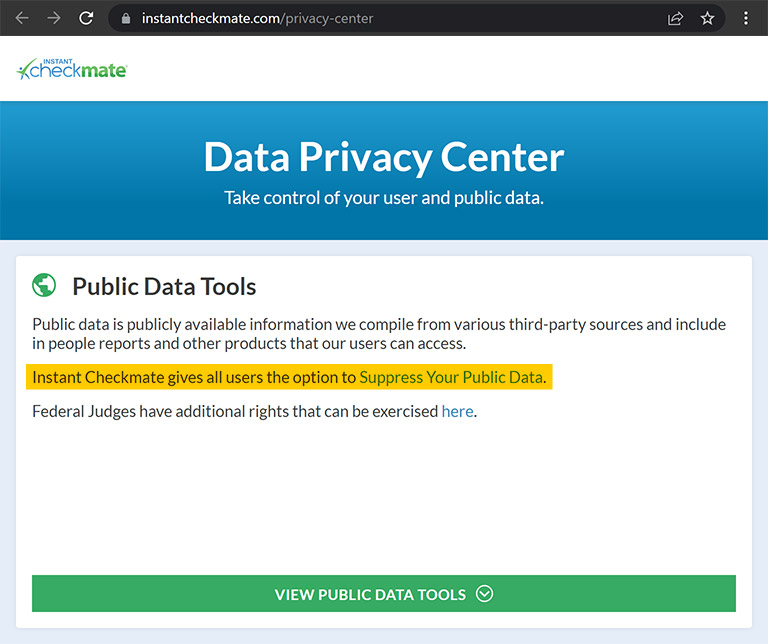 Where to Start Your Instant Checkmate Opt-Out
Where an opt out begins depends on the user's ultimate goals. Calling may be the fastest option if they seek a complete opt out or the suppression of multiple search records. Emailing is a commonly preferred communication, but users may sign up for direct advertising if done incorrectly. Mailing is the most official way, but it takes the longest and doesn't impact advertisements. Meanwhile, the in-browser form stops sharing member information, and the Suppression Center form halts public search results. The following section offers each of these procedures to the user, although completing all of them is unnecessary. It's easy to remove information from Instant Checkmate; open a new browser window and follow along.
How to Opt-Out of Instant Checkmate: Detailed Tutorial
Call 1-(800)-222-8985 to Speak with Support
Those who want a live representative can call the customer support line; agents are available Monday through Friday, 7:00 am to 4:00 pm PST. Calling outside these times will result in an automated message requesting a voicemail. During the live hours, representatives take the calls as they come in, sometimes leading to a live queue. An alternative Spanish line is also accessible when the user first calls.
Email Instant Checkmate's Privacy Team Directly
Consumers can email the Instant Checkmate team, but success may vary. Residents in Nevada, California, Utah, Virginia, and Colorado have special privacy protections; residents should list their state in the email's subject line. Individuals outside these states may see up to 30 days pass without a response.
The email below is plain text so that the consumer can copy and paste it into their email. Take care of the highlighted areas, exchange them for accurate information.
Send to Email: privacy@instantcheckmate.com
Subject: [Nevada/California/Utah/Virginia/Colorado] Do Not Sell Request
Mail Body:
Hello,
My name is [Full name]. I am requesting Instant Checkmate not to sell or share my information. I want to remove my information from Instant Checkmate's public search results; and exercise my privacy rights by opting out of Instant Checkmate's affiliate, partner, and third-party data sharing. I understand this does not opt me out of independent conglomerates not associated with Instant Checkmate. Please begin the opt out process immediately and notify me of completion.
Consumer Information:
Full Name:

[Any known aliases or names on the record you want to be suppressed]

Address:

[Residential, commercial, and associated locations are verifiable for agents]

Phone Numbers:

[All phone numbers registered to or associated with the name]

Emails:

[All emails, including the one used to send this message]

Additional Information:

[Profile URLs and reference numbers are helpful here]
Please contact me if you need further information or encounter a problem.
Thank you,
[Full name]
[Date]
Mail Your Suppression Request to the Offices
Alternatively, consumers can mail their requests to the privacy team. Mailing begins a paper trail of reference useful in court hearings. More than this, it provides an "official" request, which is difficult to reject without reasonable justification. The process inevitably takes longer, but Instant Checkmate is less likely to ignore a physical request.
Consumers can use the email above as a template for their letters; or copy and paste the text into editing software like Word Processor. They'll need to exchange the yellow information for their factual information. They must also add the postal address (below) and the date to the top left of the letter. Lastly, add space between the farewell and sign-off; it must be filled with a signature. Send requests to the offices in San Diego:
Instant Checkmate
Attn: Privacy
3111 Camino Del Rio N., Suite 400
San Diego, CA 92108
Use the In-Browser Quick Form to Stop Sharing Data
Consumers who have a registered account have an extra option to opt out. This path ensures your contact information is kept confidential by Instant Checkmate (unless legally required). Any user can complete the quick form; however, it makes the most sense for registered members. To get started now, open the Instant Checkmate Privacy Center.
Step One
After opening the link above, look for the blue hyperlink that reads "Right to Opt Out". Click on it, and the "Data Tools" bar will open and automatically scroll to the necessary section.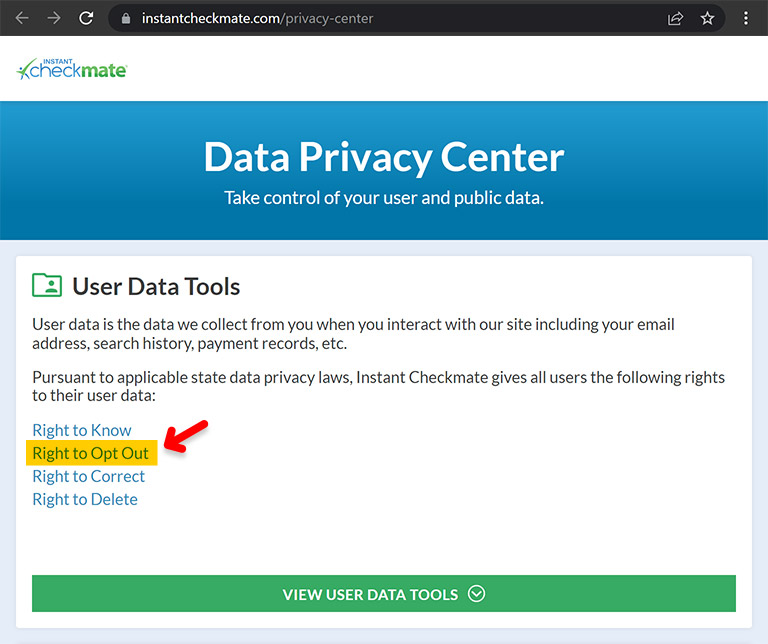 Step Two
The "Right to Opt Out" section offers a drop bar, a space for a username, and a "Save Preference" button. Select the drop-down bar and pick "DO NOT Share user data". Enter your email, then click the "Save" button.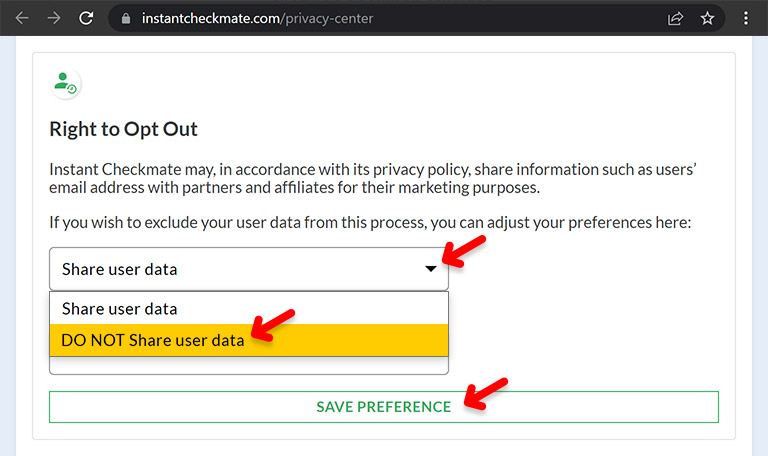 The internal system will process the request instantly and display the following: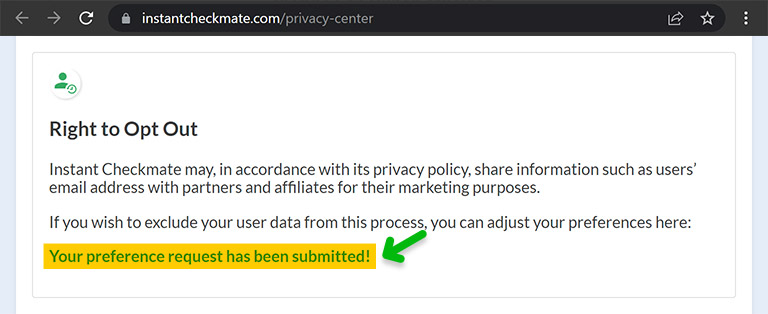 Use PeopleConnect's Suppression Center
Many people search websites utilizing third parties to oversee their privacy rights compliance. PeopleConnect is a popular solution for these sites because they offer a unique and simple solution for opt out requests. Dubbed the "Suppression Center", users can fill out a request form in a few minutes or check the status of a previously entered request.
PeopleConnect is also unique regarding the impact of a request made to them. Consumers requesting an opt out are simultaneously asking for an opt out of all other sites that utilize PeopleConnect's software; this includes websites like Instant Checkmate, Truth Finder, Intelius, and US Search. Start by opening the Suppression Center in a new tab.
Step One
Upon the Suppression Center loading, the consumer will have access to a registration page housed within an in-browser window. Enter an accessible email address into the space provided, check the left box for Terms and Conditions, then click "Continue".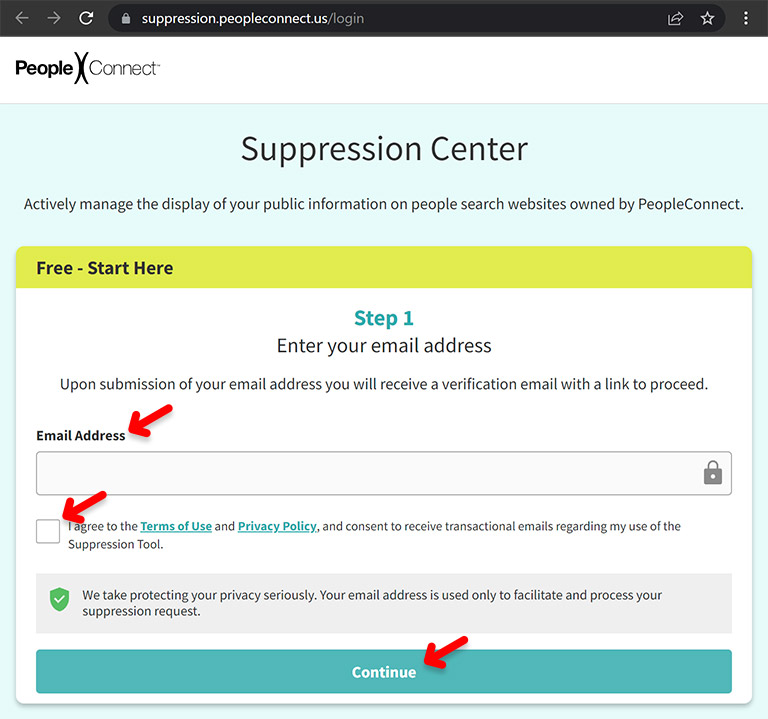 The in-browser window should change immediately, prompting the user to access the previously entered email.

Step Two
Head over to the email and open the email sent from PeopleConnect. Click the teal "Verify Email" button within 15 minutes, or the process restarts.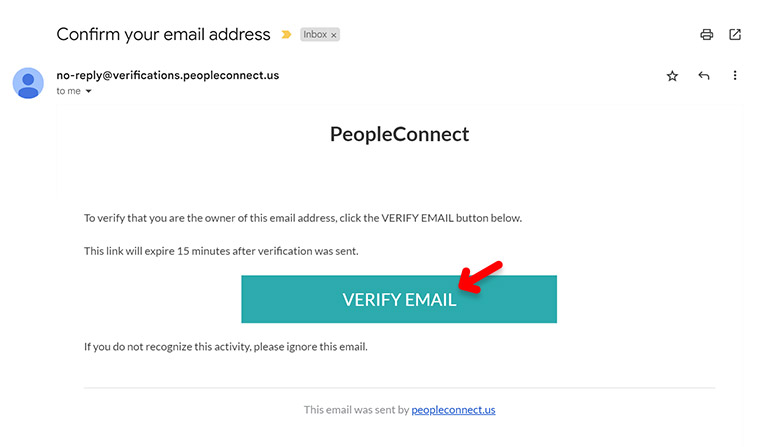 Step Three
A new tab should open, displaying a "Date of Birth" registration page. Enter your date of birth by clicking on the calendar on the right; when finished, check the Verification box on the left before clicking "Continue".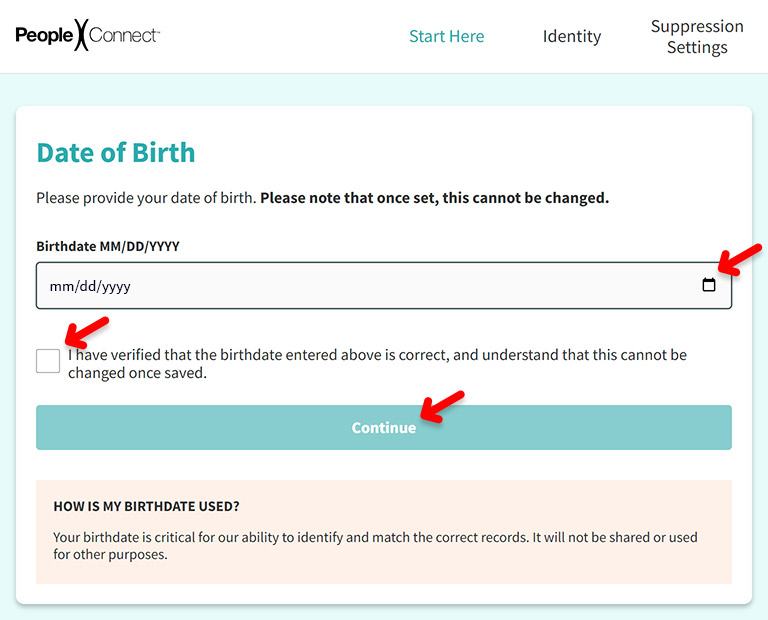 Step Four
The "Legal Name" registration page is next to load. If the record is yours, enter your first, middle, and last names into the spaces provided. Check the "This is my legal name" indicator, then click "Continue". Alternatively, select the "add another name" link to search by aliases and other names.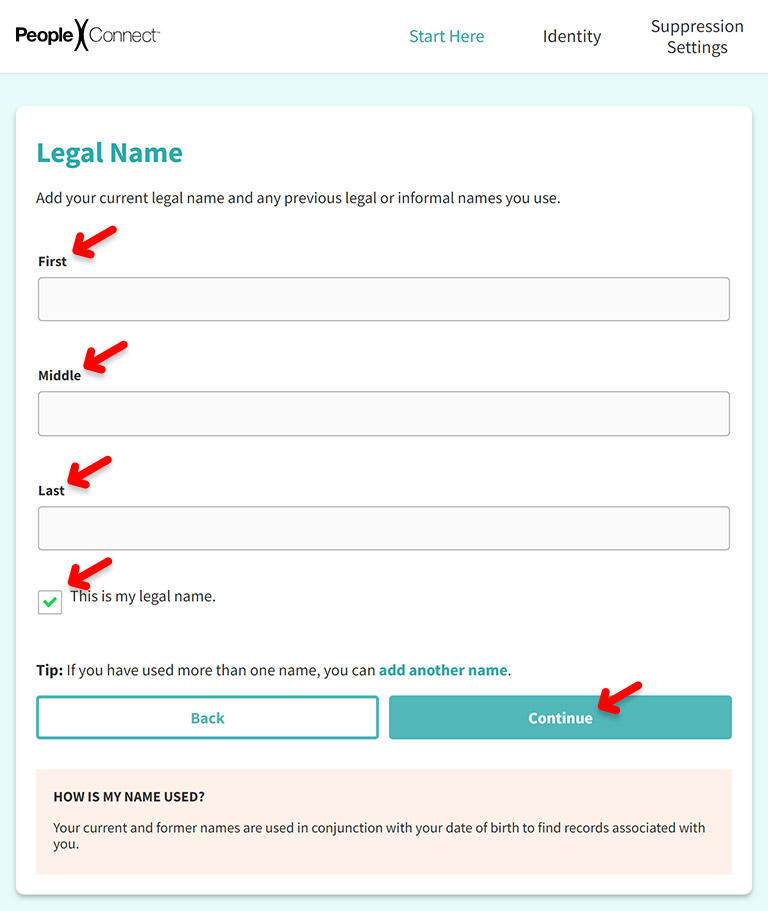 Step Five
PeopleConnect launches an internal search and lists possible records associated with the data provided hitherto. On the "Matching Records" page, select the circle of the profile you want to be suppressed, then click "Continue".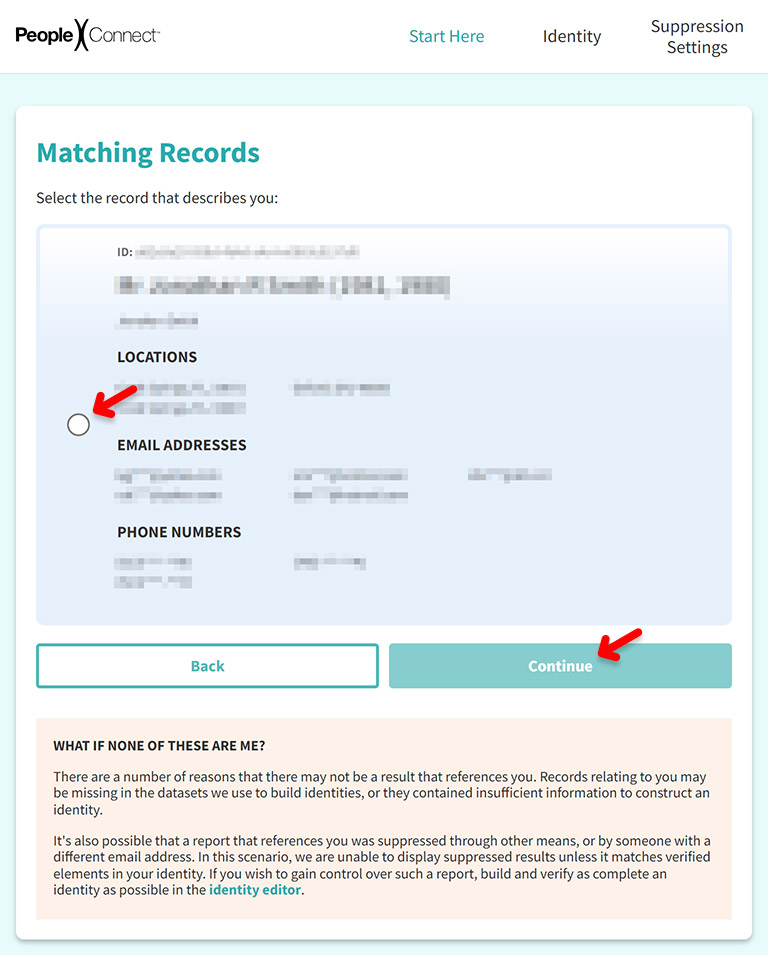 Step Six
If the wizard can verify who you are, it will display the following confirmation. If it cannot, additional authentication steps include a one-time token over SMS or text. When ready, click the "Continue" button.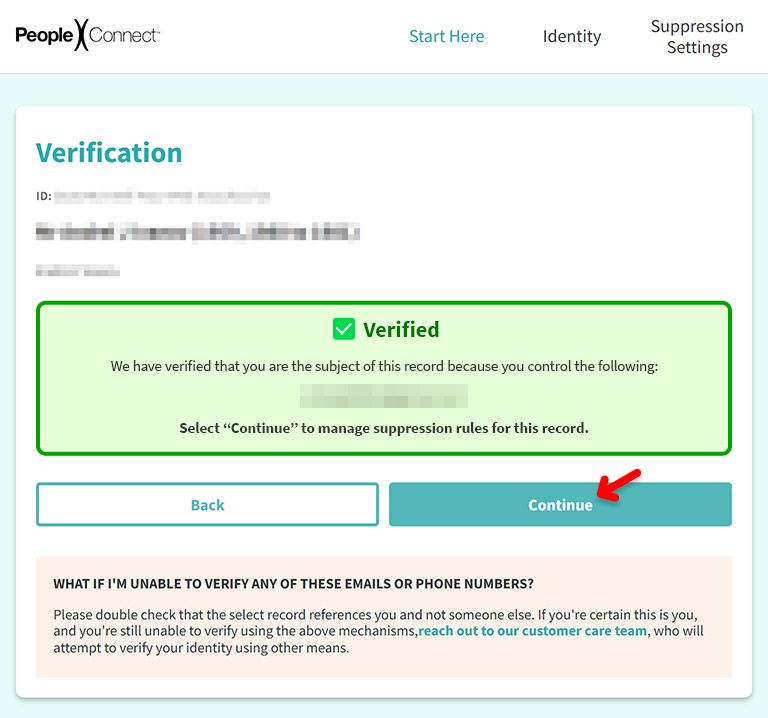 Step Seven
Next up is the "Control" page, where the status of the information reads displayed. Select the drop-down menu and select "Suppressed" before clicking "Save".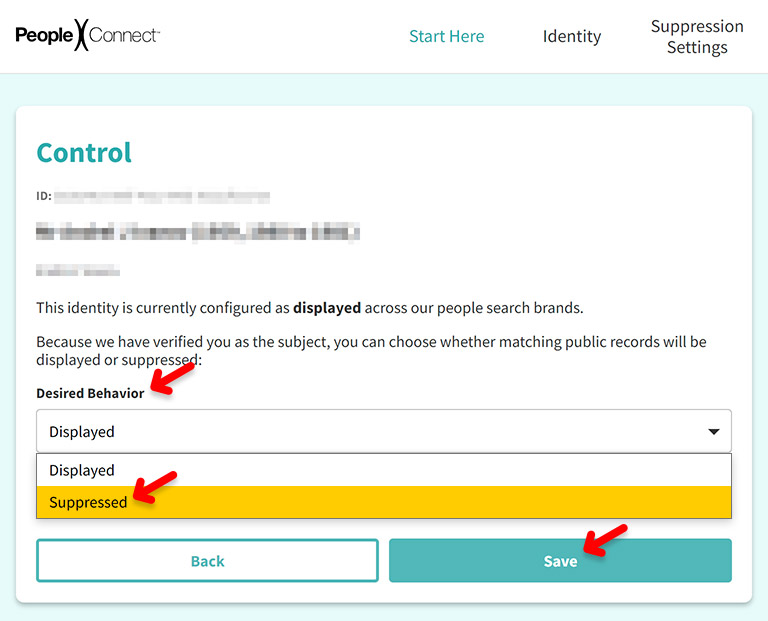 The wizard should respond by immediately executing the request. If successful, the page will refresh, and "displayed" will now read suppressed. Some users may need to reload the page manually to see the change. Additionally, users can click on the "Suppression Settings" in the window's top right corner to show the current "showing" status of the records associated with the account.
We've Opted-Out, but There's More to Do
The opt out method chosen dictates how long they have to comply. Residents outside of Nevada, California, Utah, Virginia, and Colorado may have up to 30 days to wait for a response. After receiving a confirmation of suppression, search for the record's name on the main page. Other records may appear, so check back once a year. This guide is up to date with the current process of opt out solutions provided by Instant Checkmate's privacy policy (2023).