How Does IDStrong's Dark Web Monitoring Services Work?
There is a dark layer of the internet deep down where criminals swap and sell stolen information for identity theft or fraud. Dark web monitoring continuously scans the dark web's deepest corners looking for exposure of your personal information. You receive notifications if your sensitive information is found on the dark web, so you can take quick action to fix the problem before it can do more harm.
IDStrong will monitor the following information on the dark web:
Personal Information
Your Name
Phone Number(s)
Email Address(es)
Username(s)
Password(s)
Address(es)
Identifiable Information
Social Security Number
Driver's License Number
Passport Number
Financial Information
Credit Card Number(s)
Debit Card Number(s)
Bank Account(s)
Medical Information
Medical Identification Number
Health Insurance Number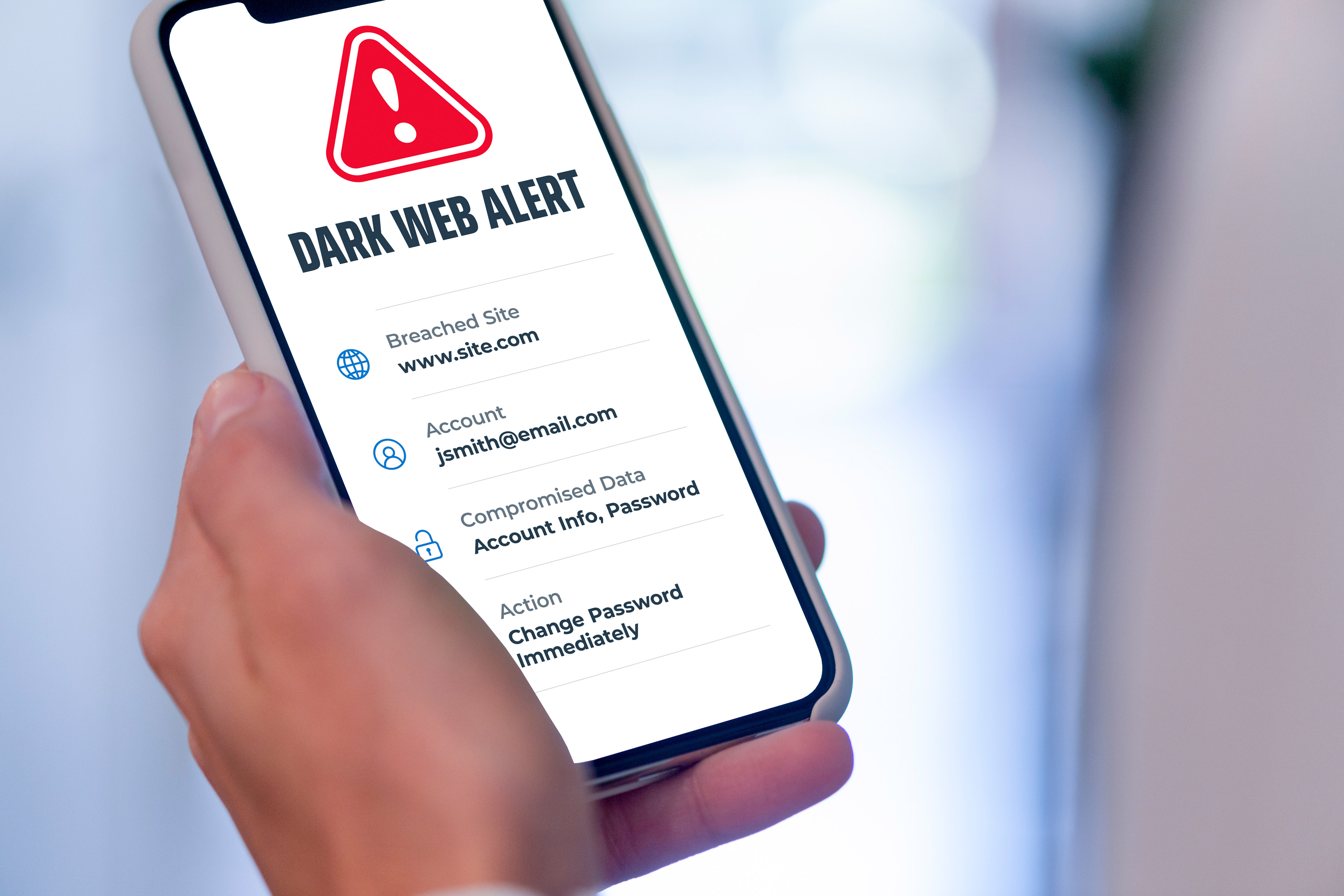 Cybercriminals steal your information through data breaches, ransomware, and hacking. Hackers may also purchase your information on the dark web. They can use your personal information to take over your accounts, steal money, and impersonate you for financial fraud. You cannot be too careful when protecting your identity these days.
IDStrong offers dark web monitoring services as part of its cybersecurity protection package. Start today with a free dark web scan and take steps to protect yourself from identity theft.
What Information is Monitored on the Dark Web
Dark web monitoring sifts through massive amounts of data from chat rooms, internet sites, forums, black markets, underground communities, and private databases to see if any of your information is exposed online or being used by criminals. The dark web monitoring service may include:
Exposed Passwords
Find out if any of your social media, email, or other online account usernames and passwords have been hacked, stolen through a data breach, or leaked by hackers onto the dark web. Typically, people use the same password on all their accounts putting them at risk. That is why scanning the dark web for exposed passwords is so important.
Sensitive Information
If any of your sensitive data has been stolen or leaked from a website or online service, you should find out quickly. Identity thieves target your social security number, passport number, or driver's license number because these items can allow them to open new credit accounts or loans in your name.
Exposed Medical Records
If your medical insurance number, medical provider, medical history, medical accounts, or personally identifiable information (PII) is on the dark web, hackers could easily use that stolen data to receive medical services billed in your name or commit insurance fraud. Another danger is if identity thieves use your medical ID they may skew your medical information which could be dangerous if you have allergies to medications, etc.
Your Contact Information
Have cybercriminals already hacked your digital accounts and leaked sensitive information like your home address, phone number, email address, or social media handles? If your email is leaked online, it could indicate that your passwords or other sensitive information are also exposed. Cybercriminals use your phone number and email address to access related information that may also be leaked. Sometimes they use scams or phishing emails to trick you into giving up additional details. The solution is dark web monitoring which keeps an eye on your personal information and sends you alerts when it is found exposed online.
Vulnerable Financial Information
IDStrong scours the depths of the dark web, underground chat rooms, and botnets to let you know if your credit card numbers, bank accounts, debit cards are found on hacking forums. Credit card details are very popular among cyber thieves who sell them on black markets.
Personal Details
When private details like your full name, aliases, date of birth, mother's maiden name, or public records fall into the wrong hands (identity thieves), you could become a victim of online scams or account takeover fraud.
How Can Dark Web Monitoring Help Me?
Reduce the Risk of Identity Theft
Billions of records from digital documents containing usernames, passwords, and other private information are now exposed on the dark web. According to statistics, 45% of breaches involve hacking, 22% phishing, and 17% feature malware. Therefore, dark web monitoring is a critical first step to controlling your data privacy and limiting any subsequent damage.
Check Data Breach Exposure
Data breaches occur all the time. IDStrong's active data breach monitoring alerts you when a breach happens and lets you know if your data is already leaked or sold on the dark web so you can take swift action to fix it quickly. For example, if Facebook experiences a data breach, IDStrong will notify you if your information was affected. We find out about breached information when it is traded or sold on the dark web or online.
Prevent Fraudulent Charges
Reduce your exposure to financial fraud. If IDStrong finds your stolen credit or debit card data on the dark web, you need to act fast to minimize the threat and prevent financial fraud. Call your bank immediately and report and dispute fraudulent charges, cancel your card, and request a new one.
Keep Track of Leaked Data
If you want to know how your information was stolen, where it came from, and where it ended up, use IDStrong's dark web monitoring and alerts. The service will update you with information like when the data breach occurred, what website or account was hacked, and what personal information about you was published without your consent.
Safeguard Your Passwords
If your email or login credentials are found on the dark web, IDStrong will prompt you to change your password so hackers won't be able to use the information to gain access to your accounts. A single alert could save you from identity thieves and account takeovers. Additionally, you will be on the lookout for phishing emails and malware attacks. If you reuse passwords, you could get an alert and change them and you may avoid account takeovers from credential stuffing.
Protect Against Account Takeovers
Account takeover is identity theft where fraudsters gain unauthorized access to user credentials and take over their personal and business accounts. These malicious attacks often lead to the extraction of sensitive data, unauthorized transactions, or illegal infiltration into organizational systems. Hackers rely on credential cracking (identifying the correct username/password pairs through automated brute-force attacks) and credential stuffing (large-scale login attempts of leaked username/password combos) to perform account takeovers.
Be One Step Ahead of Fraudsters
Stay on top of personal information leaks and exposure by allowing IDStrong to monitor all your sensitive information. For example, suppose your social security number shows up online. In that case, IDStrong will notify you when your information shows up on the dark web. Then our credit monitoring feature will monitor your credit in case identity thieves try to use your SSN to open new accounts or take out loans. IDStrong will also offer tips to secure your data better and mitigate the risk.
How IDStrong Works
1. Monitor
We will continuously monitor your personal and financial information for any potential threats on the dark web and beyond
2. Alert
We will instantly notify you if we detect that your information is leaked, exposed, or breached
3. Resolve
Our identity protection experts are available 24/7 to help you take the necessary actions to restore your identity
Our Benefits
Identity Monitoring
We monitor billions of records on the dark web and alert you if we detect that your information is exposed or traded
Credit Monitoring
We monitor your credit profile for any suspicious inquiries, new loans, or any credit related changes
Privacy Monitoring
We scan data broker sites that list and sell your information and allow you to remove it with a click
$1M Identity Theft Insurance
If you fall victim to ID theft, we will provide you with up to $1 million in coverage with a no deductible for identity theft recovery expenses
Lost Wallet Assistance
If your wallet is lost or stolen, we will provide you with quick and reliable help in navigating the recovery process. We will walk you through the entire process every step of the way
Identity Restoration
If you experience identity theft, our fraud resolution team will deliver step-by-step support to investigate and restore your identity
Frequently Asked Questions About Dark Web Monitoring
What is the Dark Web?
The internet includes a public area (also known as the surface web) where most people spend time shopping and browsing websites. Then there is another layer called the deep web, where you log into sites like Netflix or your bank to see private, guarded information. The dark web is a network of highly encrypted and virtually untraceable websites hidden from traditional search engines. As part of the larger "deep web," the darknet is associated with black markets, illegal drugs, stolen credit card details, guns, counterfeit money, forged documents, child pornography, unlicensed pharmaceuticals, and the sale of other illicit goods. You can perform a dark web scan to determine if your personal information like usernames and passwords (credentials) shows up in a data breach. If your details appear on the dark web, identity thieves can use it for fraud, account takeovers, and other criminal acts.
Where is the Dark Web?
As an obscure part of the deep web, the dark web is not very easy to find. When you enter a word or phrase into Google, you use the surface web, and the search results show you what is available. When you log onto your online accounts like Amazon, Netflix, your medical insurance company, or your online banking account, you use the deep web. The deep web is a gated area you can only access using secure credentials because it stores personally identifiable information about you. However, the dark web is another level that you cannot reach through popular web browsers like Google Chrome, Firefox, Safari, Microsoft Edge, Yahoo, or Bing. Instead, users must download and use a special anonymizing browser called The Onion Router (TOR), which protects your privacy and encrypts all traffic. If you use a VPN on your home network, it similarly encrypts your online activities to keep them private.
Can I Find My Own Information on the Dark Web?
If you attempt to research your own information personally by venturing into the dark web, you could be tricked into interacting with hackers and exposing your identity further. You never really know who anyone is on the dark web. The dark web can be a dangerous place. A better solution is to use professionals to monitor the dark web for you and alert you when your information is exposed, sold, or used so you can take preventative measures to fix the problem.
How do Passwords End Up on the Dark Web?
Over the past few years, hacker groups have compromised billions of user accounts through data breaches. Hackers use various techniques to steal data, including malware, spyware, phishing scams, SIM card swapping, and ransomware. Some of these fraudsters even raid people's trash or mail looking for bank statements, bills, or tax documents to steal Information. Cybercriminals take the stolen data and post it on the dark web in hacker forums to expose or sell on dark web marketplaces. Their goal is to make a quick profit. IDStrong's dark web monitoring will alert you when your personal information is found on the dark web, meaning that someone has hacked your online accounts, stolen your credentials, or exposed them and is actively trying to sell them.
What if My Email is on the Dark Web?
By now, most people's email addresses are exposed online. That means that you could be targeted for phishing scams or other types of fraud. When your email address is exposed, your risk of identity theft increases, and could indicate your passwords may also be exposed. Someone could easily use your email address and pair it with other user credentials found on the dark web to break into your online accounts or engage in other suspicious activities like stealing additional sensitive data, draining your bank accounts, or stealing your identity. If you know your email account is exposed, first scan your computer for malware, change the email password, and then sign up for IDStrong's identity monitoring to check for other exposures online.
How to Find Out if My Information is on the Dark Web?
Perform a quick search using the IDStrong free dark web scan tool. Our free scan will show you if your information has been found on the dark web or not. After you sign up, you can see when a data breach occurred, what was breached, where it was breached from (the website), and also see actions that you need to take to fix the problem.
How to Do a Dark Web Scan?
To perform a dark web scan, you just need to type your name, email, phone, username, password, or SSN in the IDStrong search box at the top of this page, and within seconds you will know if any of your sensitive data has been compromised.
What's the Difference Between the Deep Web and the Dark Web?
The deep web is a collection of non-indexed web pages deliberately hidden from conventional search engines like Google or Bing to protect sensitive or private data. Examples include cloud data, government websites, online banks, credit cards, and website services. However, the dark web is a different animal from non-indexed websites often used for dangerous, illegal, and criminal activities. Some things found there are pirated software, malware kits for budding young criminals, user credentials (usernames/passwords), corporate business data, weapons, child pornography, endangered animals, slave labor, and dozens of other illegal goods. In addition, the dark web is difficult to navigate and operates much slower than the deep web.
How Much Does Identity Data Cost on the Dark Web Marketplace?
Identity thieves sell data (online, e-commerce, bank, or email accounts) for shockingly low prices on the black market. Credit card details go for as little as $12-$20 or $40 when the PIN is included. A tax ID costs an average of $28. A social security number or passport costs $60-$80. Online banking logins sell for $35 or $65 - for bank accounts with a $2,000+ balance. A driver's license costs $225. You could buy a complete physical identification package with a new name, birth date, passport, SSN, and even a tax return for $5,200. Many transactions are conducted using cryptocurrencies so it's harder to track the criminals.
What Information is Sold/Traded on the Dark Web?
The dark web is a vibrant marketplace for illegal goods. Some of the things that criminals sell on the dark web include stolen Netflix accounts, credit, and debit card numbers, PINs, bank account details, email addresses, phone numbers, social security numbers, driver's license numbers, passport details, usernames, and passwords, medical information and much more!
How Does IDStrong Find Passwords from the Dark Web?
IDStrong databases contain billions of passwords from hacked accounts exposed on the dark web. These passwords come from personal social media accounts, bank accounts, private medical records, blogs, peer-to-peer networks, shopping websites, chat rooms, forums, webinars, or email accounts. IDStrong gathers Information from semi-restricted forums, black markets, hacker forums, IRCs, BitTorrent, and peer-to-peer (P2P) file-sharing platforms.