Acxiom Opt-Out
What is Acxiom?
Acxiom is a marketing and customer data management solution; they collect information about consumers with the best chances of returning for another purchase or service. They gather data about key consumer demographics to create business marketing. They can create targeted advertisements, emails, and surveys; or create unique e-commerce solutions like subscription-based (SaaS) web services.
When can I remove myself/my name from Acxiom?
As a marketing solution, Acxiom has access to the information provided to them via their affiliates. They analyze this data and produce target-specific marketing for a particular type of consumer. Business owners, individuals, and the guardians of minors have references in Acxiom's opt-out explanation; in some rare situations, all parties must verify their identities via specific documents.
Acxiom's Requirements for Opt-Out
Acxiom allows every customer to "opt-out" of their marketing influence. They also offer the option to correct the data, limit its use of it, or delete it entirely. Acxiom has no internal requirements to opt-out, but you'll need an accessible email to finish the process. Reliable access to an email is vital for verifying changes to your data; the process does not complete without verification.
Note: Before you decide to "limit the use" or "delete" your data - review Acxiom's privacy policy regarding the process:
Acxiom purports to treat all cases of limiting the use of data as if it were a deletion. The entire data history dissolves, including any opt-out fliers fixed to the data. As a result, consumers who enter the wrong information may restart the marketing process.
Where to Start Opting-Out
Acxiom offers six methods for opting-out:
An unsubscribe button (invalid at this time)
Direct email (takes up to 45 days for completion)
Two customer support phone numbers (automated systems)
A physical office (write them a letter or two)
An in-browser quick form (the fastest way to opt-out)
A privacy support manager (the official way to opt-out, but also gives access to your information profile status at the very end)
These methods are explained below, alongside detailed descriptions and screenshots. Complete the opting-out process on a computer using the in-browser quick form - this process is the fastest and most straightforward.
How to Opt-Out of Acxiom:
A Step-by-Step Guide
Unsubscribe Button at the Bottom of Emails
Acxiom ads and emails have an unsubscribe button at the bottom of them. According to their privacy policy, anyone can "opt-out" of their influence via this button. However, further along, the same paragraph clarifies; that it doesn't opt-out a party, it stops basic communications - Acxiom can still use the information as necessary. The relevant bits are yellow in the shot below: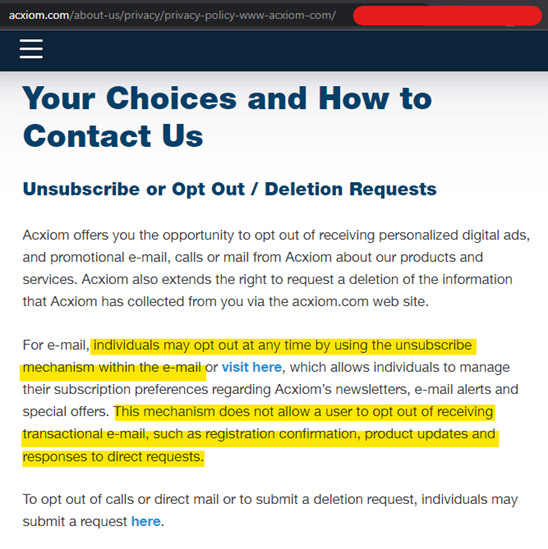 Please refer to one of the following sections for a successful Acxiom opt-out.
Email the Customer Support Team Directly
Acxiom's customer support email is at the bottom of every page on their website: Consumeradvo@acxiom.com. Individuals looking to send an opt-out request to the support team directly should copy/paste the following into an email:
Send to Email: Consumeradvo@acxiom.com
Subject: Opt-Out Request
Mail Body:
Hello,
My name is [Full name]. I am opting out of Acxiom, its affiliates, and all other associated parties. Please have a customer support team member complete this process immediately.
Profile Information:
[Full name]

[Address including city, state, and zip codes]

[Telephone numbers registered to your name]

[Valid email addresses, including the one used to email this]

[Any relevant URLs or information for the representative]
Please email me if you need further information or encounter a problem.
Thank you,
[Full name]
Note: Acxiom's support may take two days to over a month to respond to inquiries. Essentially, they will receive your request, respond with a confirmation email, and unless you verify the changes, they won't happen.

Call the Hotline
These two numbers reach Acxiom's support team; one in the clip above is (877) 774-2049, and the other is (501) 342-3122 (listed below). These numbers will direct callers to an automated system that will assist with the opt-out process; they complete an internal verification procedure during the process. Some complex accounts may require speaking with a live representative.
Notify Acxiom's Offices by Writing to Them
Suppose multiple documents are needed to fulfill your opt-out request; consider physically mailing them the information. Individuals can write to their offices at this address:
Acxiom LLC
Consumer Care Advocate
Attention: Consumer Rights Requests
PO Box 2000
Conway, AR 72033
Consider copying/pasting the email from above into a word processor to print out. Make sure to sign it with your signature and date it before sending it.
Use Acxiom's In-Browser Quick Form
The quickest way to opt-out from Acxiom is to use their "US Consumer Opt Out" page; it is the only way to reach the quick form (located at the bottom). Alternatively, users can click on the bold section option reading "Go to US Consumer Opt Out Form":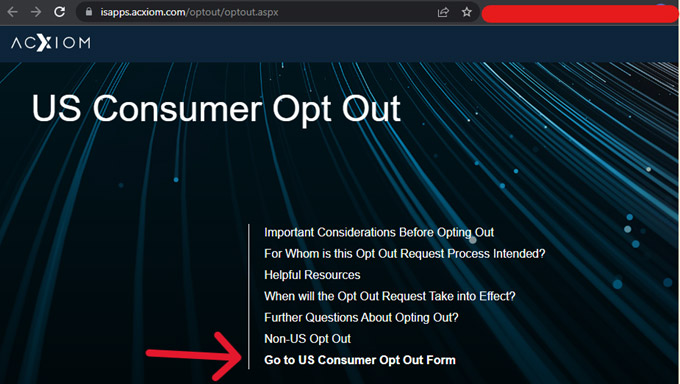 Step One
At the bottom of the screen will be the aforementioned form, shown below. Notice the blue question mark to the right of the topic spaces. Hover over these to learn why they are asking you for the information. When ready, click upon "Select opt out segment":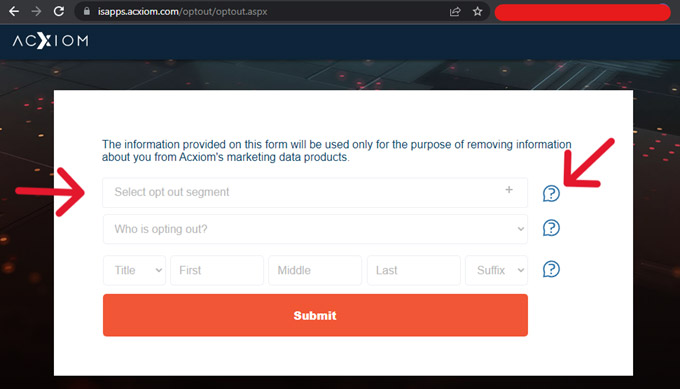 Step Two
Select all the drop-down options available, including mail addresses, phone numbers, and emails. It is important to select all because notifications may slip through otherwise: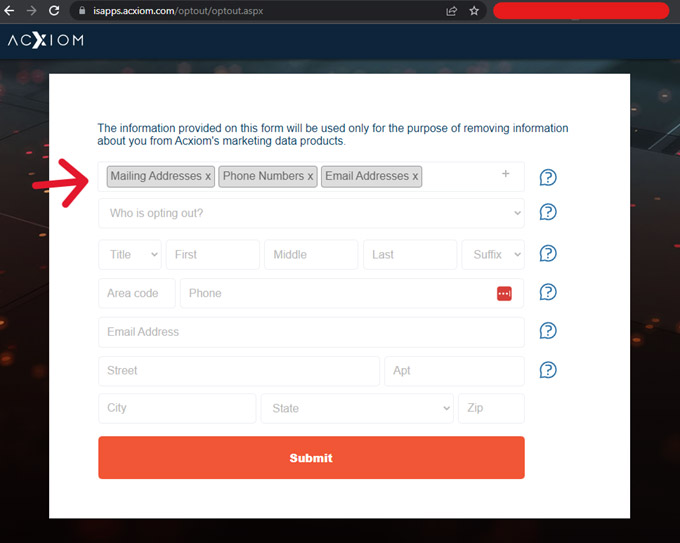 Step Three
Enter the requested information into each bar. As soon as you do, to the right of the blue question marks will be a gray + icon. Click on it to "add" the entered information to the request. The entered data will have gray Xs to the left when successfully added. Only click these to remove information. (Don't forget to indicate "Who is opting out?"):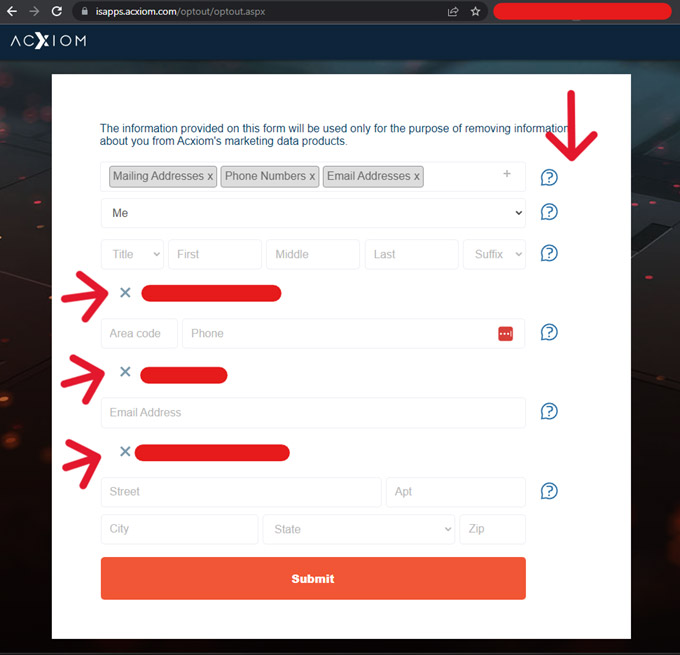 Step Four
Next, submit information for the address of the consumer. Entering this information will change the screen. They will offer their "recommended" address, select this option, as it is the address within their systems. When ready, hit "Submit":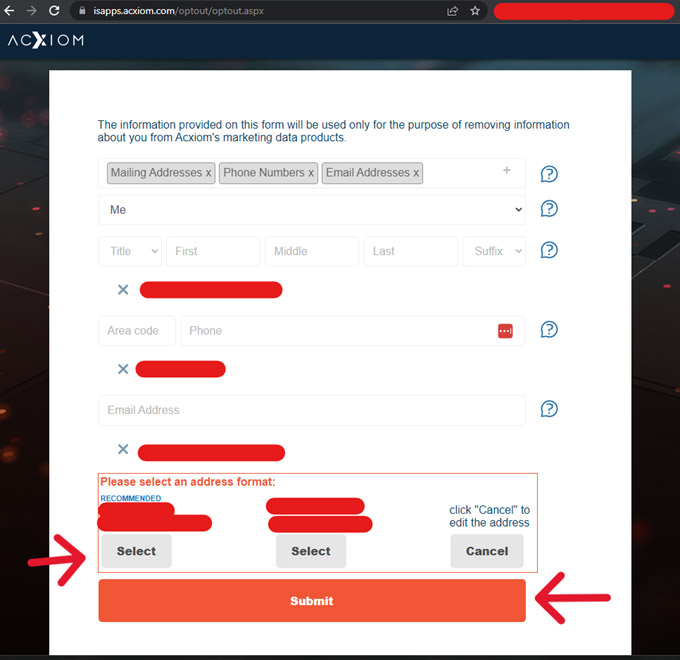 Step Five
The page will change again and offer a new space for a valid email address, a verification box, and a Submit button; do as indicated, then click on "Submit" when ready to continue: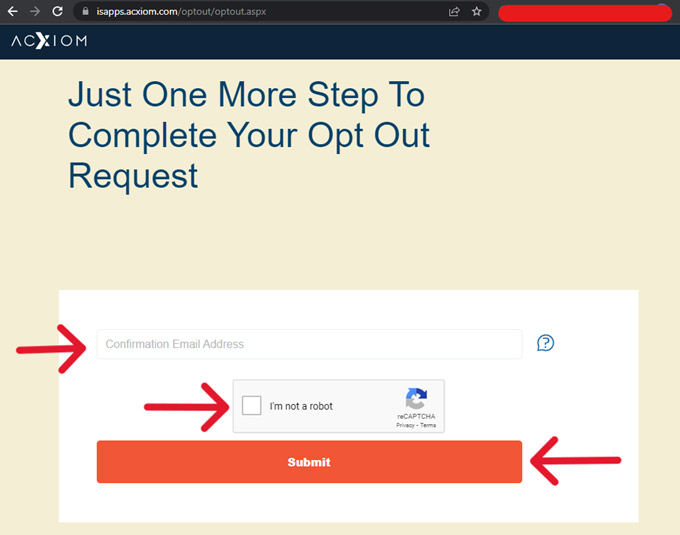 The page will refresh and then change to an address that says the user cannot continue without access to the previously entered email:

Step Six
At this point, go to your email; there will likely be an email entitled "Consumer Opt-Out Verification". To finish the request for the opt-out, you'll need to click on the link provided in this email: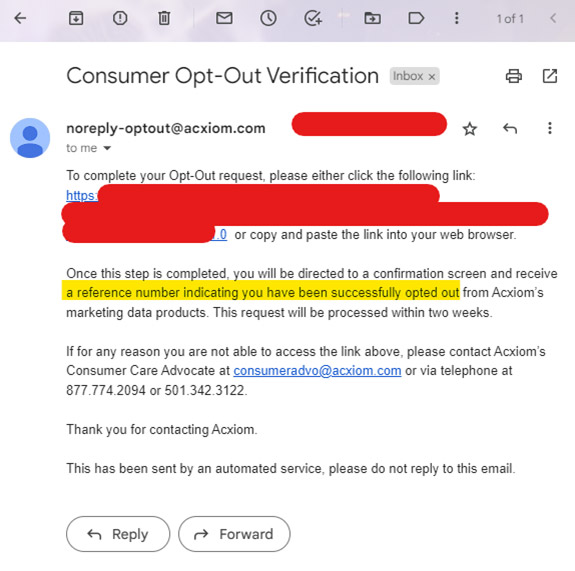 Step Seven
A new page will populate after clicking on the link in the email. Make sure to check the "I'm not a robot" CAPTCHA before clicking "Submit":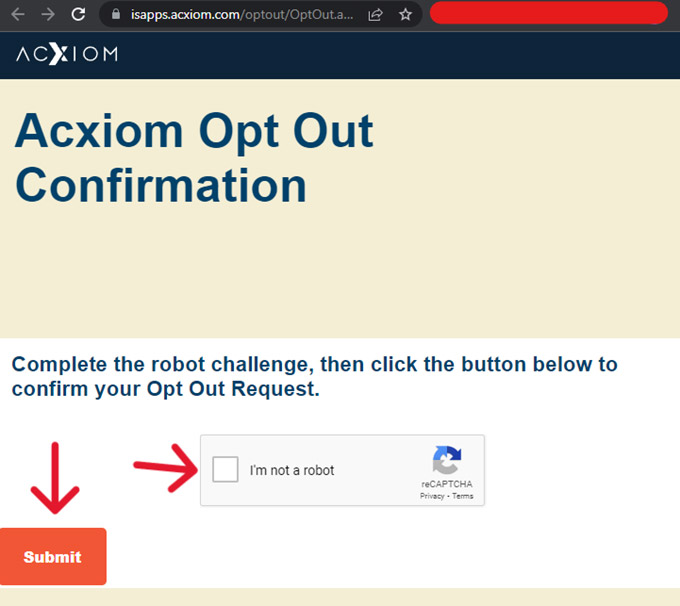 Immediately the page will change again, giving a final reference number: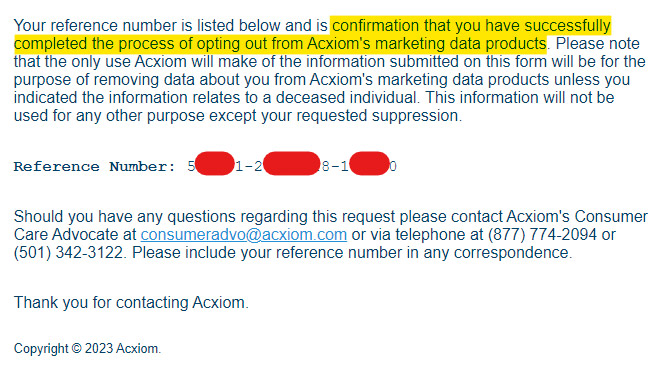 Use Acxiom's Consumer Privacy Support Manager
This avenue for opting out is the most official way, but more importantly, you access your profile's status page through this method. That's a great resource for those wanting to monitor their cybersecurity hygiene.
Step One
Head to Acxiom's "Your choices for www.acxiom.com" and scroll to the bottom. There are two buttons there, one reading "Opt Out" and the other reading "All Other Privacy Rights Requests":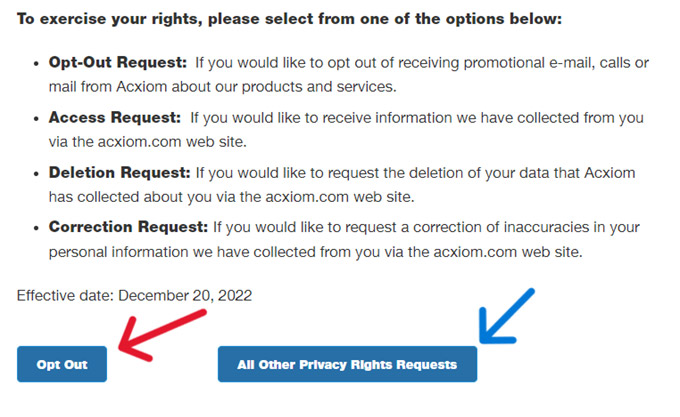 Step Two
Click the "Opt Out" button, and a new page will populate. This is the Acxiom Consumer Rights Portal: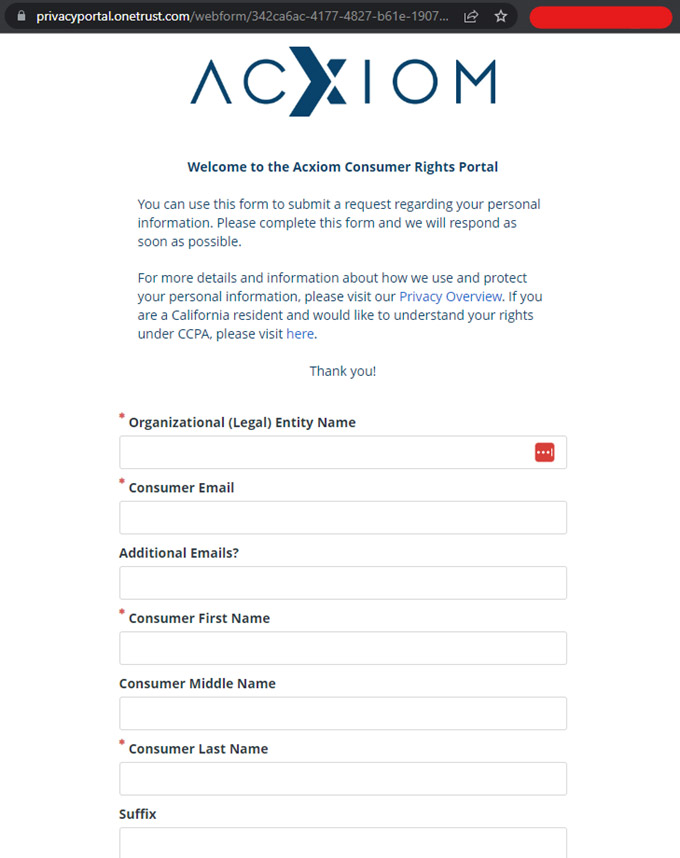 Step Three
Fill out this form to the best of your ability. You'll need the legal names of the party, along with any known emails and addresses. Once all the necessary fields are complete, check the CAPTCHA box and hit "Submit" in the bottom right: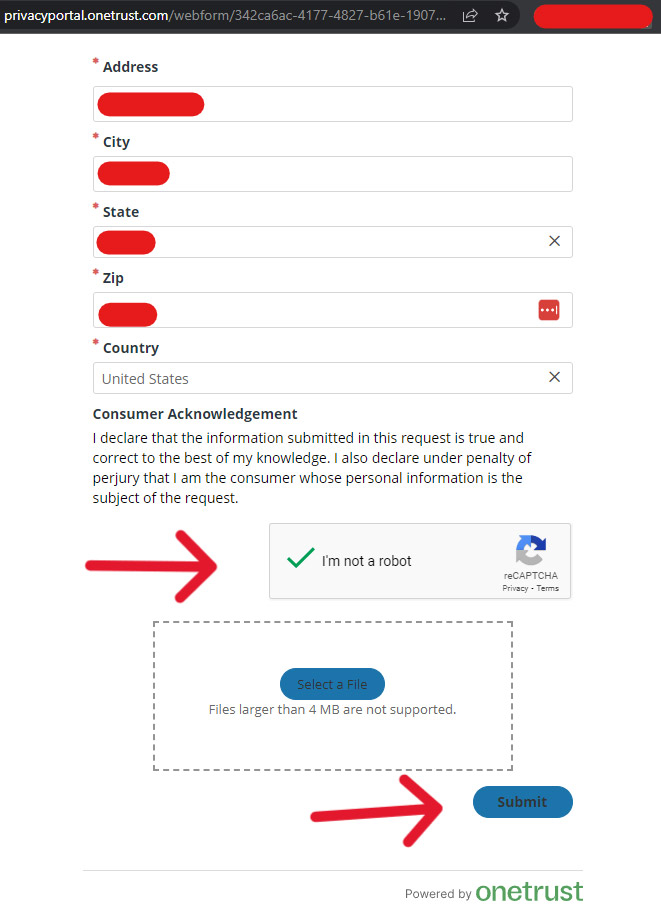 Step Four
The screen will change immediately to a note from Acxiom. Don't stop the process here. They've sent a 48-hour link to your email, so hop on over there: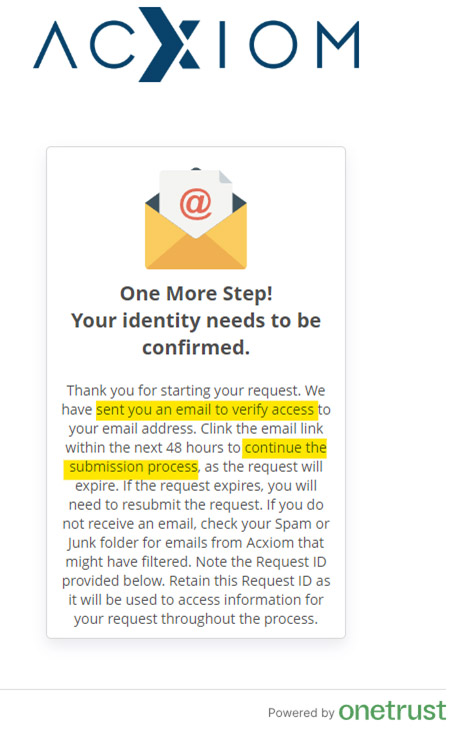 Step Five
The email from Acxiom has a lot of information in it, all information you just entered and bits of what Acxiom knows. At the bottom of the email, there's a blue button that says, "Confirm Email", click that: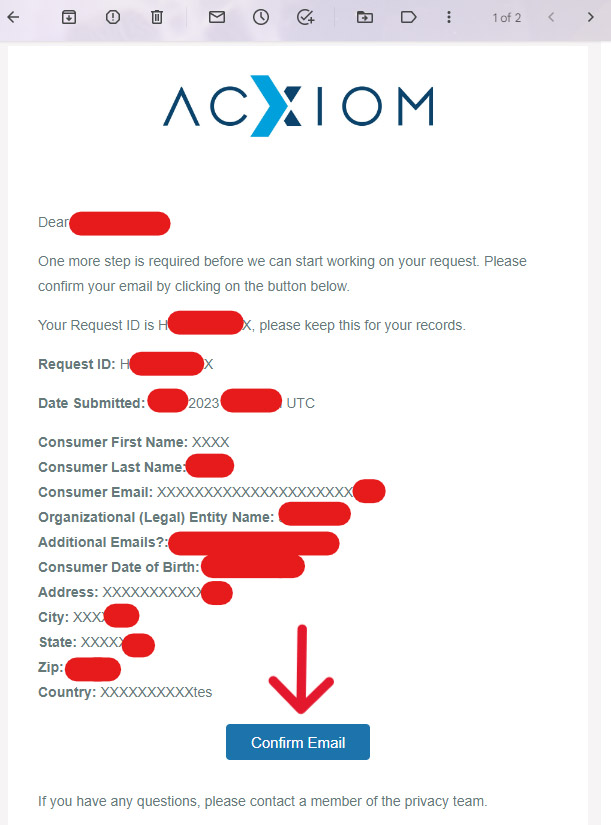 Step Six
Yet another tab will automatically open, showing a "Subject Request Submitted" notification: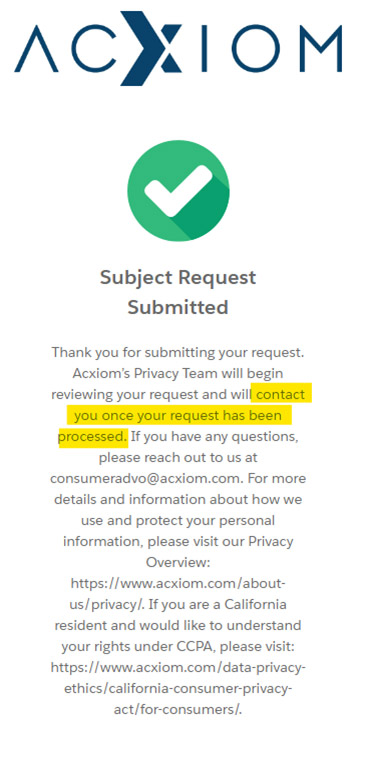 Users should receive a follow-up email from Acxiom after completing the request. This email contains the request ticket number and a profile page link. Click on the "View Request" button to review the changes in your information's status: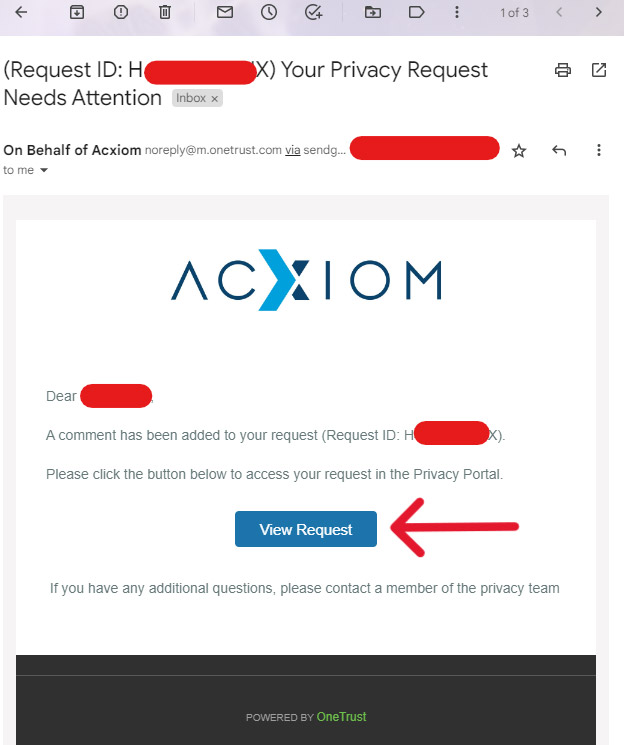 We've Opted Out, but There's More to Do
It's relatively easy to remove information from Acxiom, however, there are many misleading or incomplete avenues to removal. Acxiom will continue to market to the target if the process isn't completed. If a user tries to opt out of Acxiom and would like to know the status of their information, they'll need the "Request ID" email (above).
The total opt-out time for Acxiom's process depends on the user's confidence. An experienced user may complete it within ten minutes, while novice users will find the process longer, based on decoy links and scrolling. This guide is up-to-date with the current processes of opt-out solutions provided by Acxiom and its privacy policy (2023).