CocoFinder Opt-Out
What is CocoFinder?
CocoFinder is a vital records provider and portal; consumers may find associated data connected to a specific person or be redirected to an affiliate search website. The informative records CocoFinder offers are aggregated reports derived from already public data. By utilizing public data, CocoFinder (and other people search websites) can make assumptive conclusions about matching information; this is why a people search website may seem to "know" everything about an individual. There is a downside to using public information; however, inevitable inaccuracies occur as a byproduct of user error. CocoFinder purports its records contain current vital records about consumers, but these records may be inaccurate, wrong, or mismatched. Consumers wanting to remove themselves from CocoFinder's public search results must request an opt out.
Opt out refers to the consumer's ability to remove personal information from internal search results. There are typically two ways a data website will approach opt out requests. Websites that retain records after a request has been made generally use suppression techniques to stop the data from appearing after a search is done. On the other hand, websites that do not maintain "old" records may delete the data altogether. In the case of CocoFinder, opt out requests are treated as requests to delete. For the average consumer, this means returning annually to create a new opt out request.
CocoFinder's Requirements for Opting-Out
There are no requirements for opting out of CocoFinder, but there are nuances. These nuances come from compliance with state laws; California's CCPA gives residents the right to inquire and remove their details from people search websites; other states (NV, UT, CO, VA) have privacy laws that guarantee similar rights to those of Californians. Data websites can determine their compliance solutions in various ways; in the case of CocoFinder, compliance means two types of opt out solutions. Californians can request an opt out via email, barring the correct information which the user provides. While all other U.S. residents can only opt out through the online form, non-California residents are ignored otherwise. The shot below displays CocoFinder's only words on opt outs; the highlighted parts are relevant, although it is hidden within a mismatched section.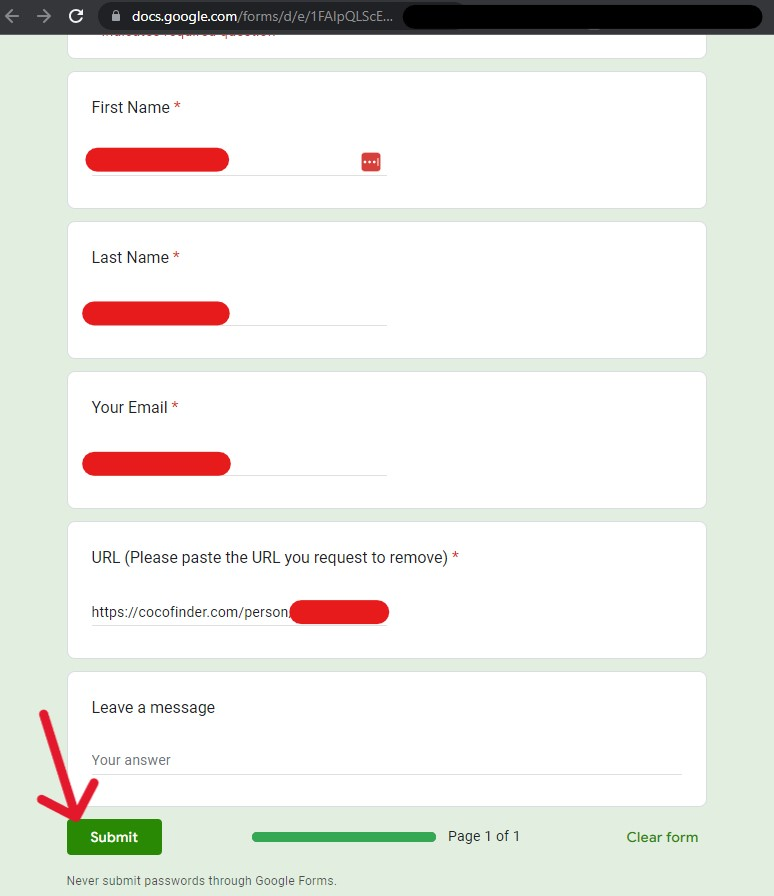 Though the section refers to "Rights for Minor Users", the policy also refers to all CCPA opt out requests. Californians can email their opt out requests, while non-Californians cannot. Additionally, note the second section of the highlighted text. It gives no promise to remove the comprehensive data associated with a consumer, only an implication to "try". For these reasons, consumers must verify that the opt out request has occurred; how to opt out, verify the request, and the next steps are described below.
Options to Remove Information from CocoFinder
CocoFinder purports to have multiple ways to contact their service team, calling or emailing. As stated above, the emailing option works for Californians, and the process for this is described in the following sections. For the rest of the U.S., however, consumers must rely upon the opt out form overseen by CocoFinder. Usually, people search websites that offer an online form that is 100% their own; CocoFinder has circumvented this tradition and instead uses Google's form application. To complete the form, the consumer must obtain an applicable record URL to complete the request.
Calling CocoFinder Results in a Disconnect
CocoFinder has multiple phone lines, two of which are 1-(678)-914-1304 and 1-(844)-578-4610. However, when called, none of their phone numbers connect to a service representative. Even their Contact Us page omits these phone numbers, likely to redirect the consumer elsewhere. When these numbers are called, the caller may experience one or two rings before being automatically disconnected. Because these phone numbers effectively don't work, CocoFinder suggests contacting their support by emailing them. However, as stated above, only opt outs requested by Californians are accepted through email. Many consumers may not even be told their request was rejected for a specific reason, needlessly inflating consumer frustration. The guide below describes every step of the online opt out and email process (for interested Californians).
CocoFinder Opt-Out: The Complete Guide
CocoFinder's Online Form Process and How to Get an Applicable URL
CocoFinder's online form is accessible through their website but is a Google Doc. Additionally, because Google hosts their form, they require an applicable URL to complete the process. These URLs are only obtainable by searching through CocoFinder's internal system. They relate to a specific web address regarding a particular record. Requests without the URL are automatically rejected, making them necessary to opt out. Consumers don't need an account to obtain their URL, nor do they need to pay fees to remove the record. To start, open CocoFinder.com.
Step One
First, we must locate the correct record to obtain the profile URL. The CocoFinder main page offers various options for detail searches. For this guide, only a first and last name are entered, but adding more information will provide narrower search results. After entering the search information, click the green "Start Search" button to the right, or press the Enter key on the keyboard.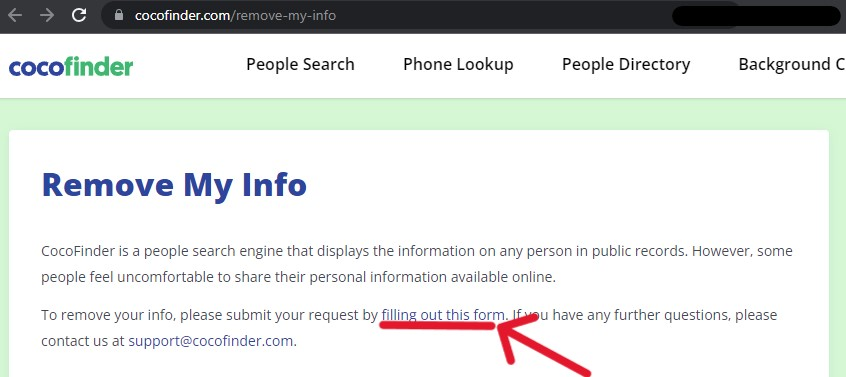 Upon engaging in the search, two things may occur. First, a new tab will open, displaying a loading page as CocoFinder pulls together some options. Simultaneously, the original tab will be redirected to an affiliate people search website. These redirection pages are randomized but mainly involve searches run by Instant Checkmate, TruthFinder, BeenVerified, Spokeo, and Intelius. Exiting these search pages and referring only to the CocoFinder results tab is recommended.
Step Two
On the CocoFinder results page, locate the record most closely related to your actual information. Not all the details of a record must match, in fact, there are likely pieces that don't. Ignore these inaccuracies and continue with the opt out process. When the record is found, right-click the large blue name or the green "Check Details" button. Copy the link address to the clipboard from the cursor menu that appears.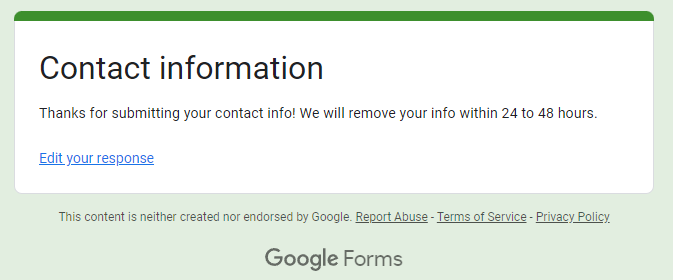 Step Three
After the link is copied to the cursor clipboard, scroll to the bottom of the results page. Among the many gray hyperlinks at the bottom of the page, locate and click the "Remove My Info" option.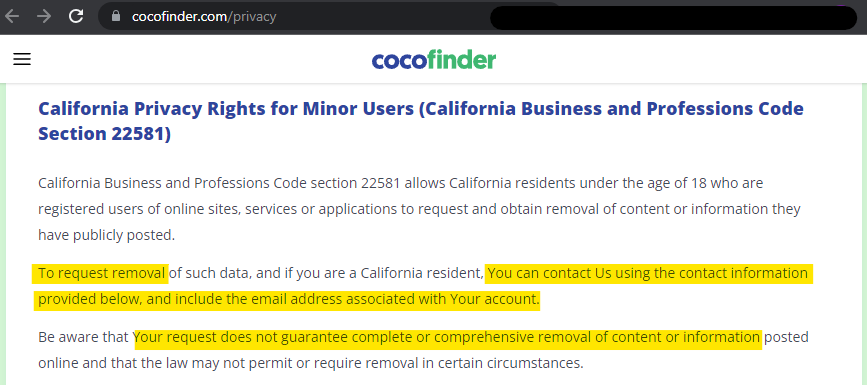 Step Four
Clicking the link will open a new tab, the Remove My Info page of CocoFinder. Along with a list of frequently asked questions, this page offers the direct route to the Google opt out form. Find the blue hyperlink that reads "filling out this form" and click it.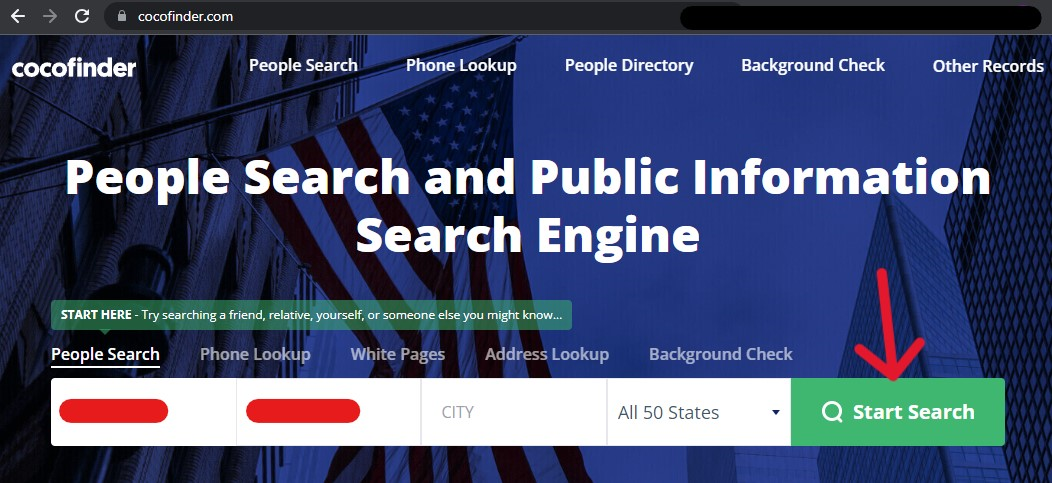 Step Five
Yet another tab will open upon clicking the link; this newest page is the Google form. The consumer must enter a contact email, their first and last names, and the URL within this form. They can also submit a message, but the process is already known to be an opt out. Enter the requested information, and when finished, click the green "Submit" button at the bottom of the page.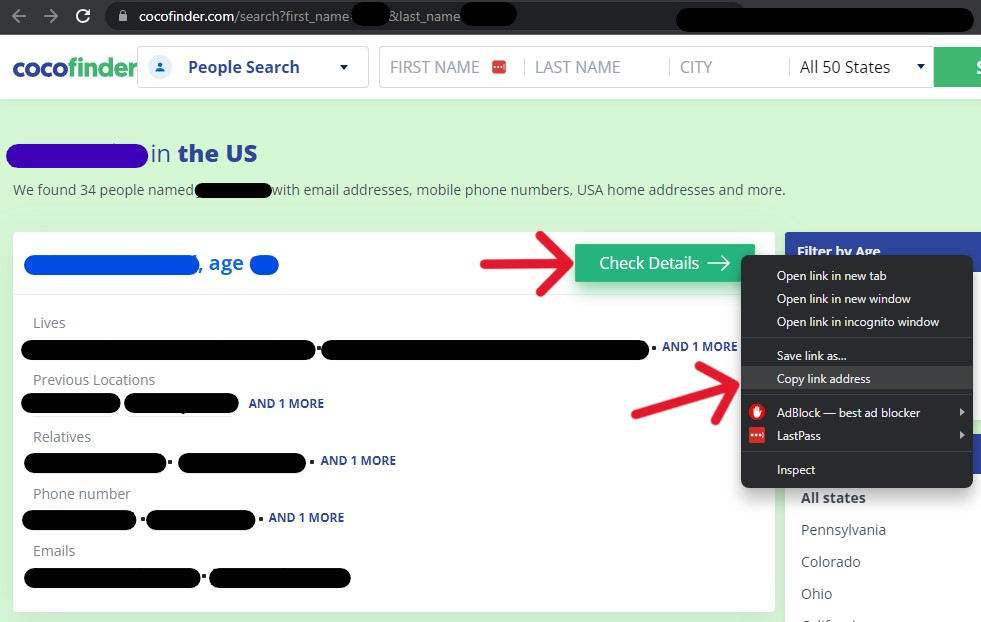 After clicking the Submit button, the page will refresh and display the message in the shot below. The message states that the information will be removed within the following days. However, the request must be removed by the CocoFinder support team first. It is possible for opt out requests to be rejected in this manner, but it seems rare. There are no indications of further correspondence, so consumers may not receive a confirmation email when the process is complete. The best way to check the status of an opted out record is by performing the internal search again.
Emailing an Opt-Out Request (California Only)
Those lucky few who can email their opt out request to CocoFinder will still need an applicable URL. Follow steps one and two from the process above to collect your specific URL. The URL can be pasted into an email creator, along with your consumer information. For most people search websites, there are specific qualifications to request an opt out; these qualifications are "authorizations" based on the details provided by the consumer. On the one hand, they confirm the email sender owns the record in question. However, they also confirm specific details about the record.
For this reason, only provide basic details about yourself in case they end up somewhere unwanted. It is possible for the details provided in these requests to show up on future reports, using sparse information is recommended. All support emails must go to support@cocofinder.com.
Remove My Name from CocoFinder!
Removing a record from CocoFinder is simple once the nuances are accounted for. It's possible that opt out requests are rejected, in that situation, the consumer can email the support team for assistance. However, there seems to be a pattern of support emails being ignored. For this reason, we suggest using the opt out form process rather than the email option. As stated above, consumers should return annually (at least) to perform an internal search after a successful opt out. This guide is up to date with the current processes of opt out solutions provided by CocoFinder's privacy policy (2023).