BeenVerified Opt-Out
What Does BeenVerified Do?
BeenVerified is a public record servicer; individuals enter simple information into the search bar, and all public records about another person are instantly available. They only need a name, phone number, email, address, username, or vehicle plate to start. Unlike consumer credit bureaus like Experian and Equifax, BeenVerified has specific restrictions about its use. BeenVerified doesn't aim to give 100% correct data but to provide a snapshot of a person's online, public information.
How Do I Remove Information From BeenVerified?
The consumer does not need to be a "member" of BeenVerified; they don't need to pay to become a member or pay to opt out. The option to limit your data use, or suppress it, comes from the Fair Credit Reporting Act (FCRA). In compliance with the act, BeenVerified offers different methods for opting out; and it takes about 24 hours for an opt out request to go into effect. The guide below offers resource links, screenshots, and detailed descriptions of all current procedures.
Preliminaries for Opting-Out
BeenVerified collects consumer information by accessing many public record databases; it can sometimes be wrong, because its information is sourced from the public. The wrong spelling of a name, date of birth, location, phone number, and more are simple fixes. The situation becomes more difficult when multiple records are created for a single person. The consumer with multiple records must contact customer service (below).
BeenVerified Opt-Out:
A Complete Guide
Call 1-(866)-885-6480 to Speak with Support
An easy way to opt out of BeenVerified's records, some consumers may find calling their support team the best choice. Although the consumer calls, they can switch to text. Going over text places a chat customer representative in contact with the consumer; otherwise, callers also have the choice to speak with a live rep.
When consumers call BeenVerified's support line, they reach an automated menu. Of the options they list, select the closest to "Privacy Rights or Requests", number "6" in 2023. The next menu gives two options, stay on the line to speak with someone, or press "1" to switch to text messages.
Consumers should say they want to "opt out" of BeenVerified, and that they "want them to remove [my name] from BeenVerified". Before finishing the call, ask for written confirmation of the suppression. They can send confirmation in the mail or over email.
Email Your Opt-Out Request to BeenVerified
Consumers who want a "paper trail" without the formalities are encouraged to email BeenVerified's support teams. This guide recommends emailing two of BeenVerified's service emails; while residents of California should email all three. Open an accessible email and copy the following into the relevant spaces. Exchange the highlighted areas for your real information:
Send to Emails: privacy@beenverified.com, support@beenverified.com, ccpa@beenverified.com
Subject: Request to Opt Out, Do Not Sell My Information
Mail Body:
Hello,
My name is [Full name]. I request BeenVerified not to sell or share my information, specifically public records associated with me online. I understand you reserve the right to disclose the information to third parties as necessary; or in the case of a successor-in-interest. Please begin the opting out process immediately and notify me of its completion or in the interim.
Consumer Information:
Full Name:

[Full name or name of the record you want to be suppressed]

Age:

[Among the data they provide, age is a common factor for identification]

Addresses:

[Addresses of known properties, city, state, and area codes]

Phone Numbers:

[Public numbers registered to or associated with your name]

Email Addresses:

[Accessible email addresses only, as they may send confirmations]

Listed Relatives:

[Public relationships are commonplace when people have the same last name; you can still suppress your data if some relatives are incorrect or wrong]

Additional Information:

[Any relevant information, like a specific record URL]
Please let me know if you encounter an obstacle or require my assistance.
Thank you,
[Full name]
Mail Your Opt-Out Request to BeenVerified's Offices
If you'd like to mail your request to BeenVerified physically, you'll be sending it to Atlanta:
MSC - 149098
PO Box 105168
Atlanta, GA 30348
No specific forms or diction are listed in BeenVerified's privacy policy for mailing-in an opt out request (below); this is the only reference to a consumer's ability to mail them about the request.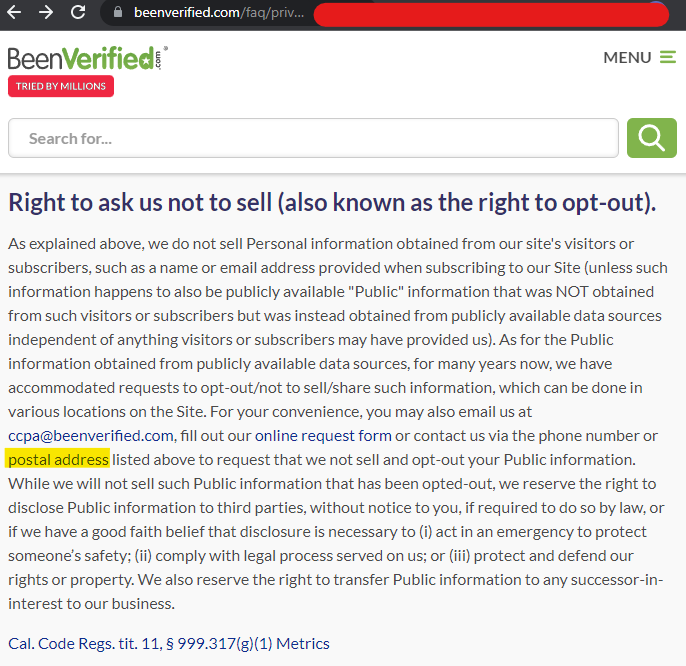 Copy the email from the section above into an application, print it, sign it, date it, then send it off.
Unsubscribe From Direct Marketing Emails
Those who receive direct marketing from BeenVerified, should "opt out" of their subscription through their email communications. Note, however, that unsubscribing from BeenVerified's communications does not opt you out of other mailing lists. BeenVerified may have shared your information with affiliate or partner companies. If this is the case, you may still receive marketing until you opt out of communications from those companies individually.
Step One
Open an email from BeenVerified and scroll to the bottom. Above their disclaimer, there will be an "unsubscribe" hyperlink. Click on it: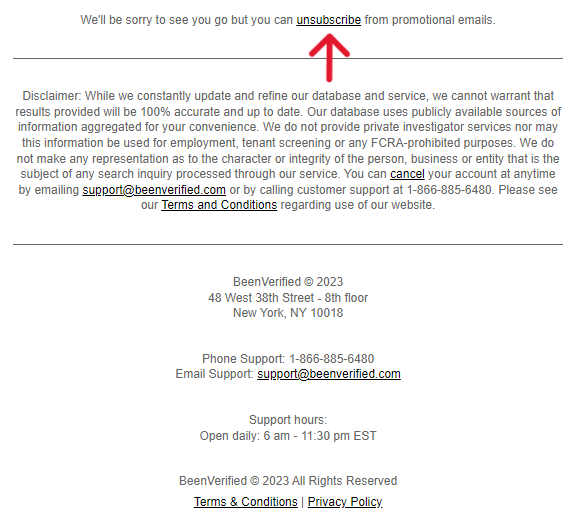 Step Two
A new page will open, telling the consumer they've been "unsubscribed". Notice the dictation below: "Unsubscribe from ALL publications from BeenVerified". Follow its instructions and click on the gray "Unsubscribe From All" button.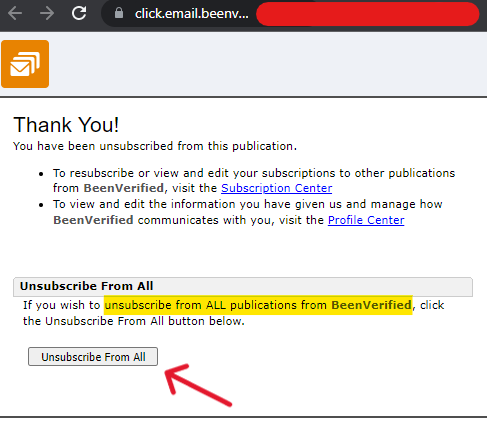 The page will load for a few seconds and return with a "Thank You!" That's all there is to unsubscribing from BeenVerified's direct emails, but there's still more to do.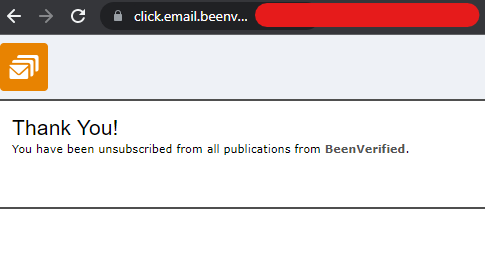 BeenVerified's In-Browser Customer Support Messenger
Consumers wanting to message customer support online can do so through the website messenger on their Contact Us page. Here, a consumer can request various needs, including asking for an opt out, "Remove My Info". However, it is not recommended to go this route, as the responding email will be the following candid response: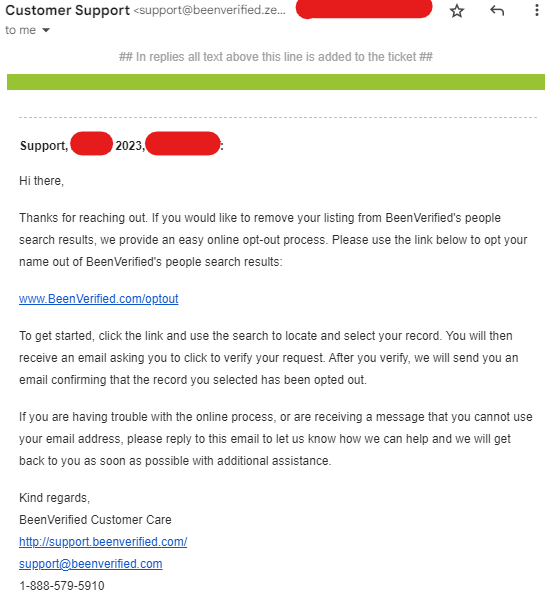 Instead of going through the trouble of messaging them and being redirected, head to the link here. It will take you directly to the official request form with a detailed procedure explained below.
Opt-Out with BeenVerified's Official Request Forms
BeenVerified offers an online request form for most consumers looking to opt out of the databases. This form has multiple steps but results in confirmation and written verification. From start to finish, the process may take a novice five minutes.
Step One
Open the People Search Opt-Out form. We'll start the process by filling in our first and last names, selecting our state of residency, and clicking "Search".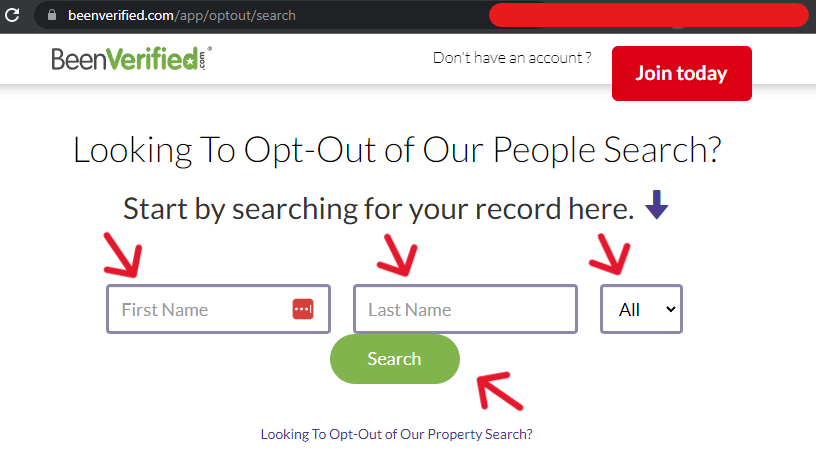 Step Two
Most individuals will find "1 result" for their name, and only some information is likely to be correct. Select the "Proceed to Opt Out" button when ready to proceed.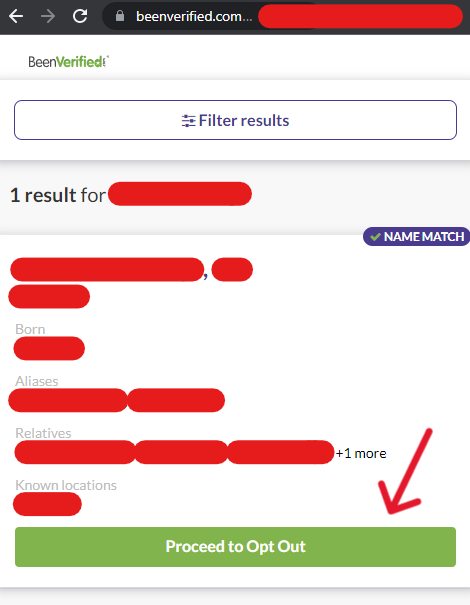 Step Three
The page will refresh and redirect you to the "Submit Your Opt-Out Request" page. This page outlines the process and promises not to use the email you submit for nefarious purposes. Enter your email, select the CAPTCHA box (solve the puzzle), and click the "Send Verification Email" button.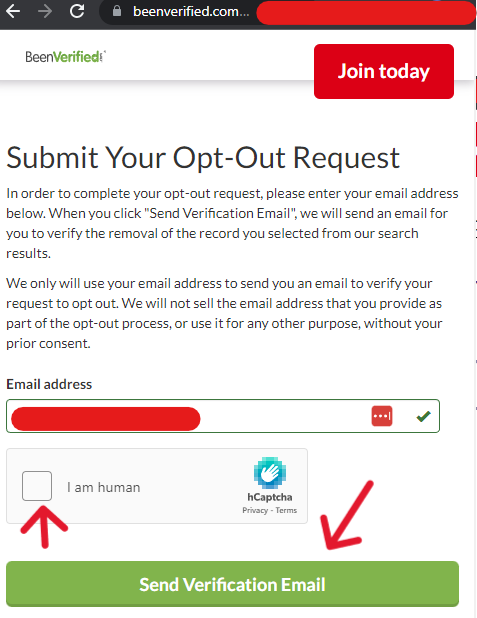 Upon the request being completed, the fields will disappear and instead, read "…received" and check your email: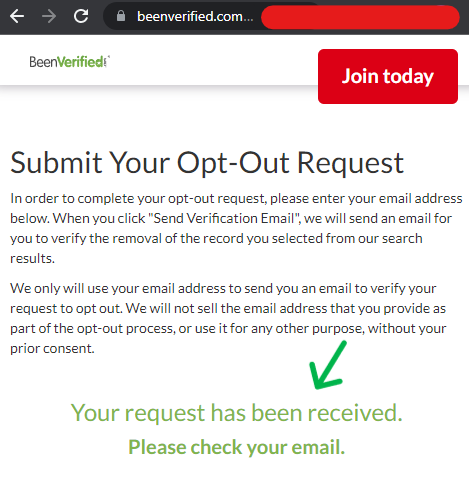 Step Four
Open your email account and open the automated email from BeenVerified. On the email is a shortlist of the record information and a green "Verify Opt-Out" button, denoted with a yellow arrow below. Click on it, and another page will open: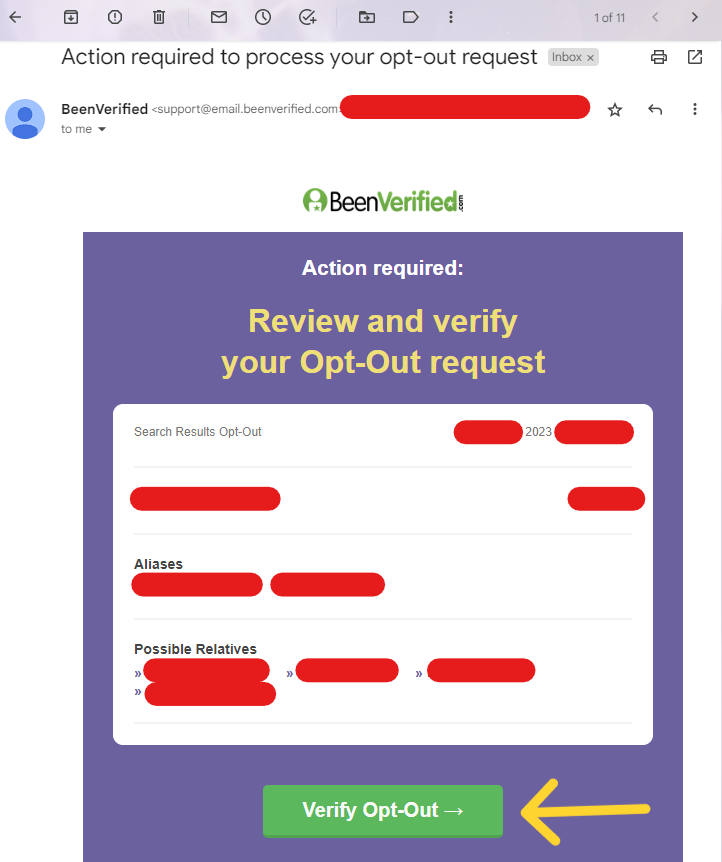 Step five
A new tab will open, displaying "Your Opt-Out Request Is Confirmed". This screen also shows the known information once more: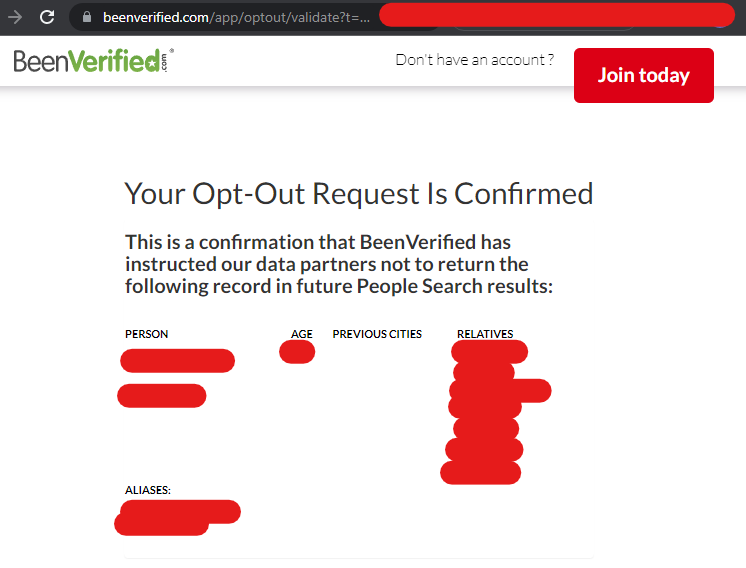 Check your email again, and you'll have another automated message; this will verify the request. This email will display the recorded information one last time and give some further directives.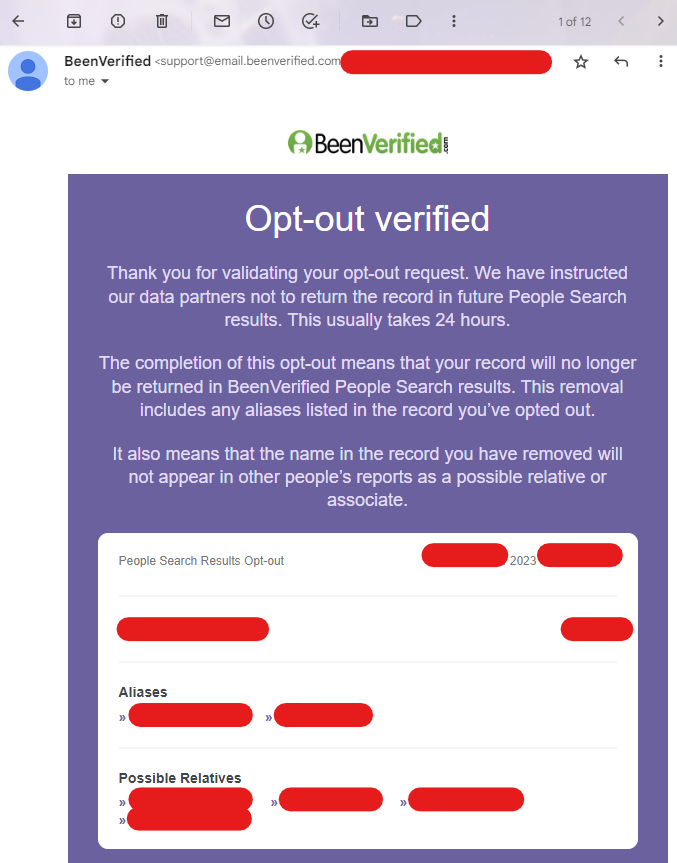 There is one more form to complete to be removed from the search results for BeenVerified.
Step Six
Go to the Property Search Opt Out page to begin. Submit a property's number, street, city, and state and click "Search".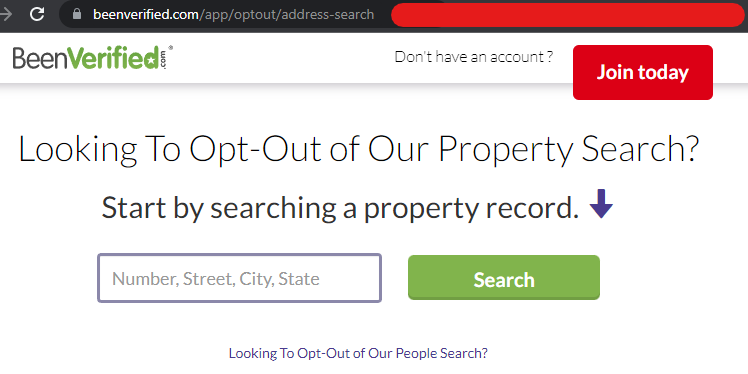 Step Seven
The next page will populate with a satellite image of the property results. It is not immediately clear, but this image is a link to the next part of the process. Click on the picture of the property results, denoted with a blue arrow below: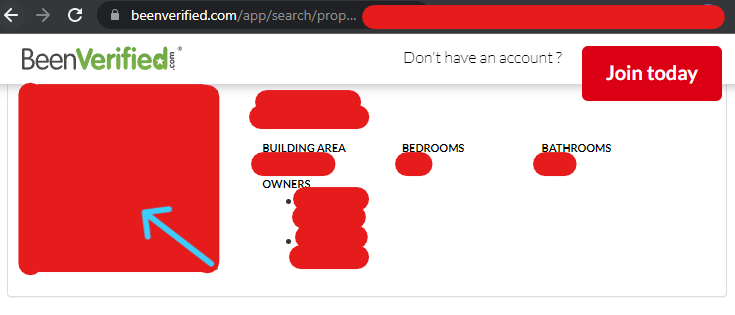 Step Eight
The page will refresh and offer options for "the names you want to remove". Select the boxes beside the names you want to be removed from association with the address. Click on the button that appears which says "Optout Owners".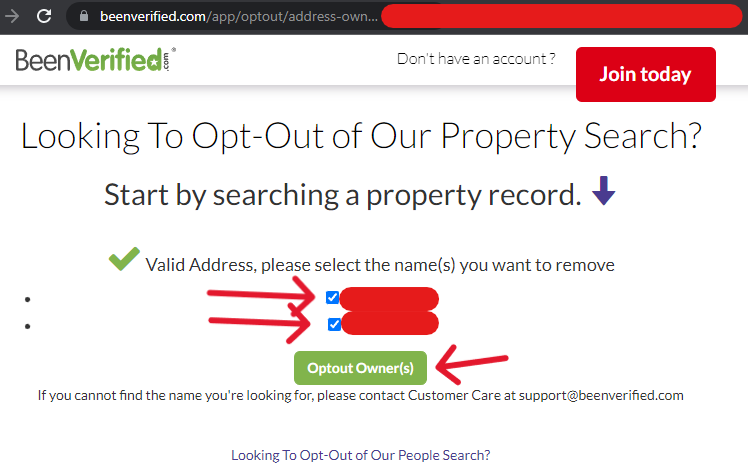 From there, the process will be the same as Step Three and down.
It's Worth It to Check Back Later
Although the opt out processes are relatively streamlined, a cautious consumer should consider following up. Check back later to ensure the information is actively suppressed, then once annually. BeenVerified makes the follow-up process easy, navigate back to the corresponding opt out page and run the search again. Your information should show as "no results" if successful: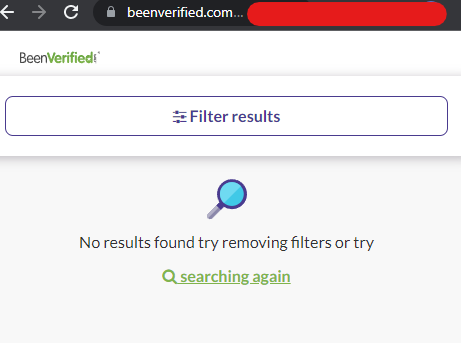 BeenVerified's privacy policy also warns that some users must "clear" their browser's cache to see the changes; regardless of the cache, the changes are presumably saved otherwise. This guide is up-to-date with the current opt out solutions process provided by BeenVerified's FAQs and privacy policy (2023).