AnyWho Opt-Out
What Does AnyWho Do?
AnyWho is a public information resource specializing in people searches; enter basic details about a target, and a snapshot of associated aggregate data becomes available in minutes. Entering a name and city gives way to a surfeit of other information. These include historical addresses, phone numbers, emails, associates, and additional personal information. In the case of AnyWho, such data does not come from internal databases but from a more prominent data broker, Intelius.
Intelius is an aggregate data broker; they purchase access to public information from online and government sources. Intelius then harvests, parcels, and stitches this data into plausible reports or "profiles". These reports are plausible (rather than factual) due to the nature of the information. Since it is all publicly assessed, some details are susceptible to being incorrect or wrongly associated with a search target. The existence of plausibly inaccurate data is what separates data brokers like Intelius from credit brokers like Experian.
Data brokers are subject to different regulations than credit bureaus, and Intelius confronts these guidelines with straightforward processes. Those who want to remove their public record from AnyWho cannot do so from AnyWho directly; instead, the consumer must opt out of using Intelius' resources. The guided tutorial below offers all of Intelius' opt out solutions, alongside screenshots, detailed descriptions, and resource links.
Requirements to Remove Information From AnyWho
There are no requirements to opt out of Intelius (and AnyWho, by extension). Despite this, consumers may be best served depending on their chosen opt out method (listed below). The cautious internet user, concerned about cybersecurity hygiene, has more to consider than the average consumer; the solutions below require verification details like a phone number or email address.
Intelius uses contact information only for opt out purposes, but one can never be overly cautious when interacting with them. Picking up an alternative email and phone number is suggested, but these will add to the procedures below; because they would be "new", the Intelius system would not have them associated with a user, so secondary authorization steps may be necessary. The alternative is to complete the procedures with already known data, instantly verifiable by Intelius' internal database. The guides below assume the user is opting out with already known details; this method is faster, despite the cybersecurity tariff.
What Are My Options for Opting-Out of AnyWho?
Intelius (and subsequently AnyWho) provides four methods consumers can use to suppress their data from showing after a public search. The suppression of information is critical to halting its appearance as a search result; suppressions do not stop the creation of other reports, however, since Intelius does not control all public and government databases. Individuals must submit opt outs to each company to prevent other search websites from exposing their information. Intelius offers opt outs that impact qualified affiliates, partners, and third parties, including ZabaSearch and AnyWho.
Call the live representatives if opting out of multiple records or reports involving minors.
Email the privacy team directly if you are opting out and desire a record of the interaction.
Mail the suppression request to the offices to start an "official" paper trail.
Or use the online suppression center to opt out in ten minutes; the guide below demonstrates this process with information already in the Intelius system.
Four Ways to Opt-Out of AnyWho in Ten Minutes
Call the Live Representatives within Operating Hours
Consumers who want to suppress multiple records or reports detailing information about minors should call the Intelius live reps. The number to contact them directly is 1-(888)-245-1655; note that it is suggested to do this during operating hours. Outside these hours, the consumer may receive a rolled message requesting a callback or message. To speak with a live support agent, call Monday - Friday, 7:00 am - 4:00 pm PST.
Email the Privacy Team Anytime
Consumers requiring a virtual record of their request should email the privacy team. Intelius' privacy policy dictates what consumers should email (below). Although they don't provide a list of "verification information", it's reasonable to make assumptions based on this section. Consumers can email the privacy team at privacy@intelius.com; or use the provided email, exchanging highlights for factual information.

Send to Email: privacy@intelius.com
Subject: AnyWho Opt-Out Request
Mail Body:
Hello,
My name is [Full name]. I want to remove my name from AnyWho, Intelius, and all other applicable affiliates, partners, and third parties. I want to exercise my privacy rights by opting out of Intelius' sharing and selling of data associated with me. Please have an agent send confirmation of this process as soon as possible; or contact me with questions if you encounter a problem fulfilling my request.
Consumer Information:
Full Name:

[Full name and known aliases or misspellings appearing on record]

Email Address:

[Add the email used to send this message, or direct marketing may occur]

Phone Number:

[All historical phone numbers and registered or associated numbers]

Property Address:

[Residential, commercial, and associated addresses should be listed]

Additional Info:

[Reference numbers, profile URLs, or other info may be listed here]
Thank you,
[Full name]
[Date]
Write Your Request and Mail It on a Weekday
Alternatively, submit a request by post; this process has the most prolonged duration, though it becomes invaluable in judiciary proceedings. Consumers can use the email above to format their letter, although some changes are suggested; (1) add the postal address (below) and date to the top left of the letter, above the greeting; (2) add additional space between the farewell and sign off, enough for a signature, at least. When ready, send your request to San Diego:
Intelius, AnyWho
Attn: Privacy
501 W. Broadway St., Suite 800
San Diego, CA 92101
Go the Official Route: PeopleConnect's Suppression Manager
Like Intelius oversees AnyWho's aggregate reports, PeopleConnect oversees Intelius' data privacy management. PeopleConnect also controls the data management of other data brokers like TruthFinder and USSearch; subsequently, opting out using the PeopleConnect Suppression Manager also opts the consumer out of other people search websites associated with PeopleConnect. Read more about this on the main page of the tool.
Step One
To start, open the link above in a new tab. Enter an accessible email address into the space provided. Click the white check box to agree with the Terms, then "Continue" when ready to proceed. The email entered here must be immediately accessible to complete the procedure.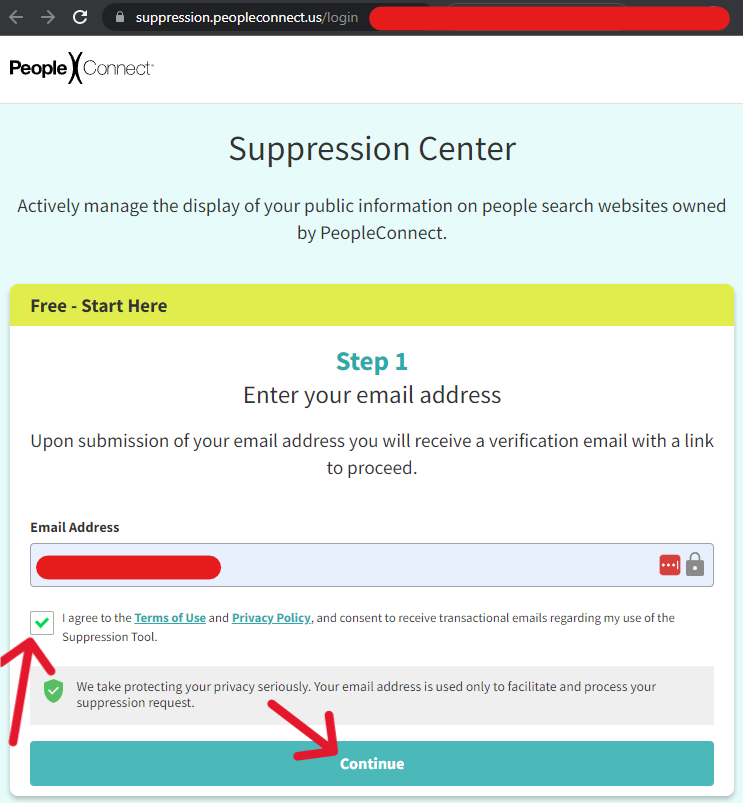 Step Two
The in-browser wizard will immediately redirect the user to the email entered. Access the email sent by verifications.peopleconnect.us (below), and click the "Verify Email" button in the center of the message; this button is valid for 15 minutes. If the link is not clicked at that time, the process restarts.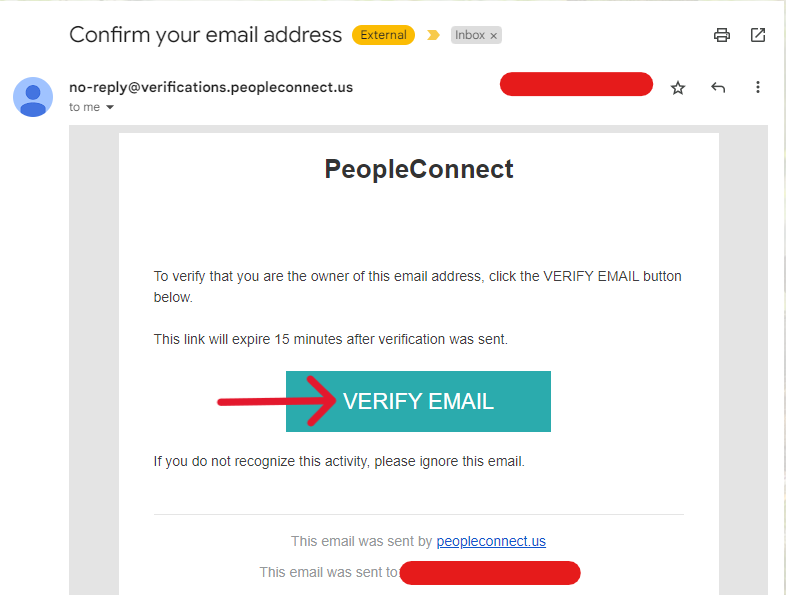 Step Three
The link will open a new tab, requesting the user input their birth date. Enter the date by clicking the date format or the mini calendar icon to the right. Once submitted, check the verification box to the left, then "Continue".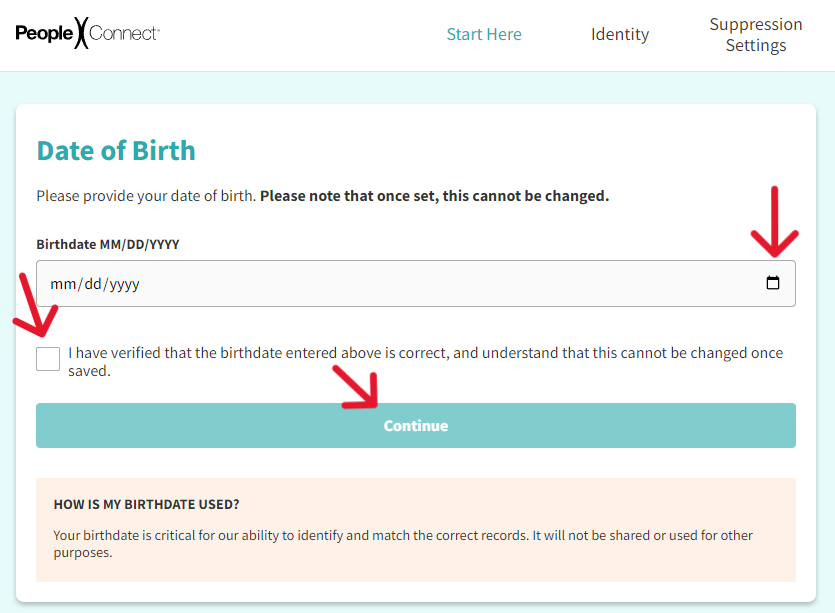 Step Four
The next page will request the names associated with the record meant to be suppressed. Enter the first, middle, and last names, or submit multiple by adding commas between entries. Check the "legal name" box on the left before following up with "Continue".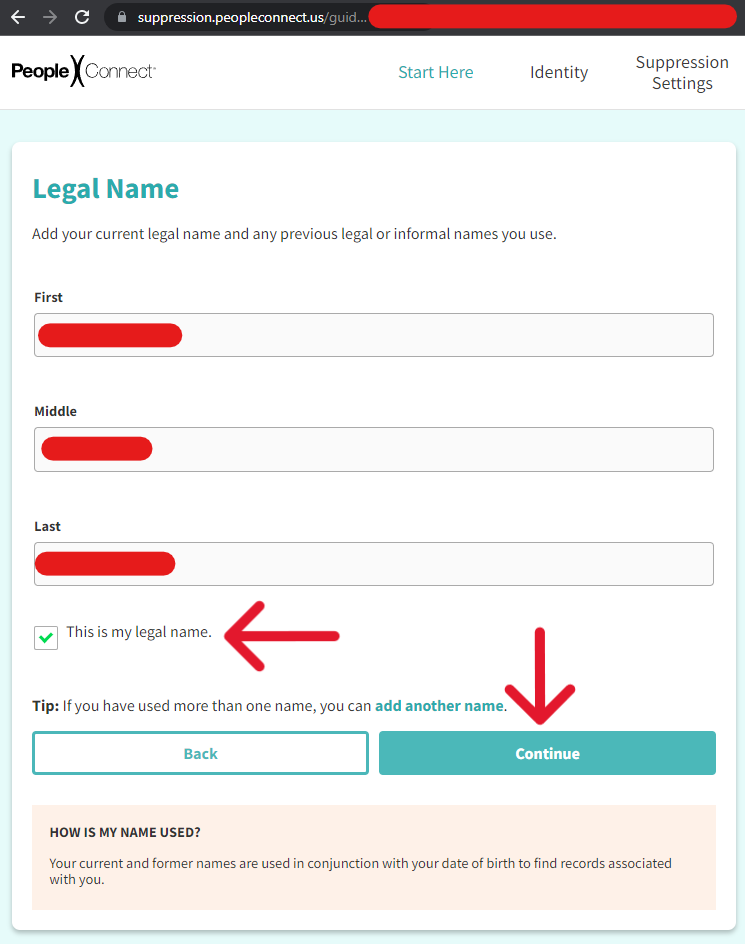 Step Five
On the next screen, select the record that "describes you" by clicking the white circle to the left. Some of the details displayed may be incorrect, this does not impact the opt out procedure. When ready, select the teal "Continue" button again.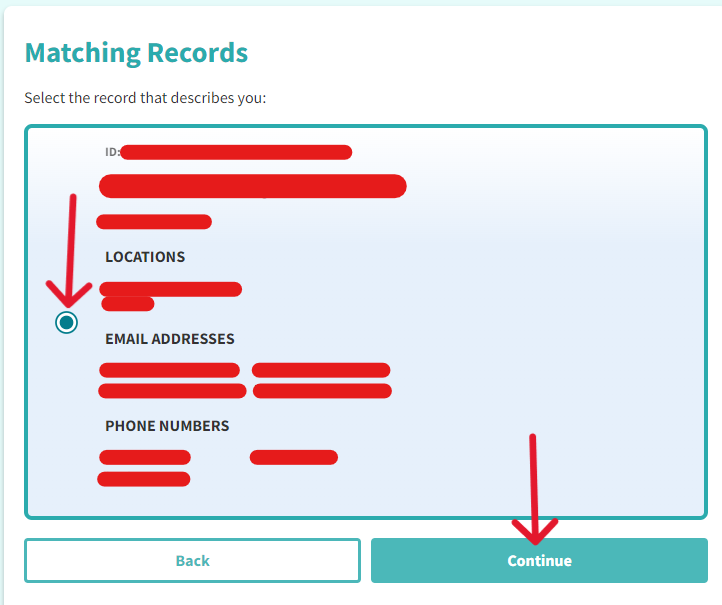 Step Six
The email entered was already known to the system, so a Verified notification displays on the next page; those using an alternative or new email account may have additional authorization steps instead of this verification. After receiving the verified status, click "Continue".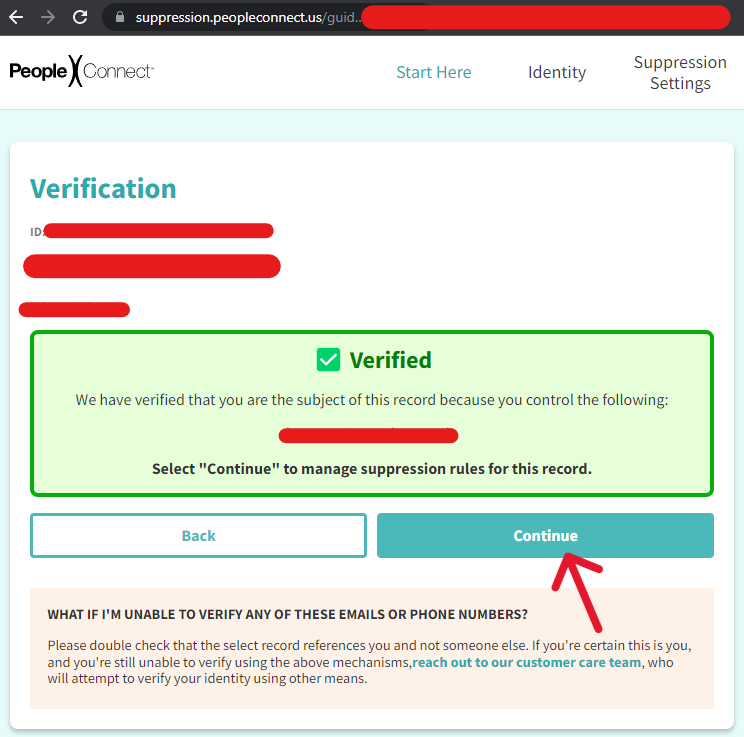 Step Seven
The final page of this process is the Control panel. When first seeing this page, note the displayed status in the middle of the first sentence. Click the drop-down bar provided and select "Suppressed" then "Save". Some users may need to refresh the page to see the change in status. Once the "identity configuration" reads suppressed, the process is completed, no other action is necessary.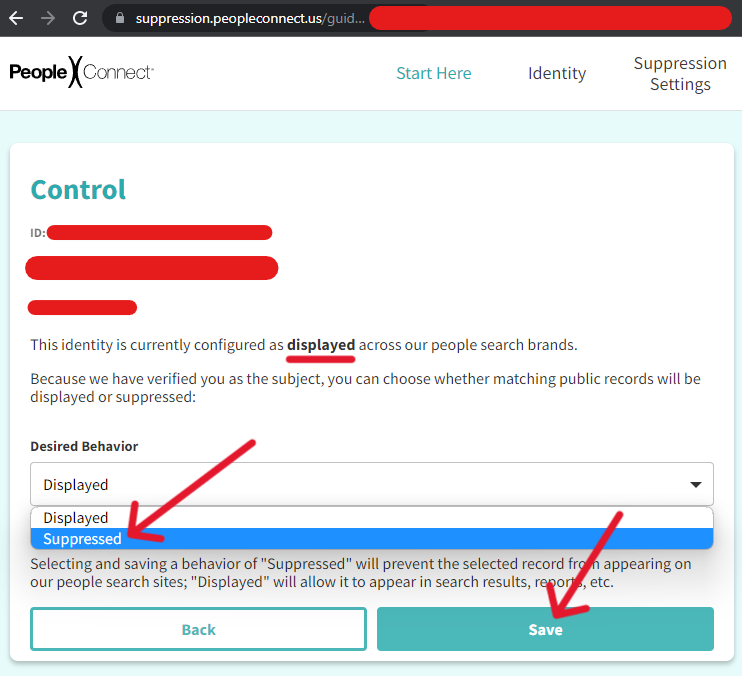 Come Back to Verify the Changes are Successful
The method used to opt out may take as little as 48 hours to take hold or as long as a month; it is contingent upon Intelius' ability to verify the user as the data owner. For this reason, Intelius may contact the consumer if they cannot fulfill the request. However, the impact is easy to verify if the request is successful. Head to Intelius' or AnyWho's main search bar and attempt a search on the basic data. When successful, the system will read "we have no results" and a suggestion to try other information.
Consumers must return annually to search for their data (and place additional suppressions) as needed. This guide is up to date with the current processes of opt out solutions provided by Intelius' (and thus AnyWho's) privacy policy (2023).