ZoomInfo Opt-Out
What is ZoomInfo?
ZoomInfo is a comprehensive talent and business-to-business (B2B) solution; individuals gain aggregate "professional profiles" from their internal reporting system, while businesses gain equivalent pages. It is a unique talent search website that provides business information, individual or "professional". The data displayed in a search is made of overlapping information in public databases as far back as ten years; subsequently, there is likely incorrect or out-of-date data in the reports.
When the information displayed in a ZoomInfo search is current, the individual benefits as much as their new employer. It is a website dedicated to assisting business owners in finding long-term team members and talented professionals with more avenues for growth. Despite its possible benefits, many consumers prefer to "opt out" of its services; the methods below list how to request individual (or "professional") public and private data suppression.
Requirements to Remove My Name From ZoomInfo
As the terms imply, "suppression" of data means to stop its availability from being "shared" or "sold". What information is sold and shared depends significantly on the company's privacy policy and state. For example, privacy brokers in California would be subject to different obligations in Wisconsin or Nevada. Regarding ZoomInfo, opt out requests are treated with equal discretion across public and private channels; in other words, a public opt out from ZoomInfo also stops sharing internal data with third parties and affiliates.
Consumers can request an opt out for their individual profiles using the methods listed below. They can place suppression flags on verified data but cannot stop data records from being actively created. By extension, ZoomInfo does not control the uses of data already shared with affiliates; the consumer may have to approach individual businesses for opt out options. Business owners, however, cannot request an opt out of their company's public data. ZoomInfo continues to provide business profile information in compliance with its data and knowledge policies.
There are no special requirements to opt out of ZoomInfo's data sharing; it costs nothing and, in most cases, can be completed in a few minutes. Use alternative communication information when opting out to separate your actual accounts and possible marketing adverts. New emails can be created in minutes using Google, while Google Voice can offer an alternative telephony option.
ZoomInfo Opt-Out Preliminaries and Where to Start
ZoomInfo is not a credit or information broker, so it is not subject to the same guidelines as those businesses. The reported data isn't necessarily verified, which stops the reports from being "official". Important decisions cannot be made on the reports, although contact information can be hit or miss. Consumers living in California and Virginia are given opt out preference, while Nevada, Colorado, and Utah residents come behind. Those living beyond these states may request opt outs, with the possibility of rejection. Call the live customer service reps at 1-(833)-901-0859 for more context and additional assistance if a privacy request is rejected.
The guide below offers four ways to request an opt out from ZoomInfo. Consumers with simple requests can use the official form or mail the offices. Those with additional information or complex records should use the email option; those looking to opt out of multiple records or data associated with a minor should call the representatives below. All avenues listed below have equivalent impacts.
How We're Opting-Out of ZoomInfo: Guided Tutorial
Call the Live Privacy Representatives
Those wanting professional assistance can call the live privacy representatives. A wide variety of phone numbers are available for assistance; three are listed below. ZoomInfo's team does not roll their phones. Subsequently, those who call are stuck in a live queue until answered.
1-(833)-901-0859: from their customer service page, this number drops the caller into a live queue. Wait long enough, and a representative will answer.
1-(360)-718-5630: from their Contact Us page, this number also drops the caller into the same live queue as above. There may be a verbal estimated wait time.
1-(866)-904-9666: from the footer of the website, this number has an automated menu. Select "4" when prompted to be redirected to the "privacy" live queue.
Email an Opt-Out Request to ZoomInfo's Privacy Team
Consumers wanting an electronic paper trail should email ZoomInfo's privacy team. While many people search websites that provide various email addresses for various solutions, ZoomInfo offers only one. There are no indications of what they consider to be verifying information within their privacy policy; naturally, this opens the door wider for them to reject requests they consider "unverifiable". Consumers must provide enough information to prove who they are beyond doubt. Use the text below as a template for an email request. Select, "copy", and "paste" the text into a qualified email provider, then alter the highlighted areas into actual data.
Send to Email: privacy@zoominfo.com
Subject: Remove Information from ZoomInfo
Mail Body:
Hello,
My name is [Full name]. This regards a Professional Profile, not a Business Profile; I am requesting the removal of my information from ZoomInfo's public search results and further removal from data sharing with qualified affiliates. I understand affiliates who already have my information must be opted out of individually. Please have an agent complete my request and send confirmation.
Consumer Information:
Full Name:

[First and last names are generally enough unless very common name]

Address:

[Residency address is best, including city, state, and zip code]

Phone Number:

[List any registered or associated numbers]

Email Address:

[List all emails needing the "Do Not Email Me" flag]

Date of Birth:

[Write out the date completely to ensure it's read correctly]

Additional Information:

[Anything helpful can fit here, including quantifiable URLs]
Please contact me if you require additional information or assistance.
Thank you,
[Full name]
[Date]
Print the ZoomInfo Opt-Out Request and Mail It
Alternatively, consumers can physically mail their requests to the ZoomInfo offices. Copy, paste, and edit the template above into a document editor for a fast solution. Request letters are an "official" way to opt out; thus, they are treated as quickly as possible. Though this method may take three to four weeks to complete, it is helpful documentation to reference in court.
To make the template above a valid "business letter" request, list the office address (below) in the top left corner. Below the address, list the date, then the greeting. In the end, give space between the salutations and name, enough for a black-ink signature. Find a stamp and send the request to Vancouver:
ZoomInfo Technologies LLC
Attn: Data Privacy Request
805 Broadway St., Suit 900
Vancouver, WA 98660
Use the Official Form to Opt-Out of Individual Public and Private Data Sharing
The most efficient option a consumer has to opt out of is the official form. Consumers will need access to a preferred alternative email address for verification steps; the form does not require a profile URL. However, obtaining a specific one to remove a profile is helpful to ensure processes. The guide below does not expound upon the process of gaining a URL (because it is unnecessary); however, consumers will find the URL after navigating to their profile and copying it. To start with the online form, open the ZoomInfo Privacy Center in a new tab.
Step One
The ZoomInfo Privacy Center gives a quick overview of the opt out process. We'll (1) confirm an email, (2) submit our request, then (3) wait for a processing notification over email. Enter an accessible email, then hit the orange "Get Code" button.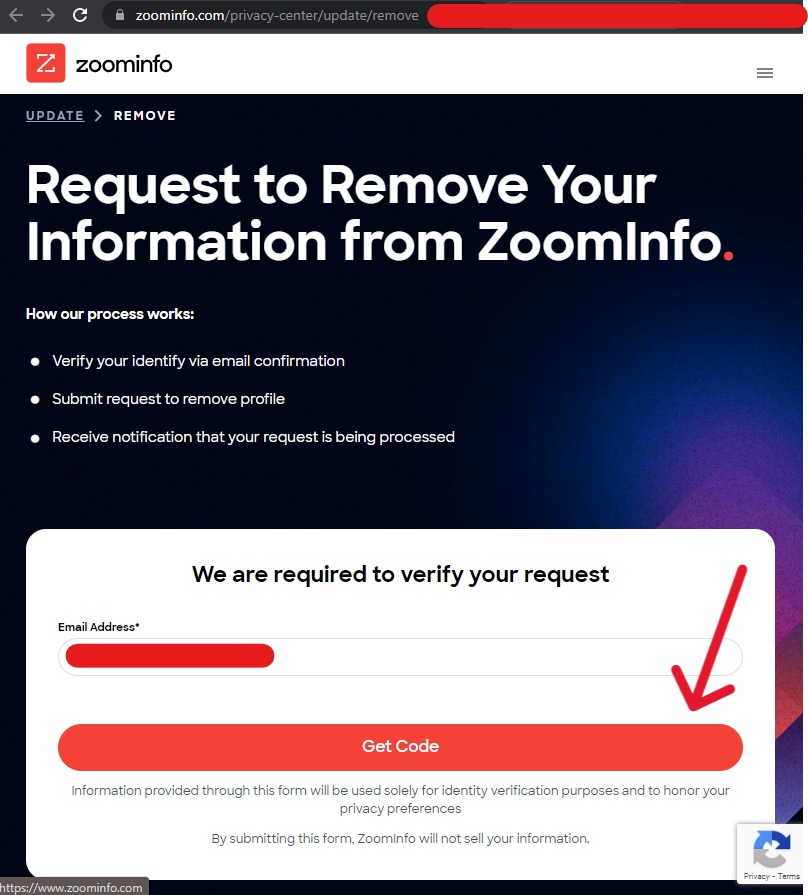 Step Two
Access the email entered above and retrieve the four-digit passcode. Look for the email from the ZoomInfo Team. In the case of Google Mail, check the "Promotions" tab or "Spam" folder for the email.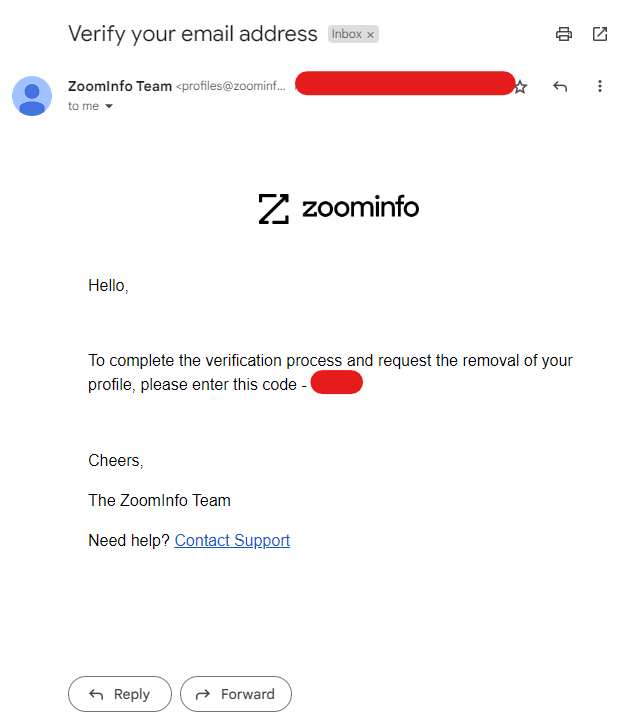 Step Three
Enter the four digits above into the spaces now provided on the (changed) ZoomInfo page from before. Click the orange "Confirm" button when ready to proceed.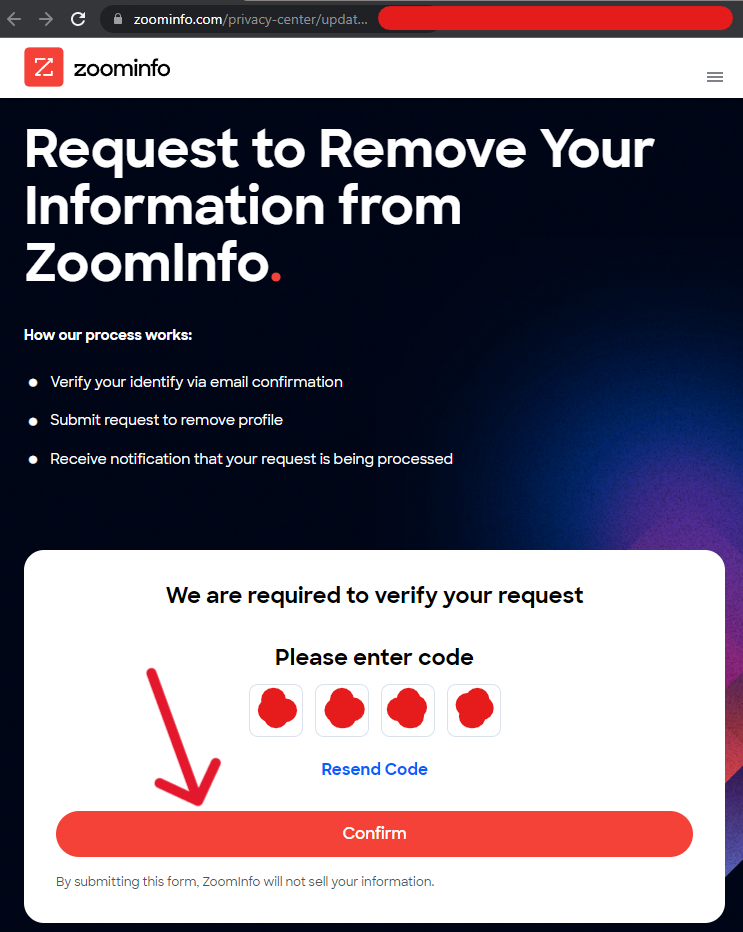 Step Four
The next page will display the "Remove My Profile" form. The internal search will return an "unable to find" notice for those using an alternative or newly created email. Most consumers can enter the relative information (first, last names and email) and receive a confirmation. Note that the other areas are optional. At the bottom of the form is another button to "Submit" the data; click it when finished.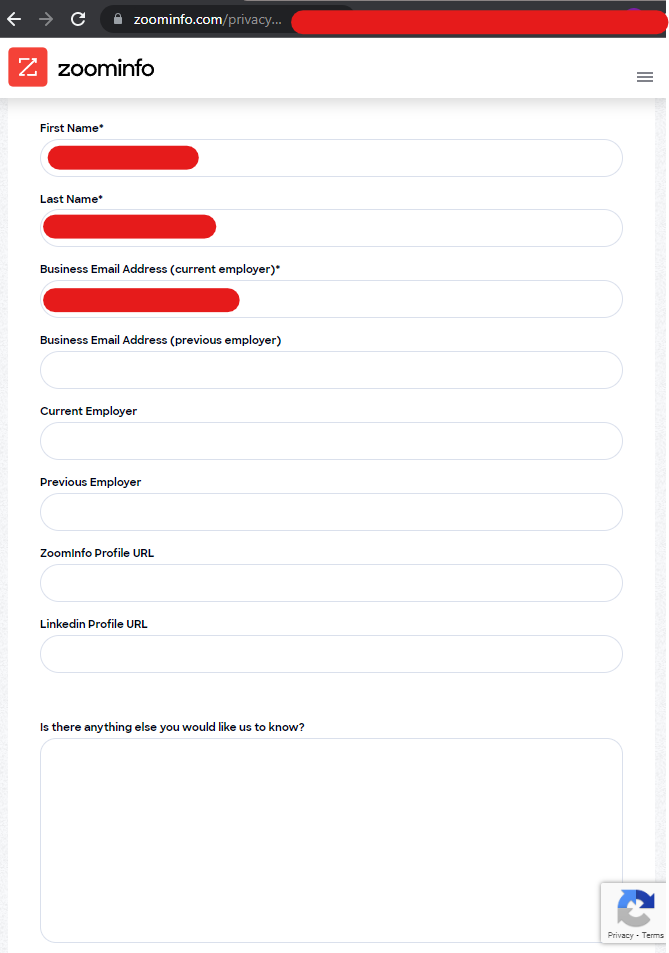 Next, the form disappears and returns a confirmation of request. Consumers must wait a few days, and the automated system will send results (more on that below). ZoomInfo does not use the entered information to send marketing or share data with affiliates.
Verify the Changes Before Declaring Everything "Done"
Requesting an opt out from ZoomInfo may reach completion after as long as 45 days. Afterward, Google searches would stop displaying associated ZoomInfo data with parties. Completed opt out requests also do not stop records from being generated in the future; thus, the consumer must verify the changes occurred, then return annually to check for a newly generated record. This guide is up to date with the current processes of opt out solutions provided by ZoomInfo's privacy policy (2023).