LexisNexis Opt-Out
What Does LexisNexis Do?
LexisNexis is an umbrella name for two distinct data sources; on the one hand, it refers to LexisNexis Risk Data Management, Inc. (RDM); on the other, it references LexisNexis Legal & Professional (LP). Both companies have operations and data privacy policies because they provide different services to interested clients.
LexisNexis offers reports of public and private information for sale. These reports are aggregated and created from multiple public records and proprietary data sources. Often, they include historical details like real estate transactions, property liens, criminal judgments, bankruptcy records, and more. LexisNexis is a reputable resource, they work directly with Equifax to provide current bankruptcy data to the giant creditor.
The information that LexisNexis provides depends on which branch is being solicited. RDM provides solutions and reports to companies and government agencies. LP offers solutions to individuals and firms. The average consumer's information can appear in two public searches hosted by LexisNexis. The guided tutorial below explains the steps needed to opt out of RDM and LP public searches.
Information Needed for a LexisNexis Opt-Out
Consumers wanting to opt out of LexisNexis have many avenues at their disposal. Each company offers opt out requests through three methods, each requiring specific details. Despite this, users do not need anything to opt out. The methods below offer paths that avoid account creation and are free to request.
Additionally, LexisNexis may request a consumer enter their Social Security Number (SSN) for verification. Cautious consumers may refrain from entering this information, but it may result in a rejection of the request. LexisNexis is a reputable resource, if the consumer does give them an SSN for verification, it will quicken the process. If the consumer does not want to share it, there are other avenues for verification. Users should only share their SSNs with parties they trust explicitly.
Options to Remove Information from LexisNexis
Each branch of LexisNexis has three options for opting out of public searches, totaling six possibilities. Consumers only need to request an opt out from one of the three options per company. For some, the best avenue will be to call the privacy lines; these serve both branches but require additional authorization, like an SSN. Others will want to mail their requests to begin a paper trail. Lastly, most consumers will submit their opt out requests using the online forms. LP has a specific form for US citizens, while RDM has two forms: one is for residents of California, and the other is for everyone else.
The Step-by-Step Guide to Remove My Name from LexisNexis
Call the Right Hotline for Your Needs
Some consumers may find their best option is to speak with a live representative. Each branch of LexisNexis has a particular customer service phone number. Choosing which number to access the correct agent is less important than it may seem. The privacy line meant for LP redirects callers to the privacy line for RDM; this is a live queue with no rolled phones. The line should ring until someone answers it.
For LexisNexis LP, call 1-(800)-897-3259. The call will read an automated menu with options for other departments. Press 1 to "exercise my privacy rights". This selection immediately drops the caller into the live queue.
For LexisNexis RDM, call 1-(800)-831-2578. This is not an automated menu. It is the number to go directly into the privacy queue. The automata will list the possible authorization documents a caller could need. These include a name, address, driver's license number, and SSN.
Write Your Suppression Requests to Opposite Sides of the Country
Although this is the most prolonged method for requesting an opt out, consumers wanting a paper trail will choose it. Sending an opt out request via mail is easy, but different addresses are associated with each LexisNexis branch. If a request is sent to the wrong address, it is likely to be ignored; simultaneously, if one department requires more verification documents, they may reject the request outright.
For example, LP will not remove records that contain criminal histories unless the correct documents are provided. Without these documents (a court order), they have justified cause to keep the information public. The documents needed for an opt out request may change depending on where the consumer lives and which branch, they speak to. Requests going to LP are heading to Nevada, while requests going to RDM are going to Georgia:
Privacy Office
LexisNexis Legal & Professional
1801 Varsity Drive
Raleigh, NV 27606
Privacy Manager
LexisNexis Risk Data Management, Inc.
1000 Alderman Drive
Alpharetta, GA 30005
Use the Online Forms to Submit a Privacy Request
LexisNexis Legal & Professional has a link directory associated with consumers based on their location called the Privacy Center. The following steps regard the process for US residents, the second option in the list provided by the Center. To start the procedure immediately, open the LP US form, provided here, in a new tab.
Step One
Scroll to the "Submit a Privacy Inquiry" section after navigating the LP US form. The first drop-down bar asks, "How do we know you?" Average consumers without relation to LexisNexis should select "Other", as below. The second drop-down bar asks for a "Contact Reason"; choose "opt-out of marketing and communications". Following this, enter any information you are comfortable sharing with LexisNexis. The more you share, the more likely the systems will recognize your request as legitimate.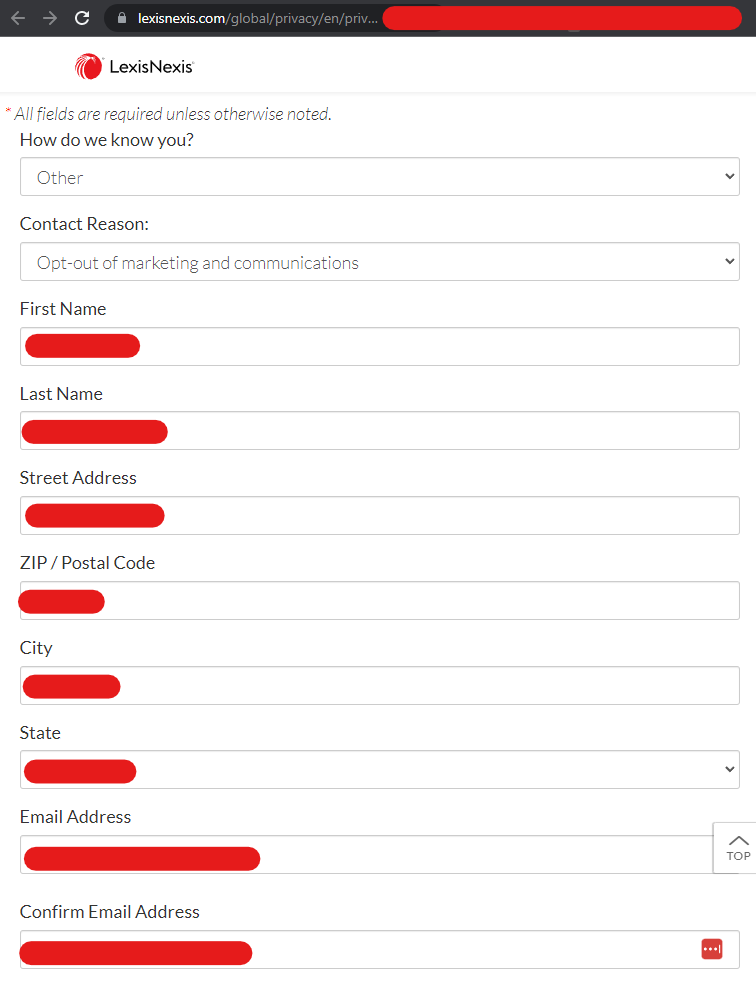 Step Two
Scroll below the "Confirm Email Address" bar and click the "Submit" button. This will automatically refresh the page and produce a confirmation message (below). At this point, the online form is done, and further assistance is needed by an agent, if at all.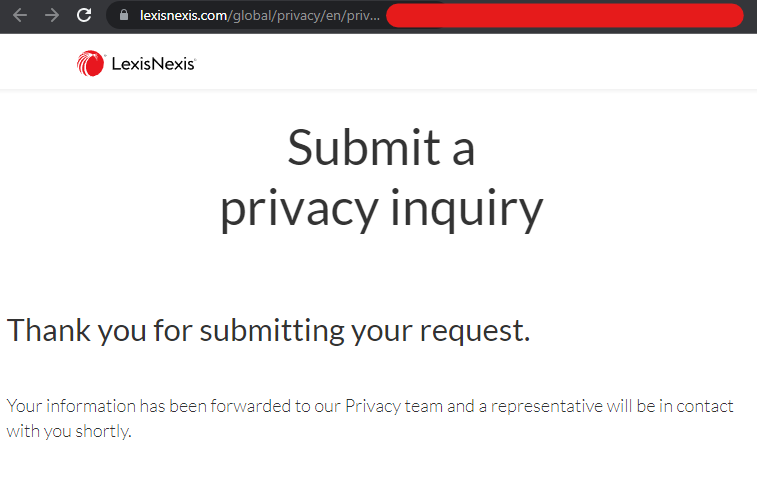 LexisNexis Risk Data Management, Inc., on the other hand, has two forms for privacy changes. The following procedure relates to the opt out form for non-California residents; scroll lower to find the steps for California opt outs. Residents outside California can start their opt out of RDM by opening the Opt Out Form.
Step One
Read through the short blurb provided upon opening the form. This states the rights LexisNexis provides to the consumer and how opting out impacts those who request it. When ready, click the red "Next" button.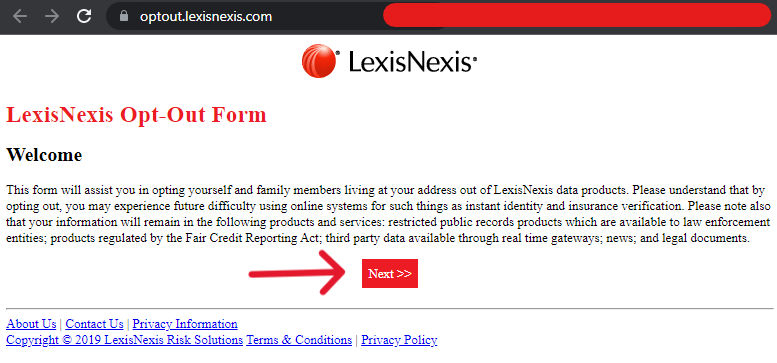 Step Two
The next page will list reservations about the opt out process, like the consumer's options surrounding personally identifiable data (e.g., SSNs). Read this short page, then click the red "Next" button again.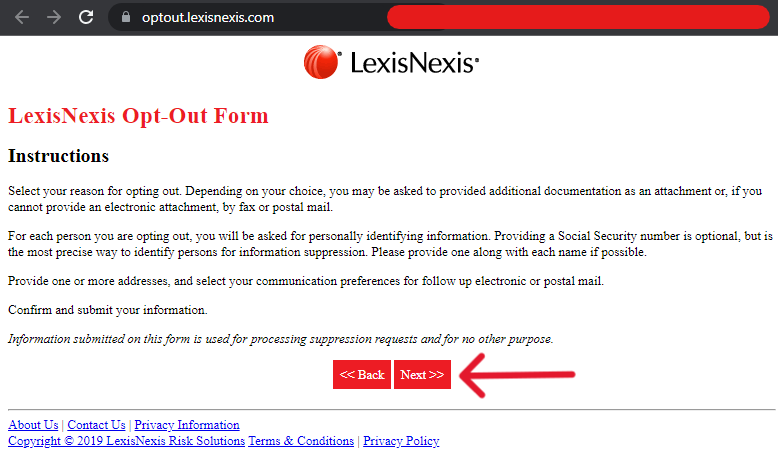 Step Three
The following page displays only a drop-down bar and proceeding buttons. Select the bar, then "I do not want my information shared". Click on "Next" to continue.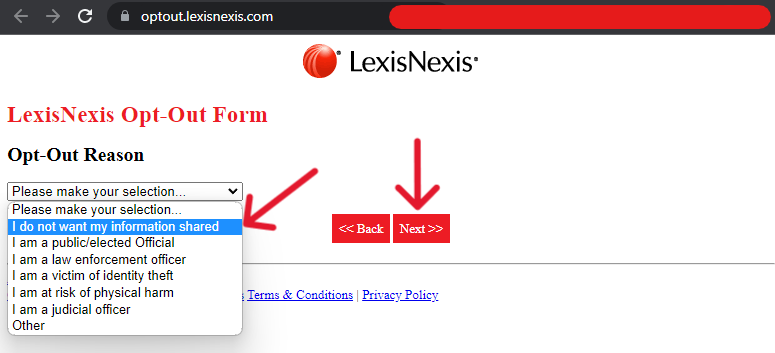 Step Four
Next, the website will inquire about who to opt out of the systems. For this guide, only a consumer's first and last name is entered; however, entering more information (e.g., SSN or middle name) will yield better results for the overall process. When ready, select "Next" again.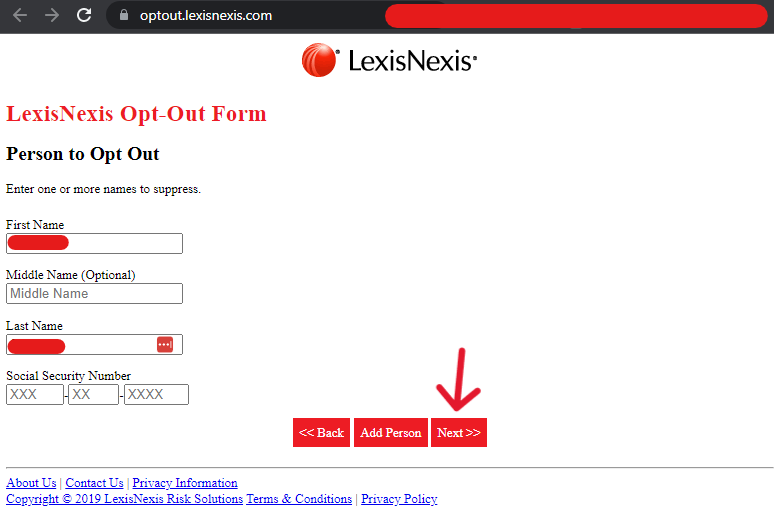 Step Five
The form then inquires about the addresses associated with the person previously entered. Submit residential details as necessary, then select the "Next" button.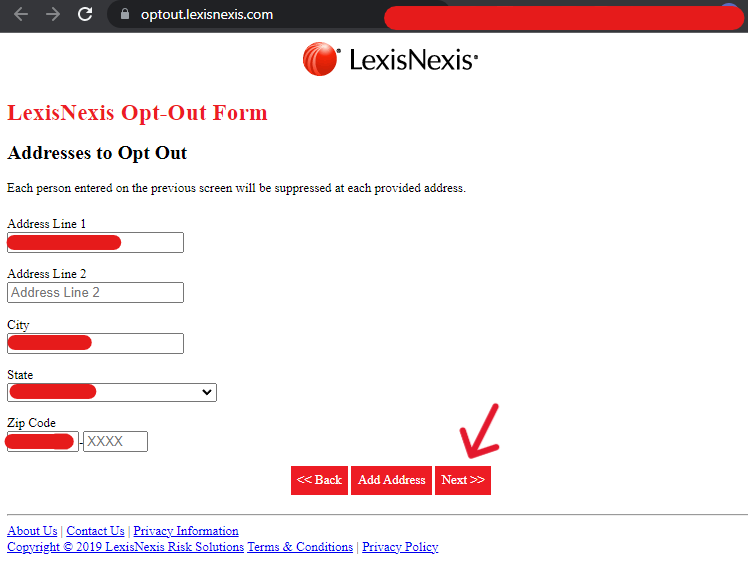 Step Six
The Communications page that appears next is optional. Enter a phone number to allow LexisNexis to contact you with questions or concerns. Email or postal can also be used in place of a phone number. For this guide, we will continue forward by selecting "Confirm Request".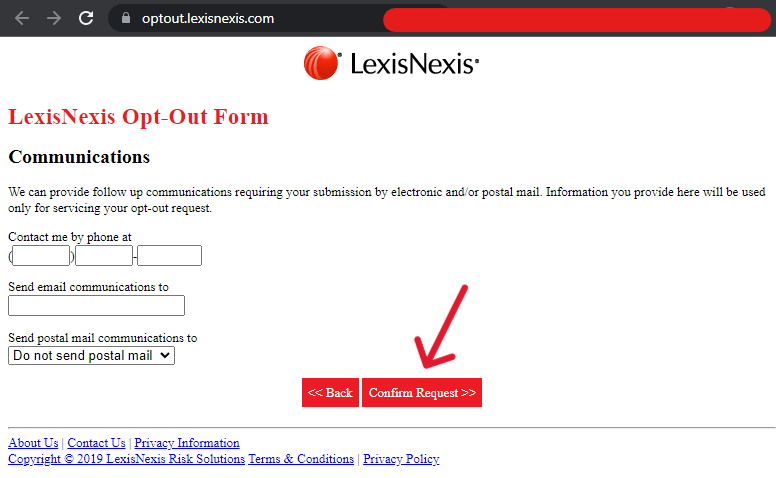 The last page of this process displays a "Confirmation" number and other details about the opt out. Consumers are encouraged to save the confirmation number, which may be helpful later. This procedure is then finished.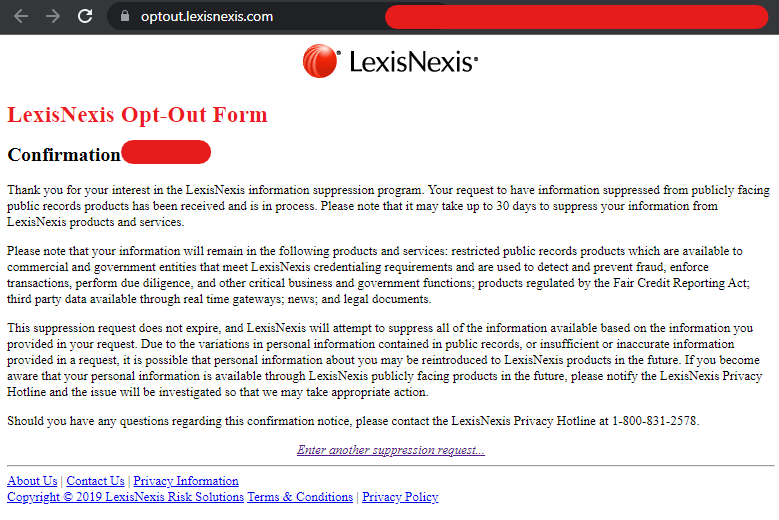 LexisNexis Risk Data Management, Inc. also has a form for California residents; this comes as a byproduct of California data privacy regulations. Open the California Online Request Form to start.
Step One
After opening the page, scroll down to find fields for your name and resident address. All areas marked by a red asterisk are necessary to fill. After filling in the necessary areas, scroll farther down the page.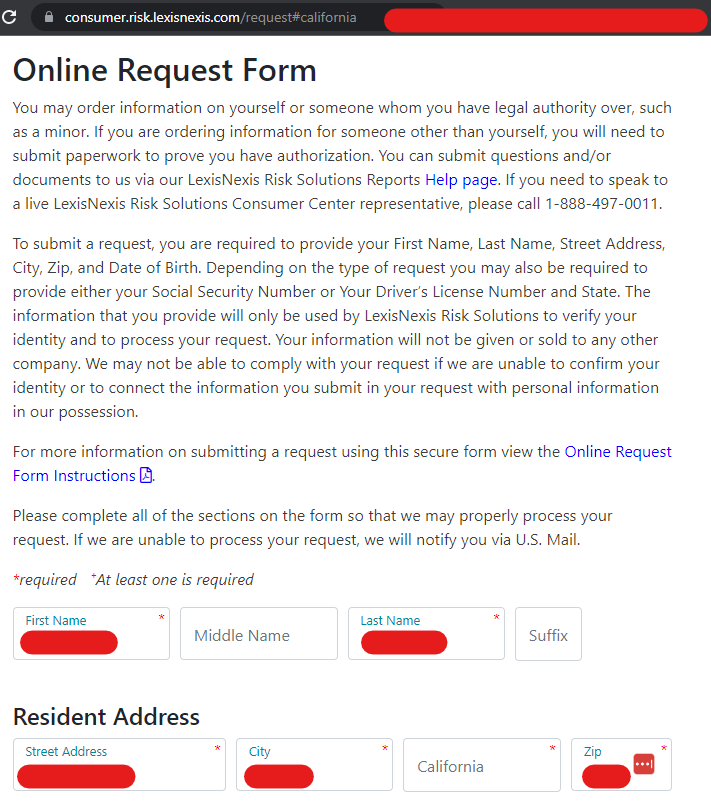 Step Two
At the bottom of the page, consumers are given options to change or alter their data. Select the first one, "Full Opt-Out", for our needs. Enter your birth date into the space provided (necessary), then solve the CAPTCHA. When finished, click the red "Submit Request" button.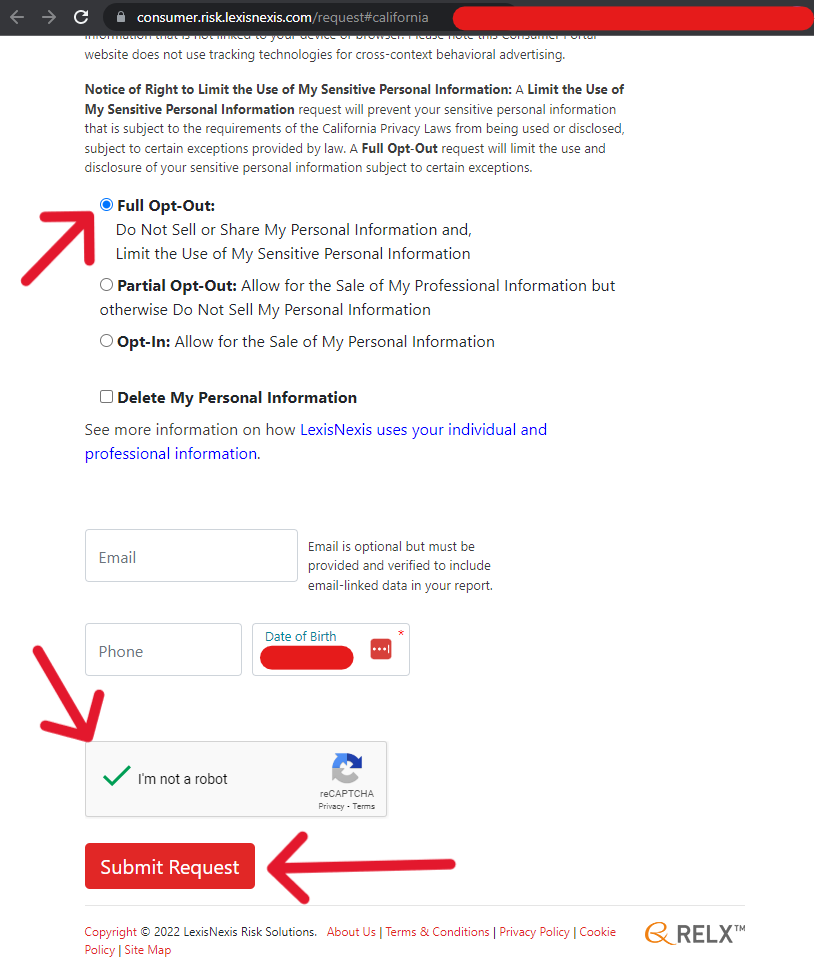 Once finished, the form will show an "Acknowledgment" of the request. This is the screenshot below. If LexisNexis cannot fulfill the request, they must disclose that to interested California residents. Additionally, residents are entitled to a free bi-annual report of the data kept by data privacy providers like LexisNexis.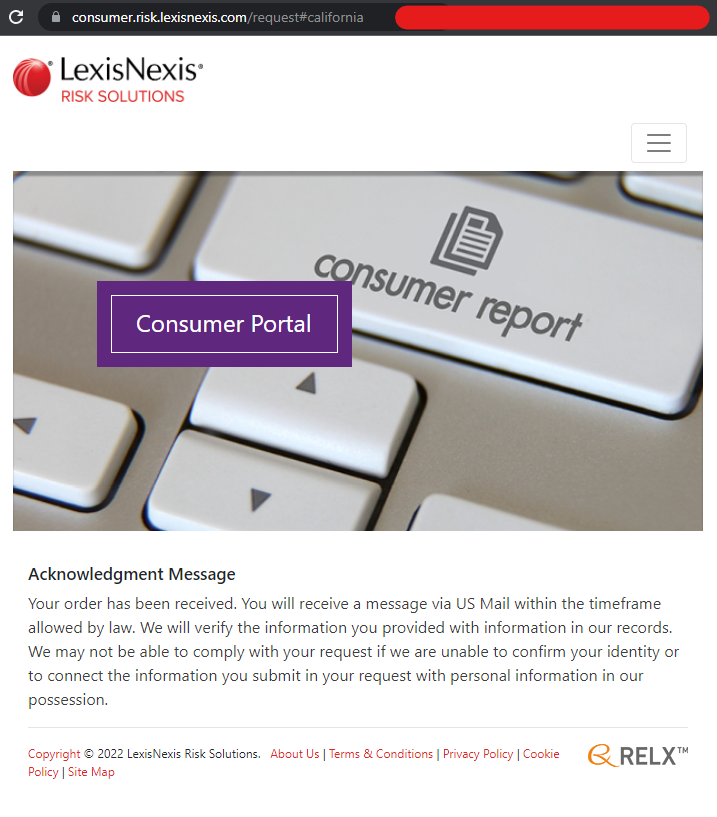 Confirm the Suppression Requests
Opting out of LexisNexis can be difficult, but for most consumers, it is a process that takes only a few minutes. Once the request is submitted, it's best to wait a month before checking its impact. If the information is still accessible after this, consumers must call the hotline numbers above for assistance. This guide is up to date with the current processes of opt out solutions provided by LexisNexis RDM and LP privacy policies (2023).