InfoTracer Opt-Out
What is InfoTracer?
InfoTracer is an information broker; a public provider of a veritable cornucopia regarding interesting personal data, ranging from aliases to addresses. Also called people search websites, brokers like InfoTracer offer a valuable service to those willing to pay. The user plops a name (or other identifying information) into the search bar, and they garner access to publicly collected data.
Not surprisingly, this information has a chance of being false, incorrect, or too revealing. InfoTracer makes clear throughout the search that their data is not gospel; the information is a snapshot of the public data associated with other data.
Information Needed to Opt-Out of InfoTracer
There are no requirements to opt out of InfoTracer's searches; although some of the methods below require an accessible email for verifications. Additionally, requesting your information be removed or suppressed never costs money. Anyone can make the request, but some records may require authentication through documentation. This is rare but typically occurs when records involve multiple people, minors, businesses, and public figures. InfoTracer service representatives will contact you if they require more information to complete your suppression request.
What Do I Need to Know Before Opting Out?
InfoTracer shares some data with their affiliates and partners; although they may comply with a suppression request, this does not mean other public databases won't still utilize the information. There are four ways to remove information from InfoTracer, and another to hobble direct marketing from them.
Below, the four opt out procedures are listed, each outfitted with special descriptions, screenshots, and resource links. Notably, to opt out of InfoTracer entirely, the user must complete at least one opt out procedure and opt out of direct marketing.
Five Ways to Opt-Out of InfoTracer: Step-by-Step
Opting-Out of InfoTracer's Direct Advertisements
Every web page we visit gathers information about us; this information is then processed, giving marketers valuable insight into what may entice a user into following an advert. Every browser can block these advertisements, but it can take time to discern legitimacy from predatory solutions. InfoTracer's privacy policy is a particularly helpful resource concerning this, as they offer some umbrella options:

Note the highlighted link in the second bullet point; it will redirect users to the "About Ads" request processor, or you can follow this link to open it directly in your browser. Upon it loading up, the website will automatically assess your browser and computer stats. The user must allow it to complete before proceeding.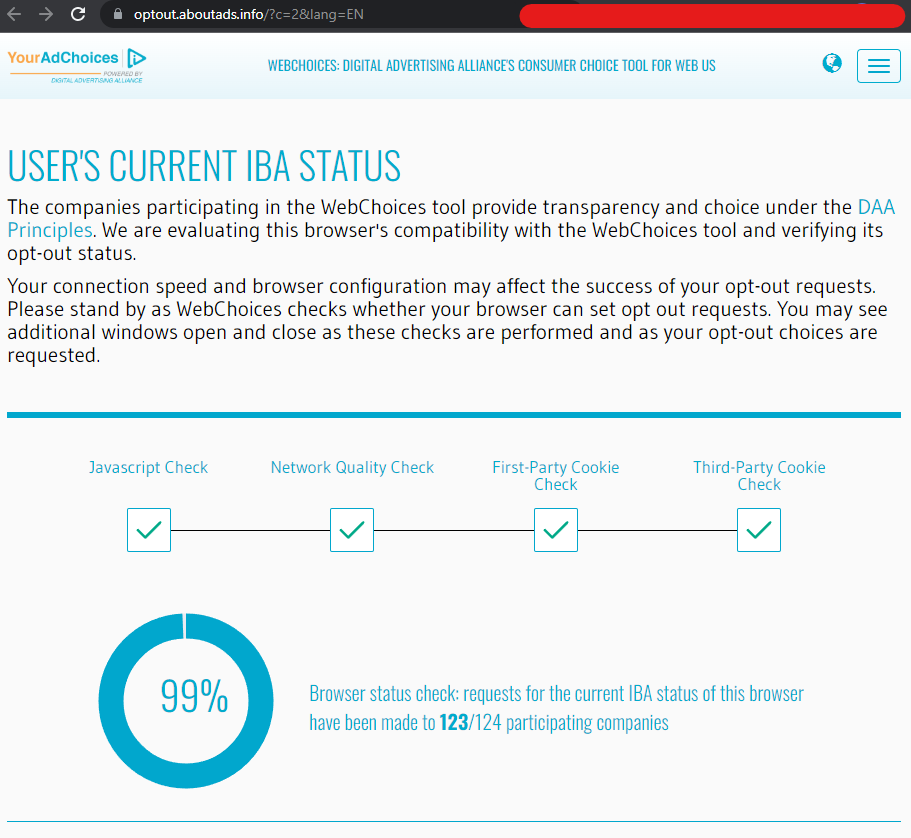 Step One
After the assessment, the user will be directed to a new page with a permission pop-up. Click on the blue "Continue" button on the bottom or the white "X" on the top right of the pop-up.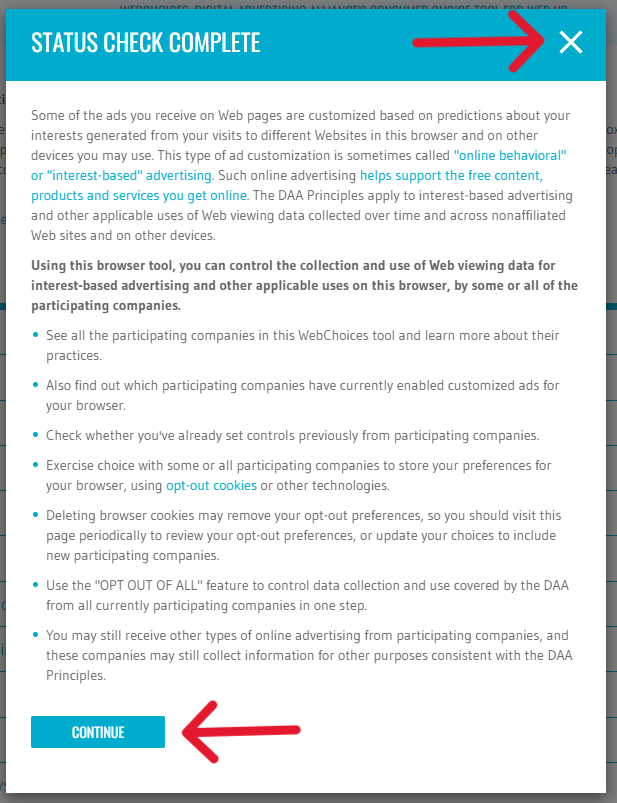 Step Two
Once closed, the user can access a long list of companies. InfoTracer's privacy policy doesn't indicate which company they are associated with, so this guide will show how to opt out of all direct marketing. A quick button at the bottom of the window (without scrolling) says "Opt Out of All"; give it a click.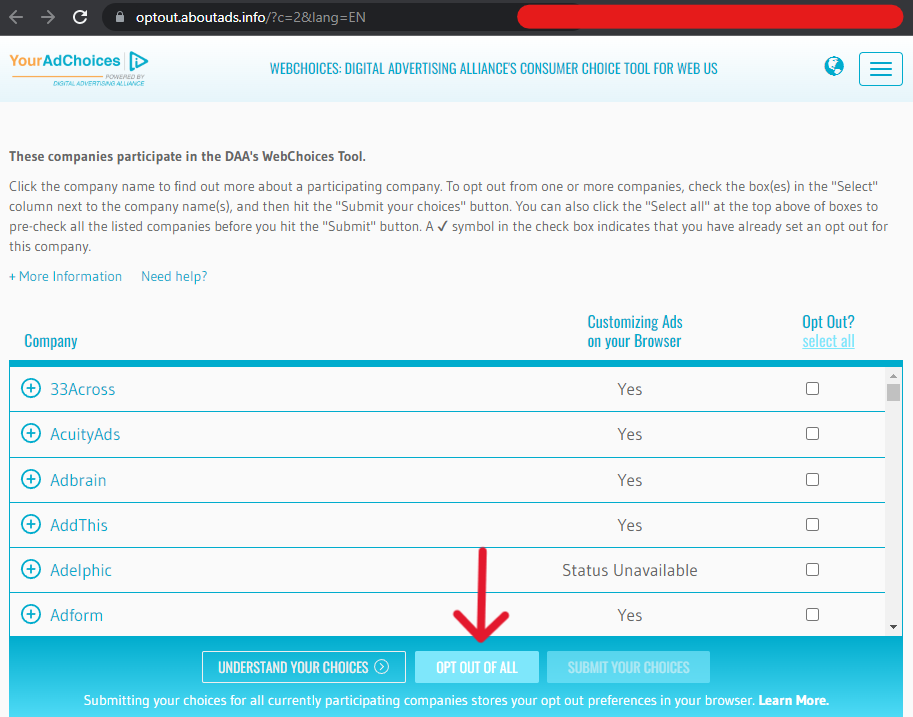 Step Three
The window will immediately change, and read "DAA Webchoices Request", and sport another wheel of progress. Wait for the process to complete, and the page will automatically grant a pop-up.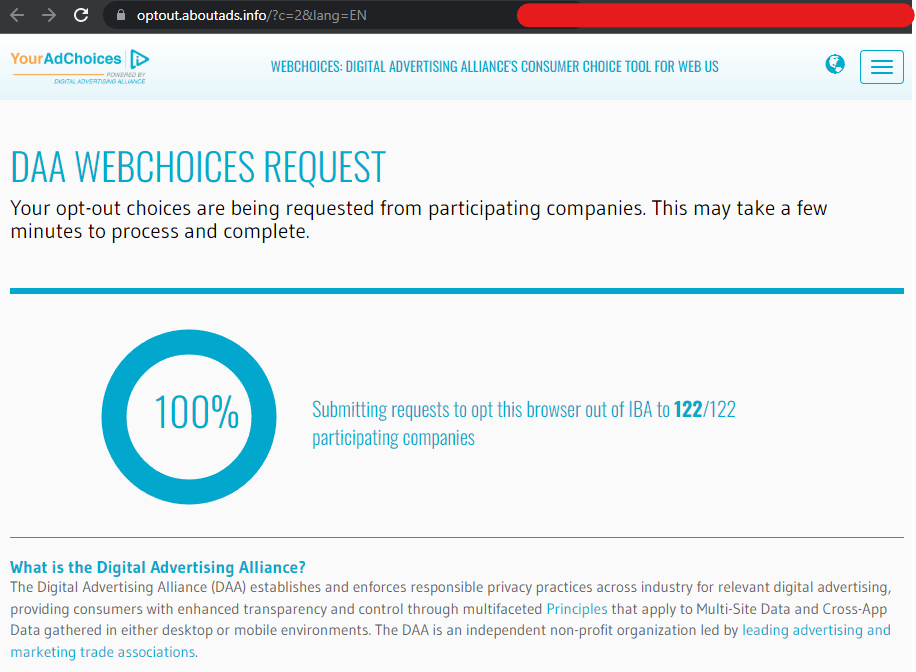 This last pop-up gives the results of the request. Only 53 companies successfully allowed the opt out for this browser, while another 69 rejected it for various reasons. Your results will likely look similar; that's all there is to block direct advertisements from InfoTracer (and other companies).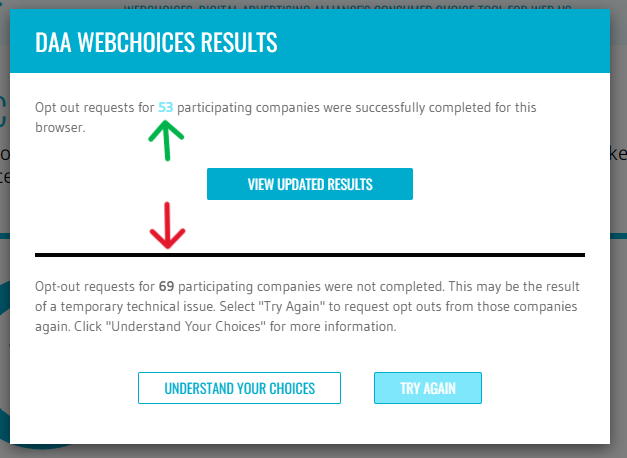 Call 1-(800)-791-1427 to Speak with a Representative
InfoTracer has live support reps to answer all your questions; when a user calls, they hit a short menu, and not doing anything connects the caller to an agent (2023). Alternatively, users can leave a voice mail or make a special inquiry.
Once connected to the agent, the user will verbally request to opt out; they can do this by telling the agent to "remove my name from InfoTracer". Ensure the agent understands you want to opt out, not delete or limit the use of the information. Deleting and limiting the use of a record will result in lifting the suppression flag rather than complying with it.
Email InfoTracer the Opt-Out Request Directly
Those looking for an opt out procedure with more cybersecurity should consider this method using a throwaway email account. InfoTracer's privacy policy lists some of the information they are looking for when consumers email them: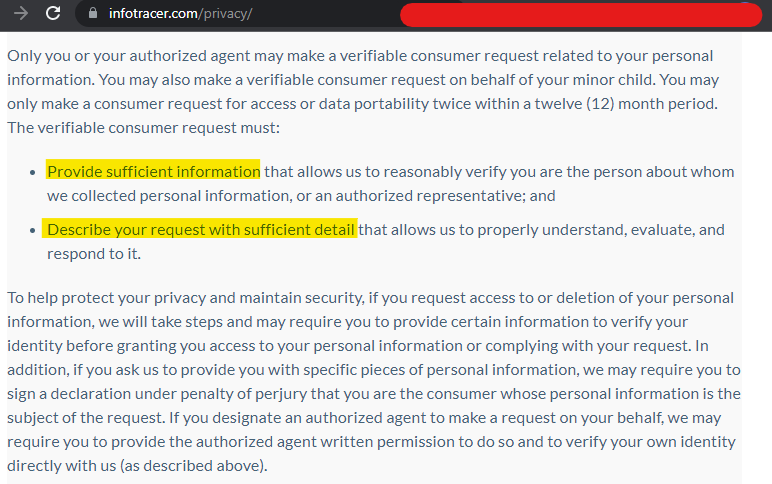 Users can draft an appropriate email and send it to their servicing email address: privacy@infotracer.com, or they can copy the email below into their message creator. Switch the highlighted words for real information:
Send to Email: privacy@infotracer.com
Subject: Remove Information from InfoTracer
Mail Body:
Hello,
My name is [Full name]. I am requesting the removal of my information from InfoTracer's people search results. I want to exercise my privacy rights by opting out of InfoTracer's data sharing with all subsidiaries and affiliates. Please have a representative complete the opt out process immediately and send me confirmation.
Consumer Information:
Full Name:

[Full name, known aliases, misspellings on record]

Age:

[Actual age, not what is shown on the record]

Address:

[All properties and business locations]

Phone Numbers:

[All registered numbers or associated telecoms accounts]

Email Addresses:

[Add this address to the list to avoid direct marketing]

Date of Birth:

[Write out the date fully for a more accurate recording]

Additional Information:

[If you have the URL of the specific record you want to be suppressed, attach that here with an indicator]
Please let me know if you need any other information to complete my request.
Thank you,
[Full name]
Send a Written Opt-Out Request by Mail
The most traditional option, consumers may want to mail their request physically. The email template above doubles as a mail template. Copy the text into a word application, and you can edit the entries before printing it out. Add the date and your signature to the bottom, and InfoTracer's mailing information to the top left. Send your request to Boston:
InfoTracer.com
Attention: InfoTracer Opt Out
227 Lewis Wharf
Boston, MA 02110
Make Your Request Through InfoTracer's Quick or Official Form
InfoTracer's in-browser quick form can be accessed here, alongside the privacy policy. Alternatively, scroll down to the official form for further directives.
Step One
After opening the page, fill in your name, state, and city into the respective fields, then click the green "Submit" button.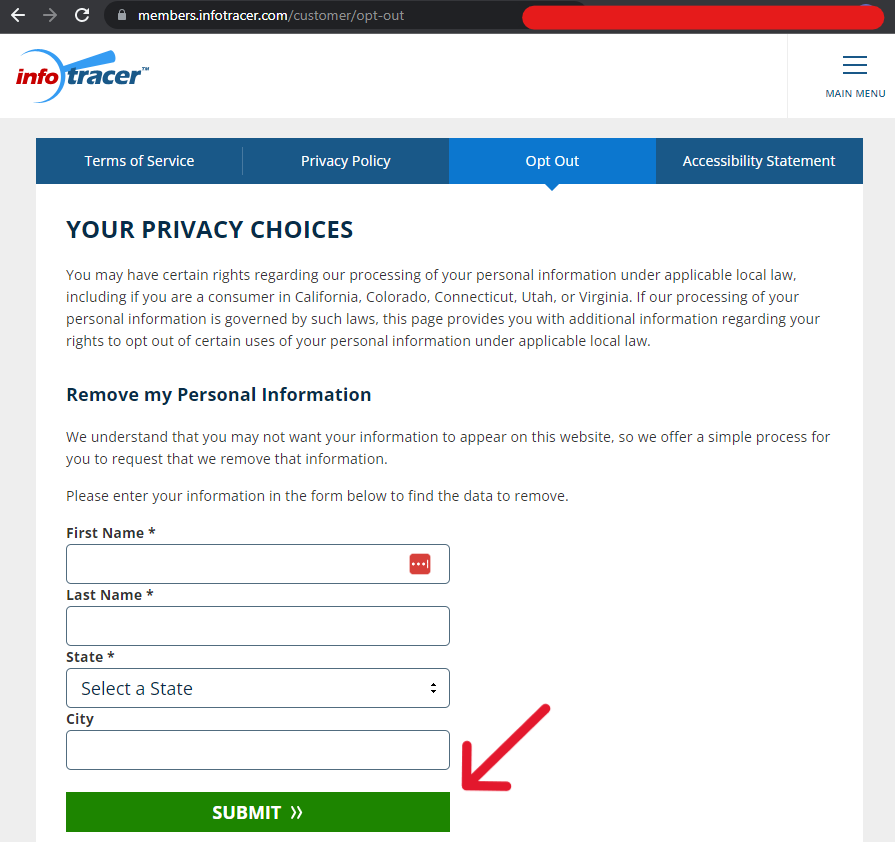 Step Two
On the next page, select the check box of the record you want suppressed. Note that some of the information may be incorrect, it doesn't matter now. When ready, click the "Remove Data" button to the right.

Step Three
Enter your email address and the following comment:
"Please remove me from all InfoTracer data sharing, subsidiaries, affiliates, and searches".
And any other relevant information. Fulfill the CAPTCHA and click on "Submit".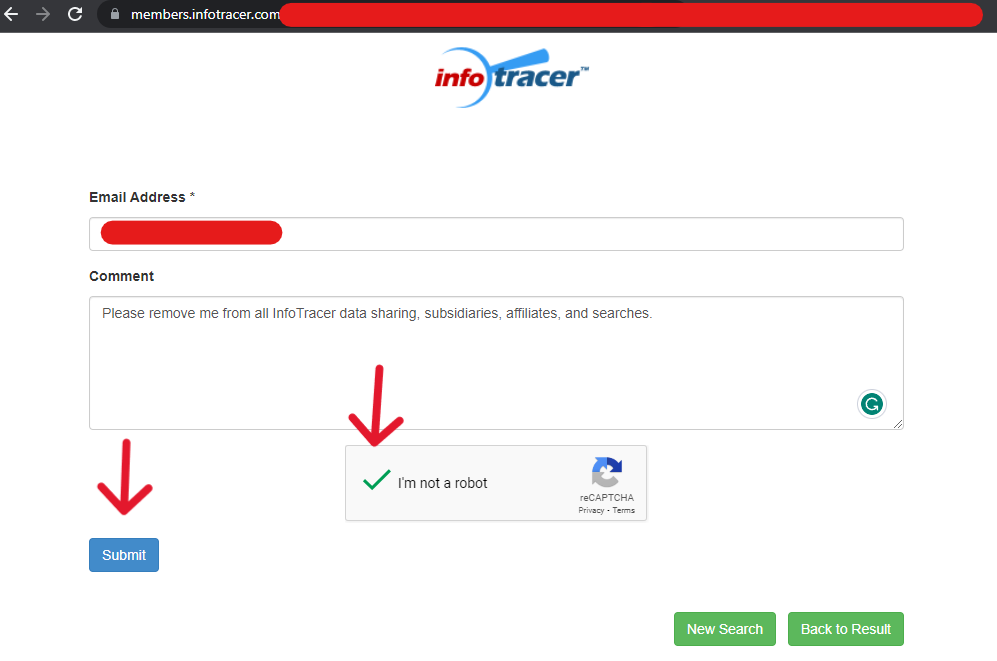 The next prompt will ask you to access the previously entered email.

Step Four
Your email will have an email from InfoTracer. Inside will be a confirmation link that needs to be clicked.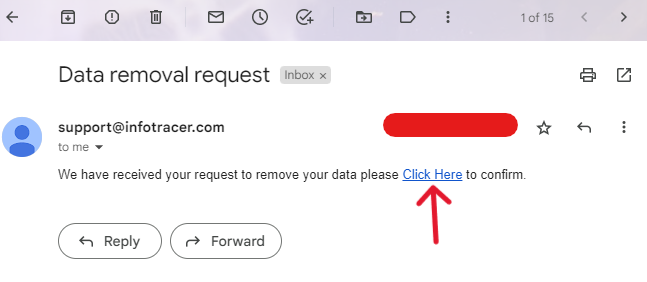 The link will automatically open a new tab or window; the new page displays a successful request and a promise to send an update.

Alternatively, users can follow this link to get directed to InfoTracer's official opt out form.
Step One
After opening the link in a new tab, fill out the requested information. You'll need to select who you submit the form for and what you want to do. For this guide, we'll say "Myself" and "Do Not Sell My Information".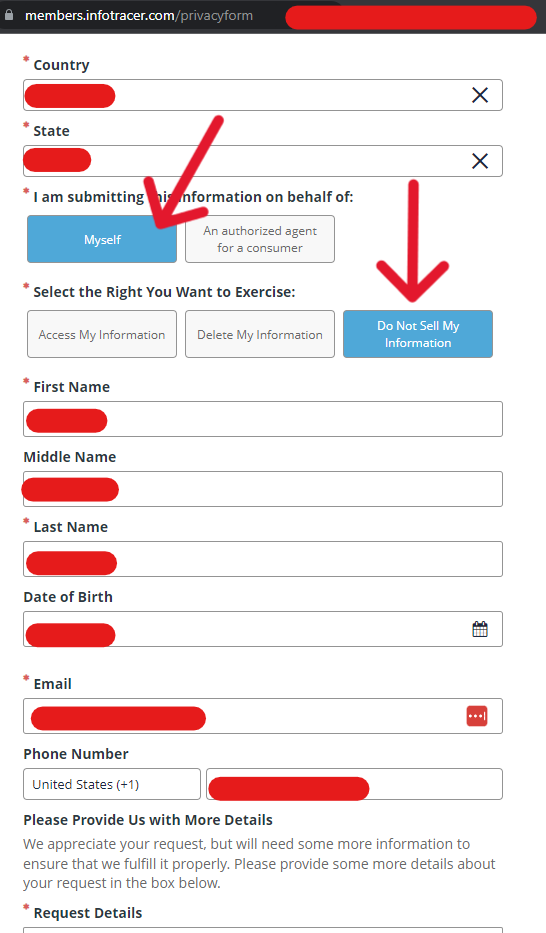 Step Two
Scroll down the internal screen to the latter half of the form. In the "Request Details", write "Opt me out of selling my information to subsidiaries and affiliates". Fill in the CAPTCHA, then click "Submit".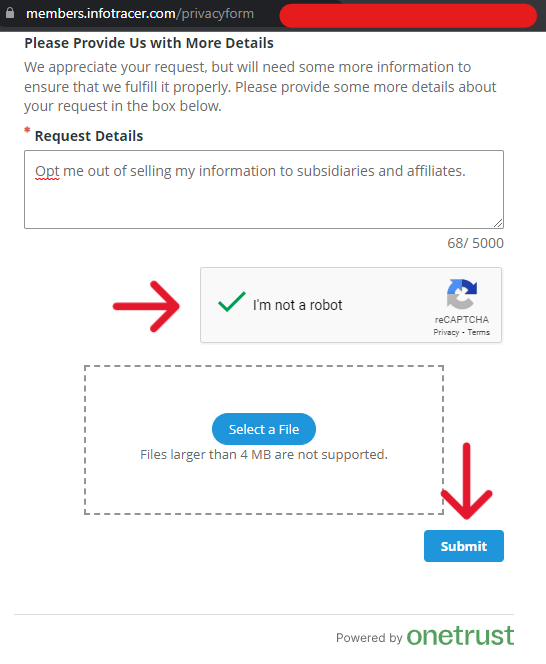 Step Three
The page will change and prompt you to head to your email for confirmation.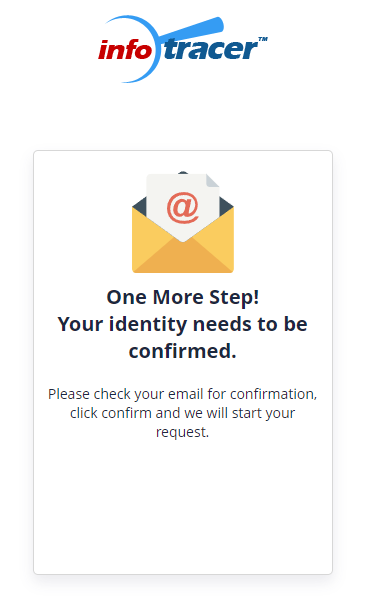 Step Four
The email will be sent from InfoTracer immediately. In it is all the information submitted and known by InfoTracer, to be certain. There is also a green "Confirm Email" button that needs to be clicked.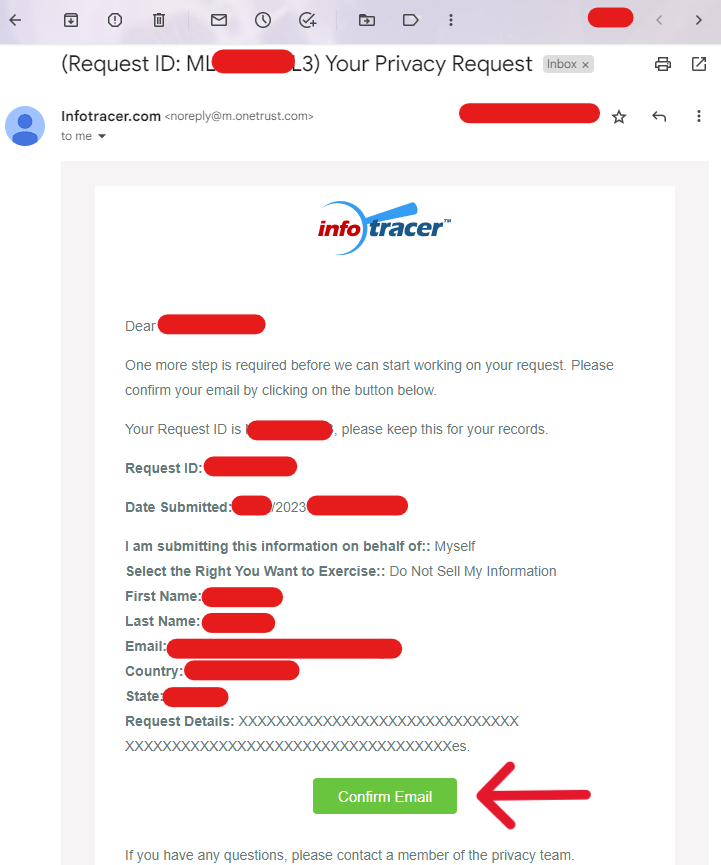 A new page will open from OneTrust.com, the privacy provider of InfoTracer and other businesses. The page will display that the request is confirmed, and you'll receive another email shortly.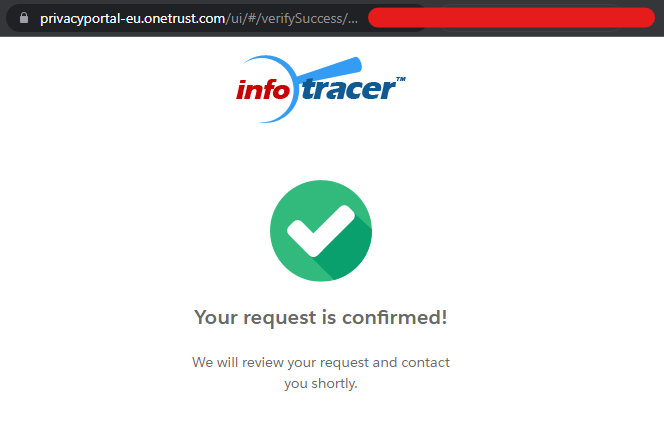 The user should receive an email with additional instructions or information. It will most likely be an email offering the ability to "view" the request and its current processes.
Return to Verify the Suppression Requests
Depending on the procedure chosen above, the user can expect the process to be completed within 48 hours. It is suggested after this window to confirm the request. Confirming that your record is removed from public services is deceiving. You'll need to check in unless you receive a specific indication of the information being suppressed.
Return annually to check the status of your information and request removals when necessary. This guide is up-to-date with the current opt out solutions provided by InfoTracer's privacy policy (2023).