Yellowbook Opt-Out
What is Yellowbook?
Yellowbook is a small business resource that offers consumer and commercial profiles; their consumer record service offers details on an individual's background, professional history, property information, and more. Simultaneously, their business profiles offer everything from legal and dental resources to reputation maintenance and widespread marketing tactics. Yellowbook is a stepping stone between interested parties (typically businesses) and consumer information. A business owner can request consumer demographic analysis to create an applicable marketing plan; or deep dive into a specific consumer record to adjust their targeting technology.
The information that appears in a Yellowbook solution is first generated elsewhere. Regarding consumer details and profiles, the aggregate information is first created by BeenVerified; they have accesses that allow them to handle a significant amount of consumer data and extrude subsequent records. On the other hand, Yellowbook's connections to small business resources come from Hibu LLC., a digital solutions manager. They offer online marketing and ROI insights, including consumer data capture and profiling. Consumers wanting to remove their information from Yellowbook must opt out twice, once with Hibu and again with BeenVerified.
How do I Remove Information from Yellowbook?
An "opt out" is an official request not to share or sell a consumer's information between companies or parties. Opt outs are handled differently, depending on the company policy and the residential state of the person opting out. California, Colorado, Virginia, Utah, and Connecticut residents have obtained opt out rights, although their implementation is unique to each geolocation. Opt out methods differ based on how the company treats requests and their obligations to consumers. Consumers from these states are entitled to opt out of solutions with which e-commerce and digital solution companies must comply.
There are two ways a company can comply with data privacy opt out requests; on the one hand, the company may treat an opt out as a request for data deletion. These removals destroy all associated information but rarely impact the source of the record. They also open the path for generating a new consumer record at any time. In comparison, there are also opt outs that have suppression elements. The suppression status allows the companies to continue to "hold" the data while concealing it from public access and searches. Since the record retains its "space", no new records appear for up to a year after the request. California and Virginia residents have suppression method rights, while Colorado, Utah, and Connecticut residents have rights to deletion methods.
Consumers wanting to opt out must understand the differences between the above-mentioned removal methods. The methods provide insight into how often to return and the frequency of opt outs for each situation. Those who request a deletion opt out should return twice as often as those who request a suppression opt out; although the prevailing company ultimately chooses the types of request. Hibu, for example, implies they will only honor deletion opt outs made by residents of a data privacy state. In comparison, anyone can request a suppression opt out from BeenVerified.
The Prelude to Your Yellowbook Opt-Out
The information made available by Yellowbook comes from other sources; subsequently, to entirely remove data from their results, consumers must opt out from their data patrons. This requires opting out from both Hibu and BeenVerified in the shortest terms. There are two ways to contact both companies' privacy teams: calling or emailing. Alternatively, consumers can place their opt out request via each company's online forms, of which there are two. The guide below demonstrates the process and options for every consumer opt out request.
How to Remove My Name from Yellowbook: Guided
Call Hibu or BeenVerified for Opt-Out Assistance
Consumers needing representative assistance should call for qualified aid. Extenuating circumstances like multiple records, reports involving minors, expungement orders, or consumers with a history of fraud need live support. The online form options below are based on the average consumer's needs; thus, they cannot solve every circumstantial issue automatically.
Hibu's privacy policy suggests using 1-(800)-700-7303 to reach their privacy team, but the call line disconnects after a few moments. Instead, callers should use the 1-(877)-237-6120 line to reach assistance. The helpline opens with a short menu, of which non-members of Hibu should press 2. This selection drops the caller into the wait queue. Live hours are from Monday to Friday, 8:00 a.m. to 8:00 p.m., and Saturday, 9:00 a.m. to 2:00 p.m. EST.
Users can contact BeenVerified's live support at 1-(866)-885-6480 or 1-(844)-823-2869. After the automated menu finishes playing, press 2 for non-client assistance. Press 5 to refer the call to the "privacy requests" menu. Press 1 to confirm the callback number, then press 1 again to confirm the time zone. Press 2 for non-account holders, and then in the last step, press 2 to finally drop into the live representative queue.
Email the Opt-Out Request to Hibu and BeenVerified
Consumers wanting a paper trail of their interactions with support should email them. Although BeenVerified offers privacy maintenance for many minor affiliates, Yellowbook is not one of those. Instead, when users click the Yellowbook "Contact Us" page, they are redirected to Hibu's equivalent. Regarding opt outs, this means emailing users should send messages to both Hibu and BeenVerified; they are unrelated companies providing information to Yellowbook. Subsequently, they must each receive an individual opt out request.
Consumers can email Hibu's customer support team at privacy. officerUS@hibu.com; those emailing BeenVerified have more options. Users can email BeenVerified's teams at support@beenverified.com, privacy@beenverified.com, or ccpa@beenverified.com. Responding agents require identifying information to accept opt out requests, naturally, emails must contain these elements to expedite services. (1) The email must explicitly ask for an opt out or to "not sell or share" data associated with you. (2) The message must contain identifying information for authorization and action; provide the record's first and last name, associated addresses, emails, phone numbers, age, and any additional information.
Opt-Out Online with Hibu's Privacy Form
Consumers making an opt out request through Hibu should use their online form. It impacts minor affiliates like Yellowbook and stops the record from being analyzed for marketing. It also takes about a minute to complete. To start, open the Hibu request form in a new tab.
After the form loads, ensure the first selection is set to "Visitor / User" and the second is set to "Opt-out". Enter a first and last name into the provided spaces, then add an email address and state. If there are additional details the agent should consider when accessing the request, add them to the "Details of Your Request" space on the lower portion of the page. Select the "This is me" check box, then hit the blue "Submit" button to finish.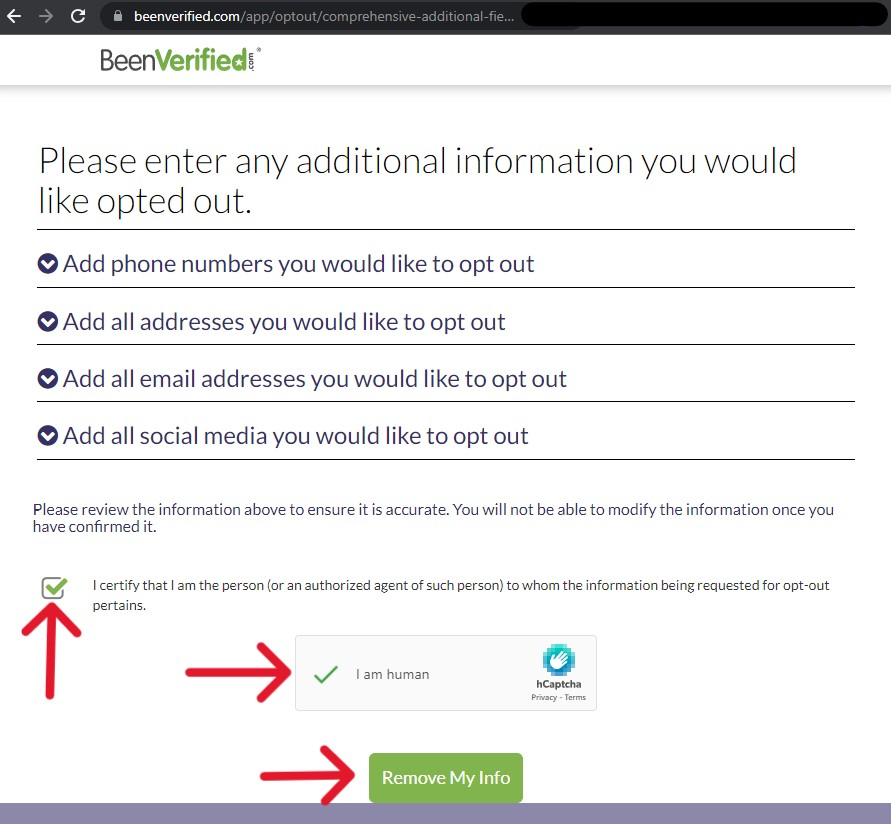 Use BeenVerified's Opt-Out Form for a Broad Information Removal
BeenVerified offers two distinct search services. One is consumer or personal records, while the other is property based. Those looking to opt out must use both forms or access the Omni form to opt out simultaneously. The process is quick, lasting less than five minutes in most cases. To start, open the form in a new tab.
Step One
Once the form loads, ensure the "Request Type" reads "Do Not Sell My Information". Enter a first and last name into the provided spaces, then an accessible email address. Add an age for verification and then the address of a property associated with the record. Click the green "Continue" button to do so.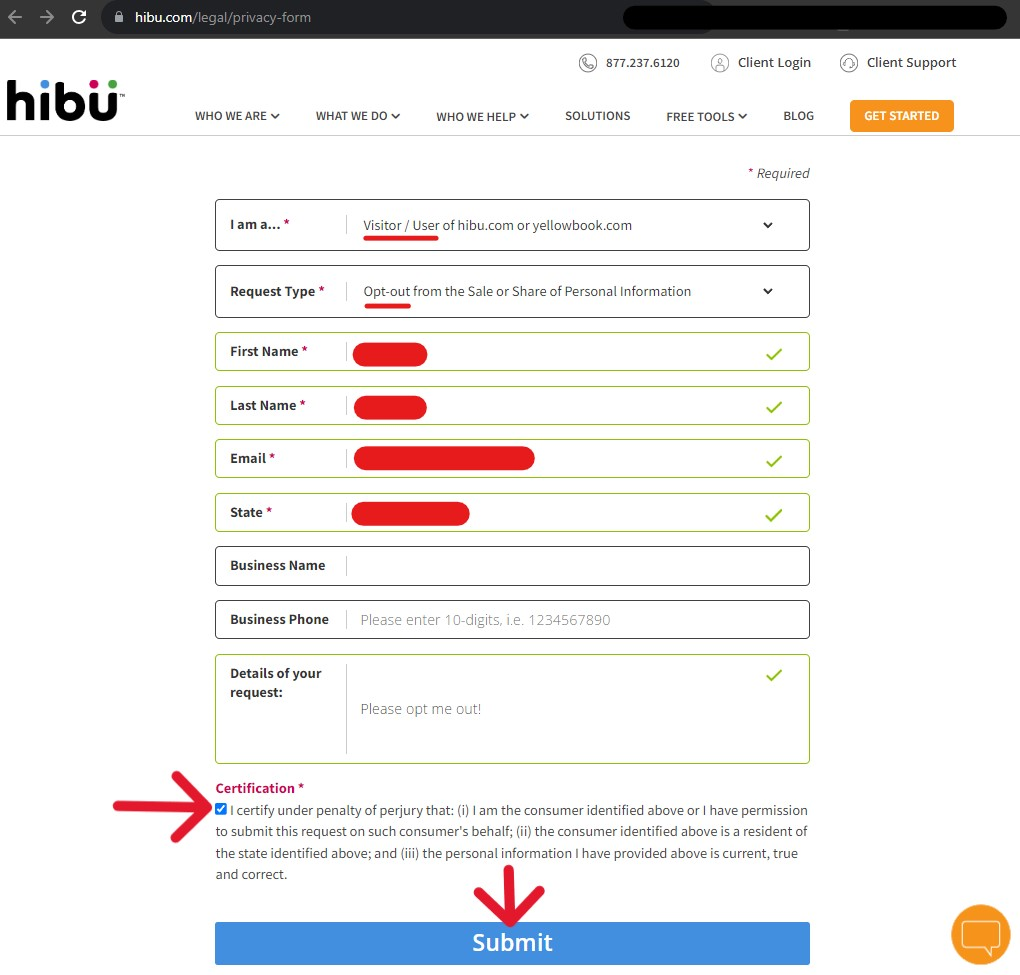 Step Two
The following results page displays BeenVerified's possible records. The page may have one or hundreds of records. Locate the correct report, then click the attached "Proceed to Opt Out" button.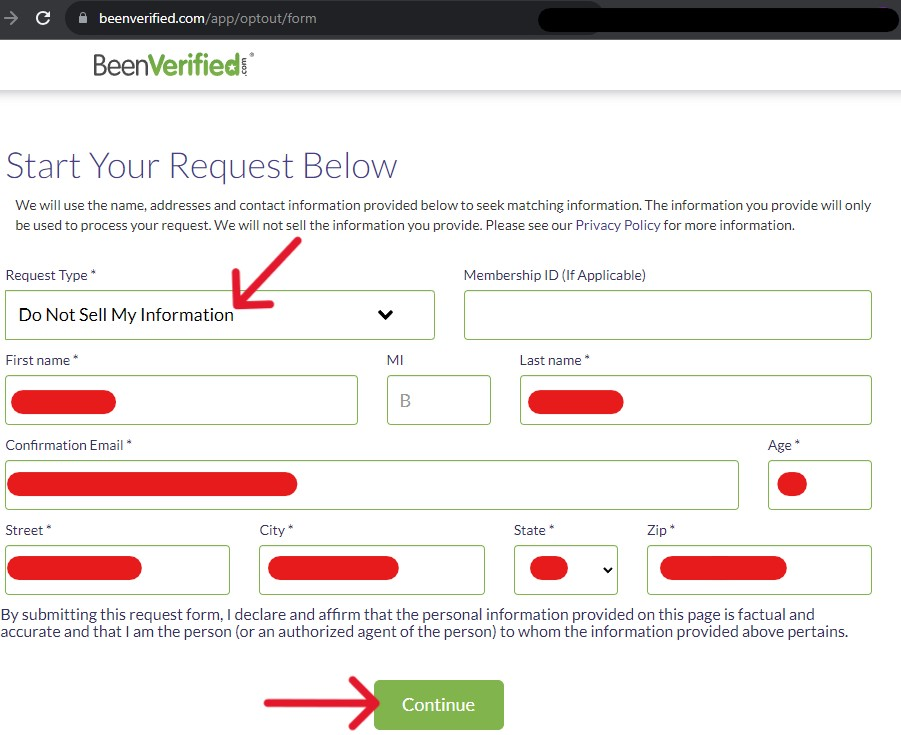 Step Three
On the next page, there are four drop-down menus. Click the related one to add additional information to the suppression list. The request will automatically suppress all data associated with the current record. Check the box to "certify" you are the report's subject and then solve the CAPTCHA puzzle. Click the green "Remove My Info" button to finish the process.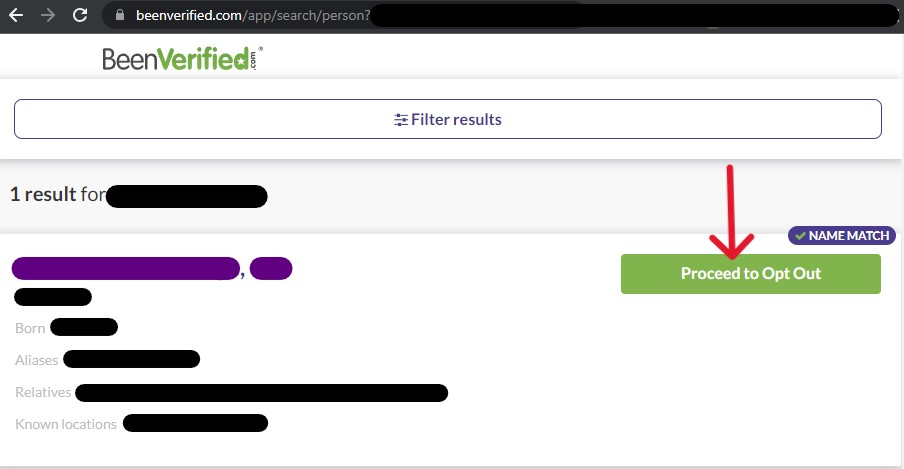 Verify the Suppression Request, then Return
Users who get a confirmation of request still need an agent's interaction on the other side of the process. The representatives must confirm the user's identity and access or if they need more identifying details. Hibu's policy asks for up to 90 days for a response, while BeenVerified leans toward a 30-day grace period. To make things even more chaotic, the companies are not compelled to answer consumer requests; they can ignore or avoid answering altogether if they can defend the action via their privacy policy. Consumers must verify the suppression results before calling the process "done".
Verify the data removal is enacted by searching for the record on BeenVerified; all Yellowbook consumer records link to them, so suppressing a report on BeenVerified, will also suppress it from Yellowbook results. This guide is current with the processes of solutions provided by Yellowbook via Hibu's and BeenVerified's privacy policies (2023).