How To Avoid the Financial Hardship Department Scam?
By Bryan Lee
Oct 16, 2023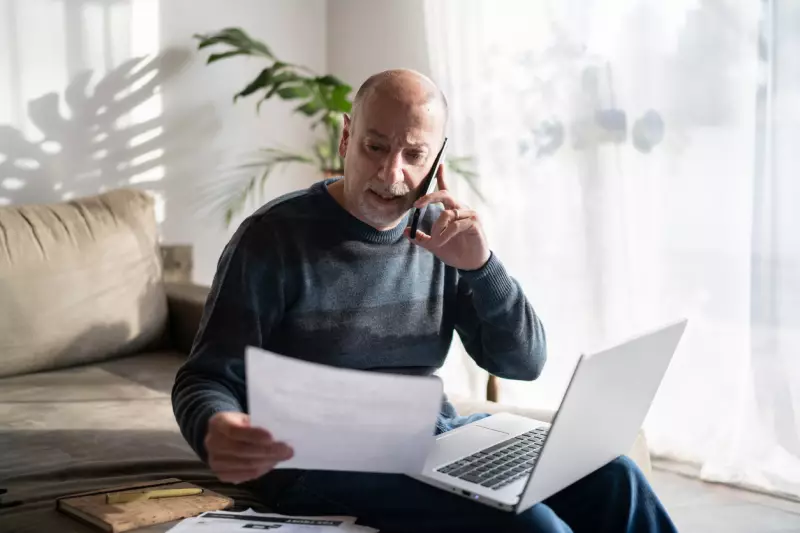 In 2023, GoBankingRates.com found that 15 percent of Americans have over $5,000 in credit card debt. Additionally, many people will start searching for relief with student loan payments returning.
Scammers are opportunistic and will pounce on desperate individuals with promises from the "Financial Hardship Department." They use keywords like delayed payment, special forbearance, and halted interest to goad their targets into revealing private information.
Don't listen to them. Don't tell them anything. It's a sweet lie that will only further damage your situation.
However, we know how hard it is to resist a lifeline when it's dropped in front of you. So, in this post, we'll go over how to identify a Financial Hardship scam so you can know who to trust.
What Is the Financial Hardship Department Scam?
This scam works precisely as its name implies. Scammers contact individuals struggling with debt and offer aid from a government agency named the Financial Hardship Department.
The aim is to extract protected information like your driver's license or Social Security Number and steal your identity. The scammer claims they need to "confirm your identity" and ask you for your personal details to verify their records.
Other times, the attacker may send you a link to their "home page," but it leads to a spoofed site or automatically downloads malware. Their sales pitch usually concerns predictable or current problems such as credit card debt, student loans, collections agencies, and unemployment.
This scam is particularly malicious among social engineering attacks as it takes already troubled people and pushes them deeper into debt. With the stolen information, the scammer can open new credit lines, take out loans, or continue attacking others you know.
Recognizing the Financial Hardship Department Scam
Individuals deep in debt are eager to find a solution to their problems. Unfortunately, this mindset makes them easy prey for scammers. Even if it doesn't work on one person, there's no shortage of struggling people.
Additionally, recent promises of debt relief from the Biden Administration leave many people more ready to believe in "government aid." There are many signs for identifying the Financial Hardship Department Scam, but before laying those out, you need to remember rule number one:
If something seems too good to be true, it probably is.
The scammer will feed you outlandish deals and solutions to your money issues. They may even ask you about your specific struggles and tailor their pitch accordingly. The conversation should make you feel uncomfortable as if things are being fixed too easily.
Other signs of this type of scammer include:
Getting Unknown Robocalls: In 2009, the Federal Trade Commission (FTC) banned robocalls unless the receiver opted in. Any robocalls you get without consent are likely to be a scam.
Demanding Identity Verification: The scammer is rushing to steal your information. They're not worried about pressing you hard because they can always move on to the next person if you don't comply. If the "government agent" continually insists you divulge sensitive information, you should hang up immediately.
Unsolicited Loan Offers: Scammers like to rope in their victims by offering a loan. This psychological trick stops you from thinking their deal is too good to be true. They're not bailing you out but are giving you more time to pay the debt. The scammer makes the offer without running a credit check on you. This is something financial institutions never do and is a clear indication of a scam.
Sending Links through Text: Rather than steal your information directly, the scammer may attempt to install malware onto your device. They'll send you texts with links to their website or an application to fill out. Whatever the reason they give you, these are glaring red flags.
If the link leads to a website, it's probably a spoofed site that records your information when you attempt to create an account. Otherwise, the link may automatically install a program that steals your data or gives the scammer remote access to your device.
A legitimate organization will never send URLs over text. Doing so is a sign that they only have your phone number and no other way to contact you. If you can't help your curiosity, demand the agent send the link to your email so you can preview it in your email application.
Don't Confuse a Warning for a Scam
Depending on who you owe, you'll likely receive phone calls from various organizations. You mustn't ignore their warnings because you're paranoid they might be scams. Listen to what the representative says, and always get them to confirm their identity.
The best way to guarantee a collector's legitimacy is to ask questions. Ask who they represent and any details they can tell you about your debt. If you're still unconvinced, you can hang up and Google their number. This lets you initiate the conversation on your terms and ensure you speak to the right people.
How To Prevent Financial Hardship Department Scams?
Now that you know how to identify a Financial Hardship Department scam email, it's time to keep those annoying conversations from popping up in the first place.
Here are a few tips on how to take yourself off the scammer's radar:
Screen Unknown Numbers
Both Apple and Android provide options for screening incoming calls. These features are Call Filter and Call Screening, respectively. Consistently screening these numbers deters scammers from continuing to call you and makes you a low-priority target. Don't worry about missing important calls, as legitimate financial institutions will power through.
Keep Personal Information Personal
Refusing to hand out your information is the most important responsibility you have. The most beneficial scenario is never answering any of the scammer's messages, but it's hard to avoid all of them. However, if scammers understand that they can't fool you into divulging sensitive details, they'll want to move on to their next victim.
Protect Your Devices
Anti-malware has come a long way. Artificial intelligence and robust databases allow these programs to judge and shoot down problematic contacts accurately.
What If I've Fallen For a Predatory Debt Scam?
If you've found this article after giving away your personal information, you can still do a few things to protect yourself.
Initiate a Credit Freeze
The most immediate step is to contact one of the three major credit bureaus and request a credit freeze. Once you set this up with one of them, they must forward the action to the other two. This prevents any entity from accessing your credit report, thus preventing new credit lines or accounts from being opened under your identity.
You can also request a credit alert that requires lenders to contact you before opening a credit line in your name, but remember that you must set this up individually with all three credit bureaus.
Change Your Login Credentials
Next, it's a good idea to change all of your account's usernames and passwords. Start with any account with access to your payment information, such as shopping sites, budgeting applications, money-sharing sites, and banks.
Once that's finished, repeat the process for all your social media accounts. This will keep the scammer from breaking into your contact lists and attacking your friends using your name.
Updating your passwords can be a time-consuming and tedious process. Or at least it used to be. Today, most browsers have a built-in password manager that can auto-generate strong passwords for you. There are various third-party options if your browser doesn't already have one.
Stay Vigilant With Your Spending History
This last task is a little more annoying than the others because it's a long-term commitment. If it's been a while since you fell for this scam, you must closely monitor your recorded spending. An intelligent criminal can use a credit line for months before triggering a suspicious activity alert.
Frequently checking your credit card and bank accounts is difficult for people struggling with debt. Nobody likes looking at a pure representation of their stress. But this is a must-do if you want to notice and dispute fraudulent charges as quickly as possible.
Avoid Scams While Repaying Debt
Getting a call about your outstanding debts is rough. There's a sense of shame over being reminded and a feeling of dread over the conversation you're about to have. It's tough to identify a scam while experiencing these emotions quickly.
There's no need to feel rushed. Don't put it off for tomorrow, but it's safe to take some time and verify the caller's identity before moving forward.
If you want a safety guarantee, InfoPay's identity monitoring services are perfect for financial fraud detection. We closely monitor millions of sites, including the dark web, for any instances of your information. This gives you enough of a heads-up to prepare. Contact our team at IDStrong to learn more!