4 Most Common Bitcoin Scams
By David Lukic
Aug 13, 2020
Scams are creeping into all areas of life these days. Any new type of technology is at risk. Bitcoin scams are on the rise right now because this revolutionary type of currency is becoming a hot topic everywhere.
What is Bitcoin?
Bitcoin is basically an online currency, it is intangible and decentralized where no government has control over it. Every bitcoin is stored in a "digital wallet" and it uses the blockchain technology where every single transaction is recorded there.
In 2008 a developer who goes by the name "Satoshi Nakamoto" came up with the idea for Bitcoin, a way to exchange currency electronically that was secure and verifiable and immutable. Thus, bitcoin was born. No one knows who the developer really is. One of the most desirable features of bitcoin is that it is decentralized and not controlled by any bank, government agency, or entity. Another thing about bitcoin is that it is limited; based on a mathematical process, only a few bitcoins are created every hour. Once the total number reaches 21 million, the process will end. That is the maximum number allowed. Bitcoins are semi-anonymous, making them attractive to scammers and criminals.
Common Bitcoin Scams:
Fake Bitcoin Exchanges & Wallets
The more popular bitcoin becomes, the more fake exchanges and websites pop up, and most importantly, bitcoin scams increase. Two Nigerians stole almost $60k from three investors with a phony exchange promising high returns (20-50%) on their investment, zero risks, and offering instant withdrawals. The two scammers set up a legitimate-looking website under the URL of www.wealthcurrency.com. They urged the victims to invest in bitcoin and assured them these funds would be increased through "unique trading methods," with a "constant high-interest rate." None of this happened, and the two men were apprehended and indicted by the FBI in April of 2019.
Hearing about the few overnight millionaires, people are desperate to invest in bitcoin before the bubble bursts. However, in all that excitement, you could make a bad choice. Here are some red flags to look out for when considering investing in bitcoin:
Signs of Fake Bitcoin Exchanges & Wallets Scams:
A deal offering bitcoins for 5% less than market value. Languages like "save big" and "invest now" are techniques to make you act on emotion rather than logic. Stay away from these exchanges. It is a sign of bitcoin fraud
Another red flag is any website that does not have https in the URL.
If you come across a bitcoin vendor offering bitcoin for PayPal, it's a bitcoin scam.
How to Spot & Avoid Fake Bitcoin Exchanges & Wallets
Be careful about installing any bitcoin wallet software on your computer. It could be infected with malware, and as soon as you log in with your credentials, your funds will be drained. Always use certified software from reputable vendors and exchanges. Many fraudulent people use this technique for bitcoin scams
Only deal with well-known bitcoin exchanges that provide plenty of up-front information and be sure to deal with a real, live broker.
Stay leery of scammers that claim they are from a reputable firm but only connect with you through an app, email, or text.
Ponzi schemes
Ponzi schemes have also made their way to bitcoin. The idea behind it is to lure new investors in with promises of making lots of money down the road. Those new members must contribute by making a deposit. The deposits are supposed to pay previous investors, and so on. The problem is with Ponzi schemes like the famous Bernie Madoff incident, the funds get rerouted for personal gain, and just about everyone involved in the scheme loses a lot of money except the perpetrator. In the MiningMax scheme, 14 bitcoin scammers stole more than $200 million from investors before they were brought to justice. Not one member ever saw a dime from the money they invested.
Some red flags to watch out for with this one are:
Red Flags
Look out for websites that promise to "double your bitcoin overnight." It's a scam. It is a very common "get rich quick" scam and many bitcoin scammers do this.
Any offer that promises you a specific rate of return and requires you to pay up front.
Sites that require you to find additional investors or referrals indicate it's a Ponzi scheme. They may even use terminology like "affiliate link," where just for entering someone's information, you can earn a few extra cents.
The offers appear on social media.
How to Spot and Avoid Ponzi Schemes
If someone you know wants you to invest in something, they put their money into and then wants you to ask around for other investors, it is probably the beginnings of a Ponzi scheme.
Although it's not always easy to tell, if you are approached with an unsolicited offer, it could be a scam. Unless you choose to invest in bitcoin and find your own exchange, you can't be sure who you are dealing with.
Watch out for deals that sound too good to be true or that your profits will come "down the road as you find new investors."
They will demand a high investment but offer low risk.
They promise consistently high returns.
There are issues with the paperwork, and the firm is not registered with the SEC.
You have trouble receiving payments.
Example of a Bitcoin Ponzi scheme
According to the SEC, "In a recent case, SEC v. Shavers, the organizer of an alleged Ponzi scheme advertised a Bitcoin "investment opportunity" in an online Bitcoin forum. Investors were allegedly promised up to 7% interest per week and that the invested funds would be used for Bitcoin arbitrage activities in order to generate the returns. Instead, invested Bitcoins were allegedly used to pay existing investors and exchanged into U.S. dollars to pay the organizer's personal expenses.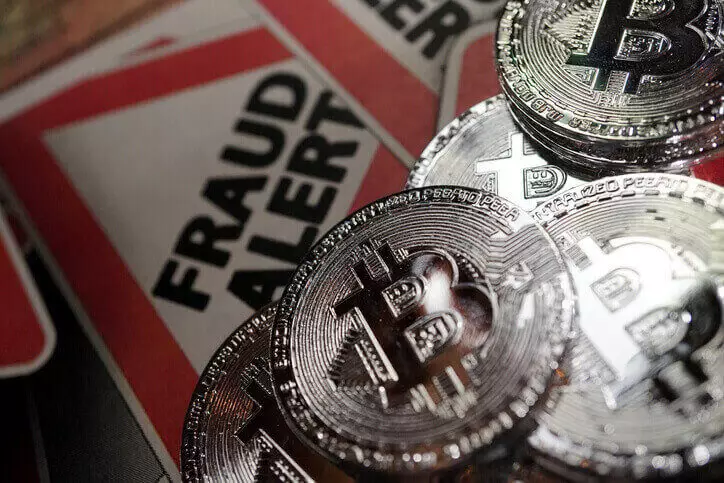 Phishing / Blackmail Bitcoin Scams
Phishing scams are exploding all over the place in a variety of different flavors and victims. Some come to users as an ad to join the blockchain revolution with promises of cheap investment in bitcoin. Unfortunately, these emails then take you to a fake website where you enter personal information, lose your identity, or the site infects your computer with malware, and now you have handed over the keys to criminals. Identity theft is a huge problem itself, cybersecurity statistics show us that way too many people suffer from it. Yet, we take that problem slightly as well.
A new technique that is becoming very common is emailing targeting men. In the blackmail, bitcoin scammers claim to have taken control of the person's computer and have a video of them that they would not want to be exposed. Another variant is the email is sent to men who are having extramarital affairs, and the blackmailers demand money in bitcoin. These extortion emails are very threatening and aggressive. The bitcoin scammer promises to tell the wife or release the video to all your contacts if you do not comply. The very nature of these indiscretions makes it easier for criminals to have success.
The FTC posts one example of an email on their website for consumers to be on the watch for:
"I know about the secret you are keeping from your wife and everyone else. You can ignore this letter or pay me a $8600 confidentiality fee in Bitcoin".
Phishing / Blackmail Bitcoin Scams Happen:
These emails are generally sent out to thousands of people at once from stolen email lists found on the dark web. Many times, bitcoin scammers insist they have installed malware on your computer and have control. Often though, they are bluffing. To verify your computer is clean, install a strong antivirus/anti-malware program, and run a deep scan. Watch for any unusual computer activity. If you know you haven't done anything the scammer claims, then that is a big tip-off they are trying to extort money from you and hoping you will bite.
How to Spot and Avoid Phishing and Blackmail Bitcoin scams
These threats can be disturbing and also scary. The best way to avoid something like this is to:
Keep your computer clean.
Change your online passwords often.
Use complex passwords with a combination of letters, numbers, and symbols.
Run deep scans often.
If you have been involved in a data breach, sign up for credit monitoring with a company like IDStrong.com and consider a credit freeze.
Be on the watch for phishing emails and other scams targeting you.
Malware Bitcoin Scams
Another effective way bitcoin scammers have found to steal bitcoins is through malware or infected apps. Some malware has the ability to change the bitcoins address, and when you hit send, you actually send them right into the cybercriminals pocket. Bitcoin transactions cannot be reversed; once they hit the ledger, they are there forever. Use caution when installing a bitcoin wallet on your computer.
Malware Bitcoin Scams Indications:
Is your computer slow and unresponsive?
Have you noticed and unauthorized transactions on your bitcoin account?
Have you received any phishing or scam emails?
How to Spot and Avoid Malware Bitcoin Scams
Malware can be installed through a phishing email, a website, and social media. It's almost impossible to spot, and although a good antivirus program can help keep your machine clean, they are not perfect. Some precautions to take would be:
Only use reputable bitcoin wallet software (known to be free of malware). Other websites might lead to bitcoins scams
Never click links or download attachments in email.
Be careful about the websites you visit. Look for https before entering any information or purchasing bitcoins.
Run deep scans of your computer frequently.
Change your online and computer passwords often and use strong ones.
Be on the lookout for phishing emails and offers that appear to be too good to be true.
Scams will come and go but armed with this knowledge; you can stay safer and protect what's yours.